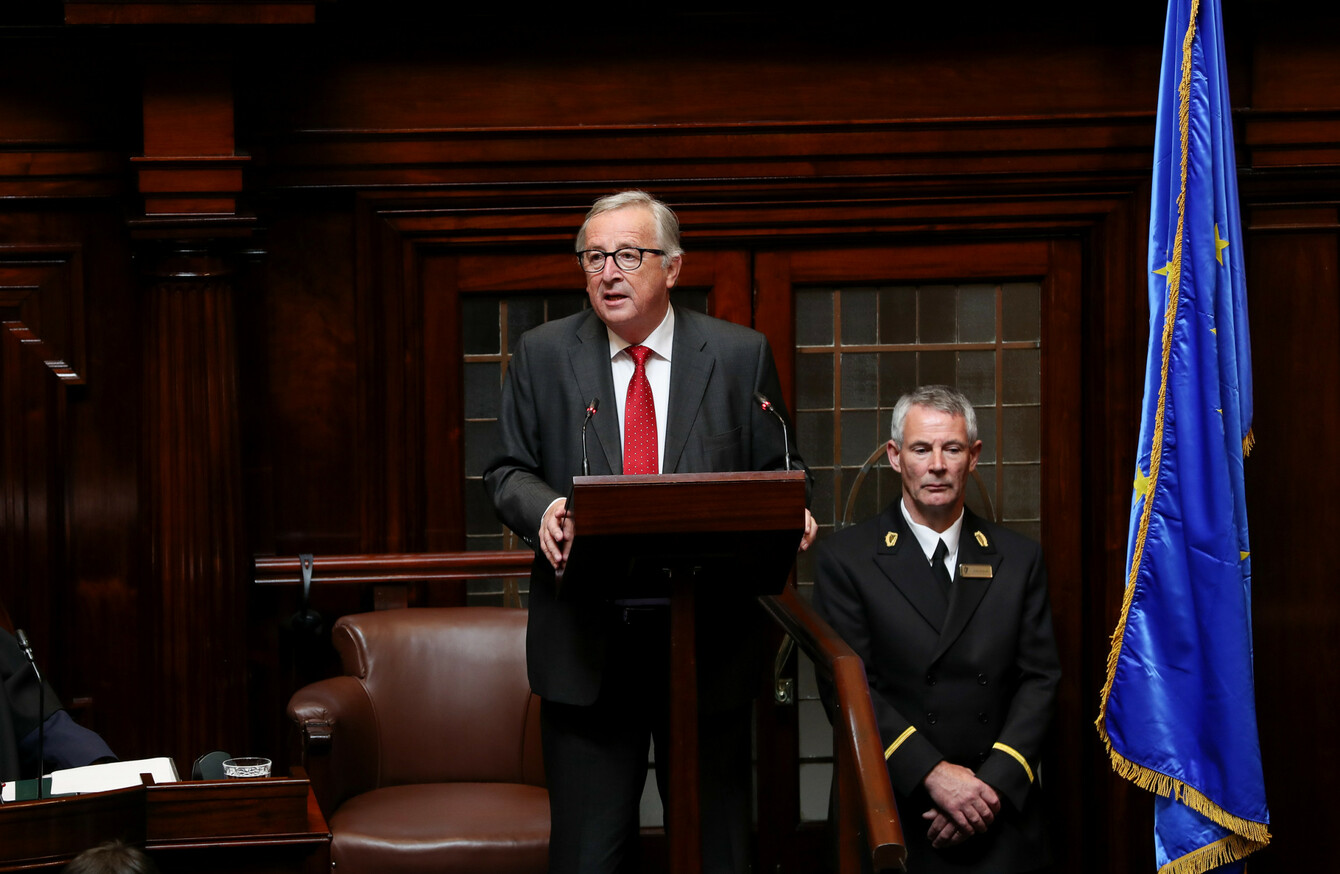 Image: MAXWELL TONY
Image: MAXWELL TONY
EUROPEAN COMMISSION PRESIDENT Jean Claude Juncker has said that Europe stands behind Ireland as Brexit negotiations reach a pivotal point.
Juncker today held a meeting with Taoiseach Leo Varadkar and the EU's chief Brexit negotiator Michel Barnier.
The meeting comes as both the Taoiseach and Tánaiste Simon Coveney called for more haste in Brexit negotiations.
Coveney this morning told RTÉ's Morning Ireland that without a deal on the Irish border, the UK will struggle to leave the EU smoothly.
"Let's be very clear, there will be no withdrawal agreement, no transition agreement and no managed Brexit if the British government do not follow through on their clear commitments in writing to Ireland and the whole EU.
"We had asked for and looked for significant progress in June. The British government have been unable to deliver on that."
That stance was echoed by Leo Varadkar, who spoke alongside Juncker at Government Buildings today.
He said:
"There is an urgent need to intensify our efforts if we are to get there. We expect the UK to honour their commitments on the backstop in full."
Juncker, both at the press briefing and a later address to the Dáil, reiterated Europe's commitment to Ireland in the Brexit negotiations.
"We wanted to make it clear again and again that Ireland is not alone. We have Ireland backed by 26 member states and by the Commission – this will not change. I am strongly against any temptation to try to isolate Ireland and not to conclude a deal on Ireland. Ireland has to be part of the deal."
Speaking in the Dáil, he said:
"Ireland will come first. There are those that think the other 26 countries will abandon Ireland for a deal that suits them.
"Ireland's border is Europe's border and it is our priority.
"Two years ago this week, the British people made a sovereign decision to leave our Union. I wish they had made a different one. But it is their decision and I respect it fully.
"However, other member states, and Ireland in particular, should not pay the price for that choice. This is why when it comes to Brexit, I have always said that it is a case of "Ireland first".
"Ireland stands at the heart of Europe."