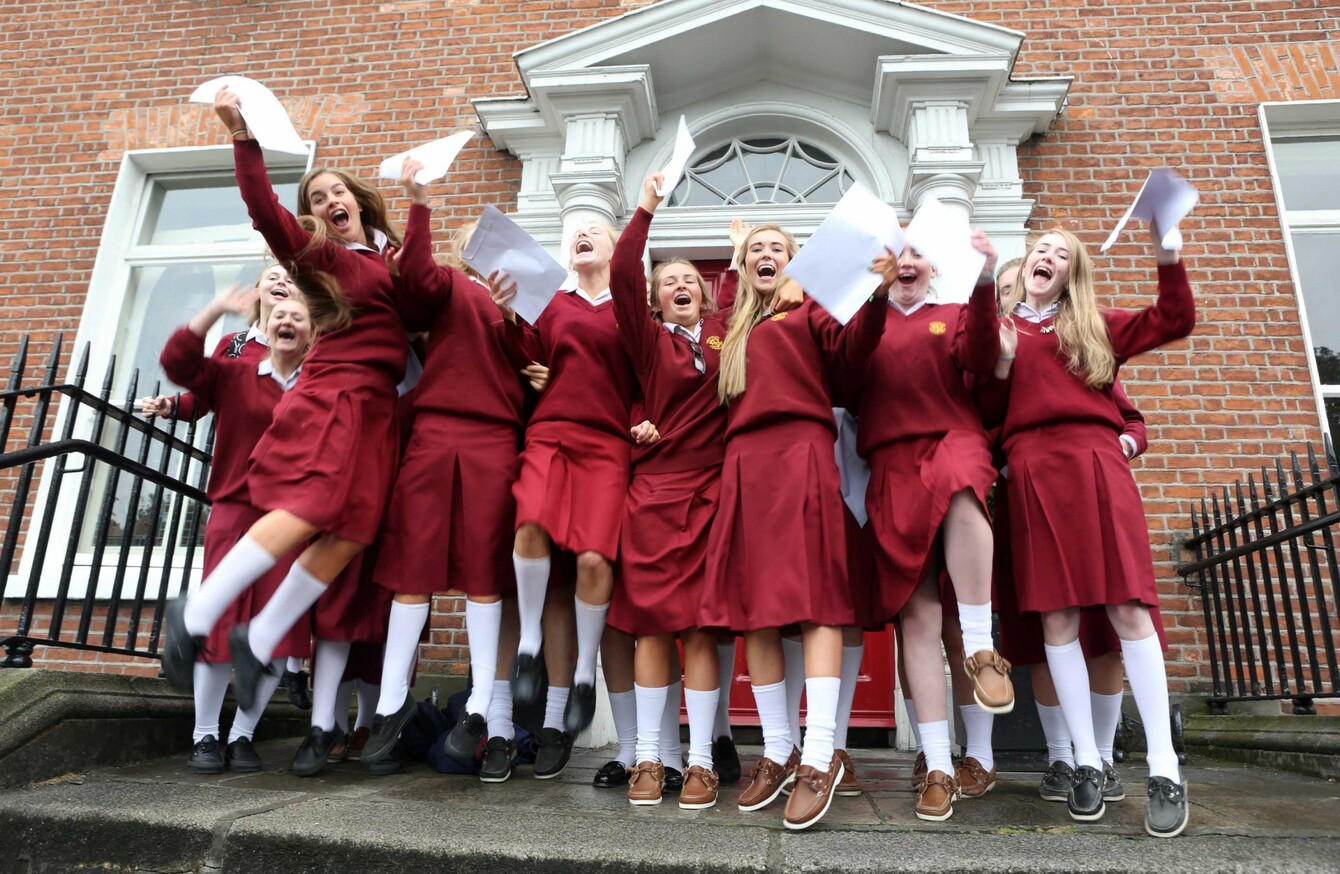 Students from Loreto College jump around after receiving their results in 2013.
Image: samboal/RollingNews.ie
Students from Loreto College jump around after receiving their results in 2013.
Image: samboal/RollingNews.ie
THE WAIT IS almost over for tens of thousands of teenagers across the country today with the Junior Cert results soon to be released.
Close to 60,000 school students took the exams back in June, as well as over 700 re-entrants into the education system.
Results have been issued to schools and will be available this morning, while all results will likewise be available for students to access on the State Examinations Commission's (SEC) website – here– from 4pm this afternoon.
Provisional stats show that the number of As in the three main subjects (Maths, Irish and English) is up on recent years, but in general trends remain much the same across the board (with slight improvements in most cases).
While the percentage of As given out increased in many subjects, the number of students who received 12 As (the maximum number available) dropped by half to 6 (compared to 12 last year).
In total, 22,589 As were given out in high level and 21,743 in ordinary level.
The number of students that received one A or more is listed below for both levels.
More people sat the Junior Certificate than last year, with 60,247 across 26 counties sitting the exam (compared to 59,521 in 2015), up 1.2%.
In English, the percentage of As in higher level was up to 9.5% (from 9.3% last year); in ordinary level it was down slightly to 6%.
More students failed in both higher level and ordinary level English this year compared to last year, but general trends stayed mostly the same as the below graph shows.
In Irish, the number of higher level As also increased to 11.8% (from 11.2% last year).
Aside from that, other grades stayed close to last year's results.
At ordinary level, 2.5% of students got As (up from 2.1% last year), while much of the other grades stayed very similar.
In Maths higher-level, 11.7% of students received an A grade (up from 11.3% last year).
There was also a drop in the number of fails this year at higher level, with 3.6% of students failing (compared to 4.2% last year).
At ordinary level, the number of As and Bs both rose, while the number of fails also rose very slightly.
Other subjects
There was a good rise in the number of A grades given out for languages in this year's exams.
French, German and Italian all saw good increases in the number of As received at higher level, while Spanish dropped slightly.
The percentage of students who failed the above also dropped from last year.
At ordinary level, Spanish, German, French and Italian all saw an increase in the percentages of A grades awarded to students.
The percentage of As given out rose for most subjects this year, with improved results showing near across the board.
Spanish, Classical Studies, Technology and Science were the only subjects to buck this trend, with the percentage of A grades given out having dropped this year.
Science saw one of the biggest falls, with 9.6% of students receiving an A grade, compared to 10.3% last year.
The percentage of fails also went up in Science to 2.5% (compared to 1.5% last year).
The chart below shows the percentage of As received by students per subject:
#Open journalism No news is bad news Support The Journal

Your contributions will help us continue to deliver the stories that are important to you

Support us now
Anyone hoping to appeal their results must do so through their schools, with the applications to be received by the SEC no later than 5pm on Friday 30 September.
A fee of €32 is charged per subject, which is subject to a refund if the result is upgraded.
More boys took the exam this year than girls (30,575 compared to 29,672) while Dublin had by far the most students sitting.
Congratulations
Commenting on the release of the results, Education Minister Richard Bruton congratulated students, parents and teachers.
"The Junior Certificate marks an important milestone in every student's second level education," said Bruton.
For most, it represents their first experience of the formal examination process.  The results this year are generally in keeping with previous years.
This will be the last year that students receive their Junior Cycle results in the current form, with 2017 marking the beginning of results being delivered under the Junior Cycle Profile of Achievement.
The minister also advised students to enjoy their celebrations with their families and friends sensibly and responsibly.
Alcohol Action Ireland has also warned that alcohol should play no part in celebrations tonight.
"It's natural that students who are getting their Junior Cert results this week want to celebrate the achievement with their friends," said Conor Cullen, Head of Communications and Advocacy with the group.
"Alcohol should play no part in these celebrations.
It is important, for parents, in particular, to remind teenagers that alcohol does not have to be part of their lives at a young age and to support them in making healthy decisions.
For all students getting their results today, TheJournal.ie wishes you the best of luck.