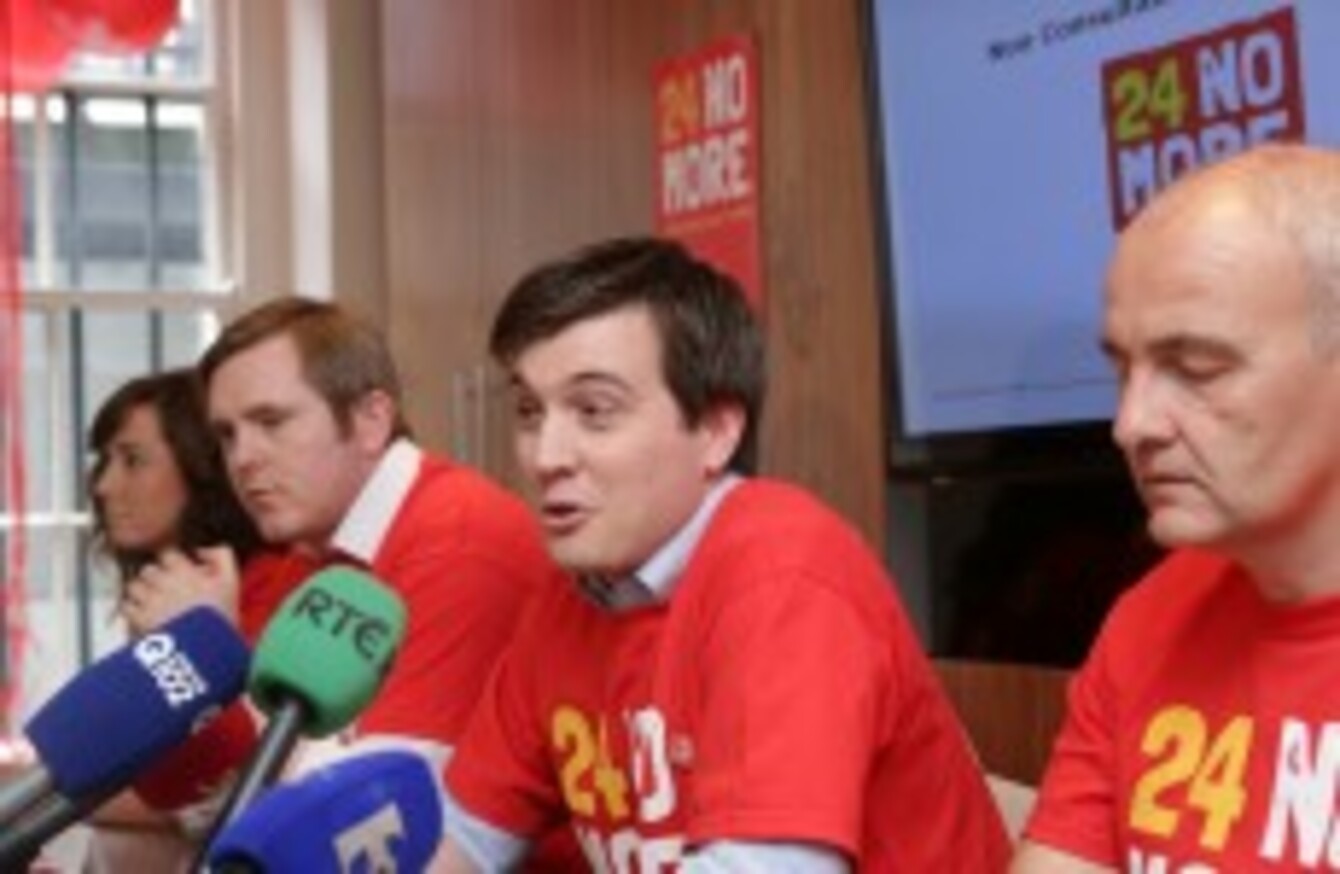 (LtoR) Non consultant hospital doctor Gillian Judge from St James Hospital, NCHD Consultant Dr Nial Kelly, NCHD Chair Dr John Donnellan and Assistant Director of Industrial Relations Mr Eric Young
Image: Sam Boal/Photocall Ireland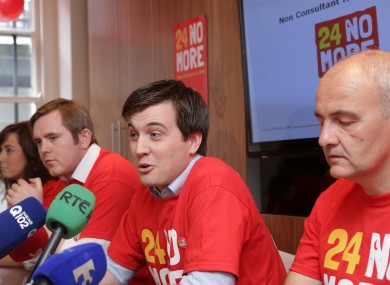 (LtoR) Non consultant hospital doctor Gillian Judge from St James Hospital, NCHD Consultant Dr Nial Kelly, NCHD Chair Dr John Donnellan and Assistant Director of Industrial Relations Mr Eric Young
Image: Sam Boal/Photocall Ireland
Updated 10.50pm
TOMORROW WILL SEE over 3,000 junior doctors withdraw their services from 51 hospitals across the country.
It is part of a Day of Action by Junior Doctors (Non Consultant Hospital Doctors, or NCHDs) against the HSE over their working hours and comes despite pleas from the Health Minister James Reilly for the Irish Medical Organisation (IMO) to return to talks on the issue.
Dispute
The IMO describes the day of action as a "dramatic escalation of a long running dispute" which the IMO has waged with the HSE over the "dangerously long working hours" which it says NCHDs "are currently forced to work".
NCHDs are routinely required to work single shifts longer than 24 hours – and routinely up to 36 hours – at a time and up to 100 or more hours a week.
This has led many of them to say they have experienced exhaustion and stress, while expressing fears about risks to patient safety.
Concerns
Speaking today, just over 12 hours before they are due to begin their strike, the Chairman of the IMO NCHD Committee, Dr John Donnellan, said that health and safety concerns for both patients and NCHDs were at the root of this dispute.
Our members are worried for the risks they pose to their patients and to themselves by current working conditions. Current working arrangements are in breach of European directives and even the Minister for Health has criticised them. The challenge now is to bring them to an end as quickly as possible.
Eric Young, Assistant Director of Industrial Relations at the IMO, warned that further days of action may follow if the HSE did not engage seriously with the process.
He alleged that the HSE "has ignored this matter for too long".
The Day of Action will formally begin tomorrow morning at 7am (the time could vary depending on local rosters) and will continue until midnight.
Disruption
In order to minimise the disruption of the Day of Action, NCHDs said they have agreed:
To provide cover equivalent to the level of cover available in hospitals on a Sunday with one additional on-call registrar for Intensive Care Unit.
To support any required transplant and dialysis service for patients
To provide normal weekend palliative care
To attend for patients who are undergoing active chemotherapy and radiotherapy which cannot be deferred.
Any unforeseen major incident will be fully support by NCHDs should it arise.
The Irish Association for Emergency Medicine has said today that it supports the "long overdue"
implementation of the European Working Time Directive (EWTD) – which sets limits on
the hours of work of medical staff.
Because of shift systems used for many years in Emergency Departments (EDs) and notwithstanding difficulties most EDs have in achieving a full complement of medical staff in recent years, most EDs are already broadly compliant with the directive.
However it said that weekdays, particularly Monday, Tuesday and Friday, are considerably busier than Sundays – the day on which tomorrow's staff levels will be based – "and therefore Sunday levels of staffing are unlikely to be adequate to manage patient demand, inevitably resulting in delays
for patients".
It added that there will be disruption to services and delays for patients, but these delays "are most likely to affect those with non life- or limb-threatening conditions".
Talks aimed at preventing strike action broke down, with Minister Reilly later saying that it is "regrettable" that the IMO has no confidence in him or the HSE's commitment to end long working hours.
He also claimed that the number of NCHDs working shifts longer than 24 hours has reduced in recent months.
First published 5pm