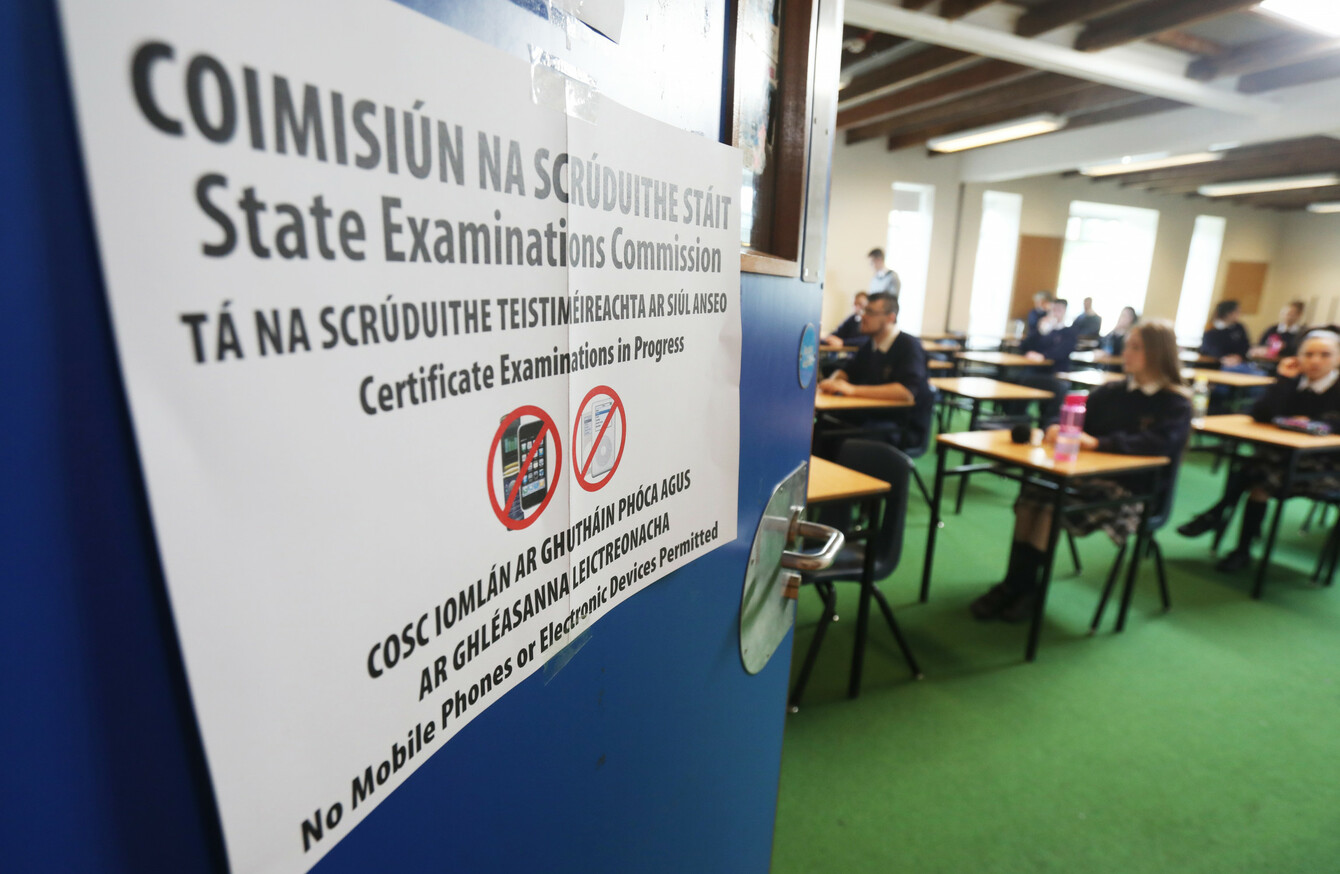 File photo
Image: Leah Farrell/Rollingnews.ie
File photo
Image: Leah Farrell/Rollingnews.ie
IT'S D-DAY for over 120,000 students around the country today as the Leaving and Junior Certificate examinations get under way.
Papers will be turned over in 5,223 examination centres across the country at 9.30am, as students in both cycles get stuck into their English exam.
There are a couple of firsts this year, with the first students sitting the Leaving Cert exam in Politics and Society, and a number will be examined on Maltese for the first time, while the students sitting the Junior Cert will be among the last to sit it in its current format.
The exams run until Wednesday 20 June for Junior Cert subjects and Friday 22 June for Leaving Cert subjects.
Students on this year's Leaving Cert will be working on a new grading system that was introduced just last year. The traditional grades like A1 and B2 have been dropped in favour of a system where grades range from 1 to 8.
The idea behind the new grading was to ease the pressure on students aiming to achieve marginal gains in their exams and encourage more substantial engagement with each subject they take.
In a statement wishing students the best of luck, Minister for Education Richard Bruton highlighted how students sitting the Junior Cert in future will face a radically different format for the examination.
"Progress continues to be made on the rollout of the new Framework for Junior Cycle with the introduction of five new subject specifications in the next academic year," he said.
New specifications will be introduced for Mathematics, Home Economics, History, Music and Geography from this year, while students sitting the Junior Cert next year will be the first to be tested on the new Science and Business Studies specifications.
The new format for the Junior Cert will see students assessed in the classroom across the three-year cycle rather than everything dependent on the exams at the end of third year. From 2021, the normal A, B and C grades will be replaced by Distinctions, Merits, and Achievements.
In a statement, Minister for Training and Skills John Halligan added that while these exams are important, "there are more pathways than ever before open to you to help achieve your full potential following on from the Junior and Leaving Certificate".
The results for the Leaving Cert will be given to students on Wednesday 15 August, while the results of the Junior Cert will be available in mid-September.
Best of luck, everyone!