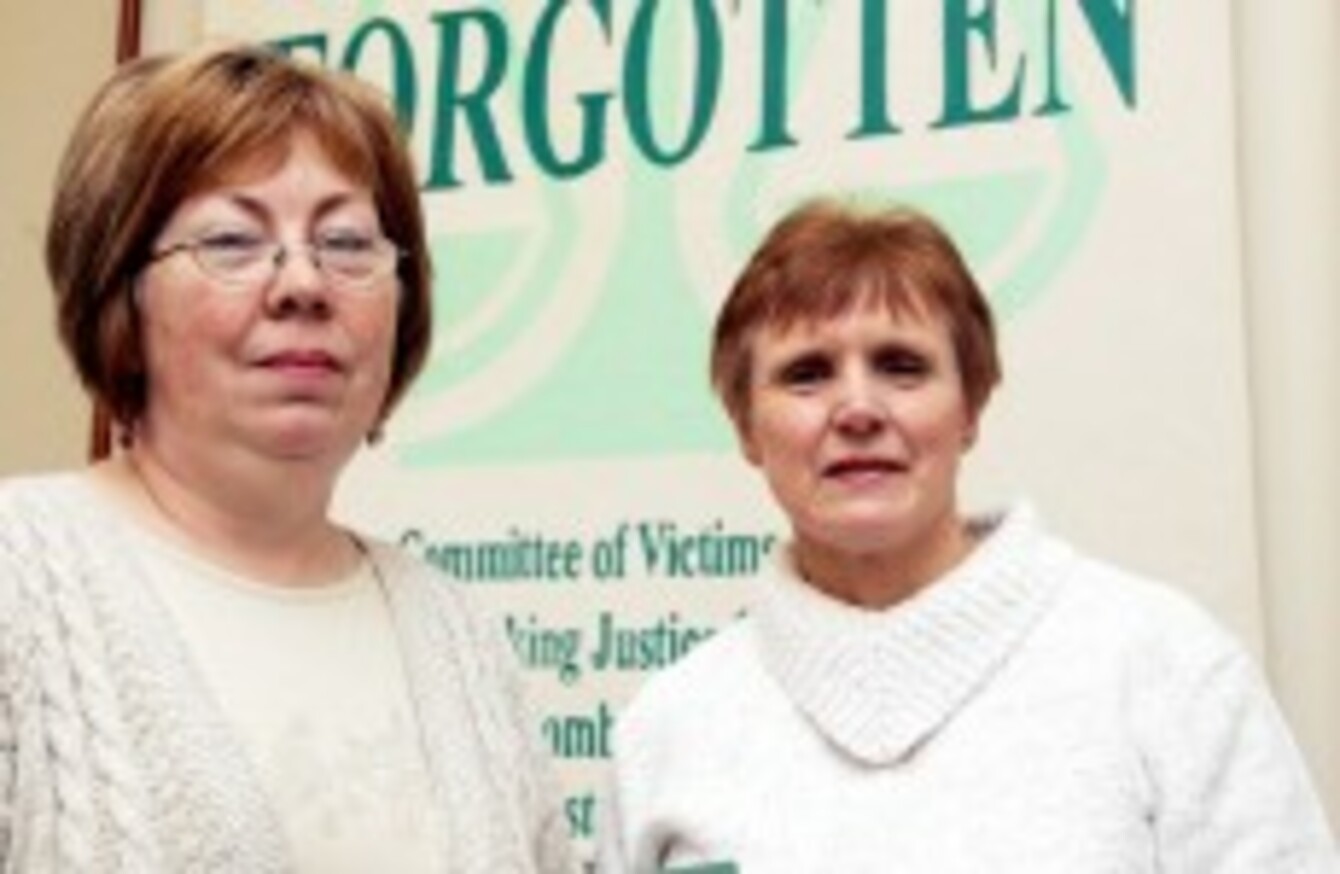 File: Marian Walsh who son was murdered by loyalists with Margaret Urwin Group Secretary at the Justice for the Forgotten offices
Image: Leon Farrell/Photocall Ireland
File: Marian Walsh who son was murdered by loyalists with Margaret Urwin Group Secretary at the Justice for the Forgotten offices
Image: Leon Farrell/Photocall Ireland
THE JOINT COMMITTEE on the Implementation of the Good Friday Agreement has agreed to press the Irish Government to ensure funding for services for victims of bombings and killings related to the Troubles.
They have asked for funding to be secured for Justice for the Forgotten, in order to allow them continue their work in delivering services "that are supportive and sensitive to the needs of victims".
This comes after Margaret Urwin of the Justice for the Forgotten Group and Anne Cadwallader of the Pat Finucane Centre addressed the group today.
Urwin told them about Justice for the Forgotten's work in representing and supporting the bereaved families of the Dublin and Monaghan bombings, other bombings in Dublin in 1972 and 1973 and in Belturbet, Dundalk and Castleblaney, as well as the families of the Miami Showband killings.
Cadwallader told the committee about her investigative work on security force collusion in the killings of over 120 people.
Committee Chairman Joe McHugh TD said that the meeting with both women "shone a light on the disturbing levels of collusion, while bereaved families endure a painful search for the truth on both sides of the border".
The committee complimented Margaret Urwin on her unerring commitment to keeping this issue in the public limelight.
They were told that Justice for the Forgotten's limited funding – under the PEACE III programme -  will come to an end this June.
It also praised Cadwallader for her "painstaking work in uncovering the truth" in her book Lethal Allies.
They said her research "has shone a light into a dark past, which contains many lessons for the present day conflicts around the world".
The committee members strongly agreed with her "on the imperative for uncovering the truth around state collusion for wider British and Irish society, as well as for the bereaved families".
The committee has agreed to write to Taoiseach Enda Kenny TD and Tánaiste and Minister for Foreign Affairs Eamon Gilmore TD to support the Irish Government's efforts to advance the Haass proposals.
They will also urge the Irish Government to commit funding to ensure the Justice for the Forgotten can continue their valuable work beyond June this year.