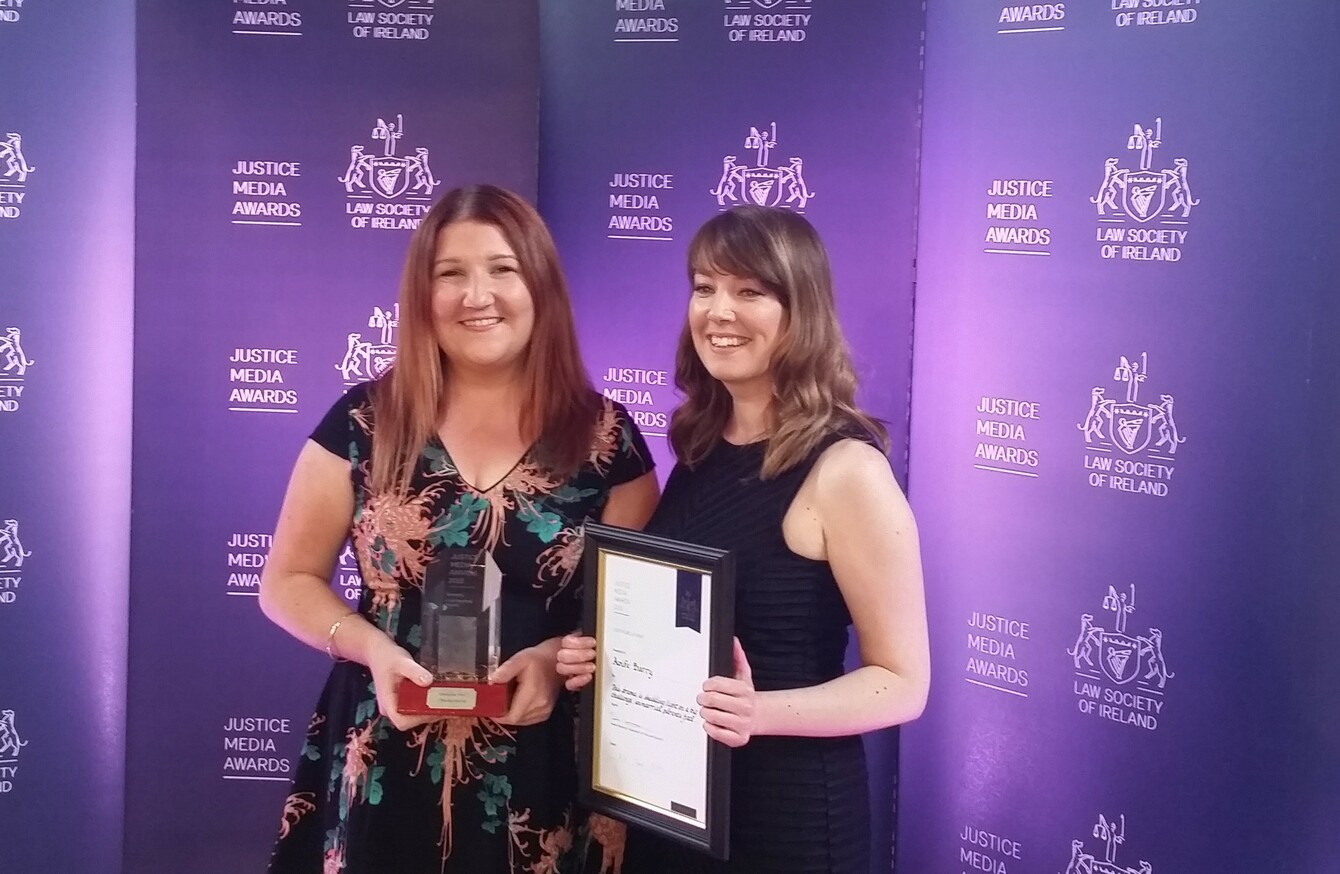 THEJOURNAL.IE has become the first online-only publication to receive a prestigious journalism award for its service to reporting on issues of justice and law.
Christina Finn was given a Justice Media Award this afternoon for her focus on the daily struggles and little-heard stories of those moving through the family courts. Her report entitled "My daughter is my life": Mother pleads with judge to return child from care was singled out in the digital court reporting category as a "strong example of insightful and responsible legal journalism in a challenging area of law".
The judges noted: "Family law cases are difficult to report, but it is of paramount importance that the public has a good understanding of what happens in family court.
"This piece, highlighting the role mental health issues all too often play in child care cases, and detailing the roles of the various organisations in such proceedings, contributes greatly to increasing the public's understanding of family law – a key raison d'etre of  the Justice Media Awards."
Aoife Barry's investigation into the difficult world of guardianship and parenting post a relationship breakup won her a special certificate of merit in the digital features category.
The piece – which picked up on a public debate sparked by a storyline in TV3 soap Red Rock – can be read here (This drama is shedding light on a big challenge unmarried parents face).
It was praised by judges today for its  "imaginative and sensitive approach". They added:
"Taking a storyline from a popular Irish TV soap, about a couple splitting up after having a child, interviewing in depth the lawyer consulted by the programme and shining a light on the legal issues surrounding parenting and guardianship following the breakdown of a relationship, this reporter presented a complex and intimidating part of the legal system, clearly, precisely and in a very relatable way."
The work of court reporter Alison O'Riordan on the Mark Nash trial, as published on TheJournal.ie, was also singled out for a certificate of merit. The only reporter to sit through the entirety of the three-month trial bore witness to a case that brought justice for the killings of two vulnerable women in their beds in sheltered accommodation.
She "carefully balanced a faithful re-telling of the courtroom proceedings with sensitivity and decency" and displayed "skill and commitment to quality court reporting".
This is the 25th year of the Justice Media Awards, set up to reward and encourage excellence in legal journalism and journalism that helps inform and educate the public on issues of justice and law. This year also attracted the highest-ever number of entrants.
TheJournal.ie editor Susan Daly said:
"We are delighted to have our reporters' insightful and diligent work recognised by the Law Society of Ireland. The area of law and justice can be an impenetrable one to the Irish public – we will continue investing in journalism that brings clarity to our audience on those issues and decisions which reach beyond a courtroom and impact on their daily life."
Winners at today's Justice Media Awards came from print, broadcast and online outlets, including these other main winners:
Fiachra O Cionnaith and Daniel McConnell (Irish Examiner) for Saving Grace – the story of 'Service User 42′
Dearbhail McDonald (Sunday Independent) for Medical negligence – a suitable case for treatment
Ann Murphy (Evening Echo) for The drugs question – what next?
Mark Tighe (Sunday Times) for What the jury didn't hear (in the Ian Bailey civil claim)
Vivienne Traynor (RTE News) for Satellite Gran
Frank Shouldice and Liam O'Brien (RTÉ Radio One) for The case that never was – the story of Bogdan Chain
Jerry O'Sullivan and Miriam McGillycuddy (Kerry Today) for The Legal Lowdown
Ray Kennedy (RTÉ News) for The Battle for Gorse Hill – five days in March
Conor Ryan and John Cunningham (RTÉ Investigates) for Standards in Public Office
Ellen Coyne (The Times – Ireland edition) for The criminalisation of the purchase of sex
Will Goodbody (RTÉ.ie) for 'Safe Harbour' case – what is it and why should we care?
The overall winner award, awarded to one of all of the category winners, was given to Frank Shouldice and Liam O'Brien for that radio documentary on a Polishman called Bogdan Chain who had been working in Ireland and a court case bearing his name without his knowledge or consent.
The investigative piece was described as "absolutely brilliant" by the judges and "has had a serious impact in triggering examination of the questionable legal procedures that allowed the bogus case to get so far, with potential consequences for all EU citizens".