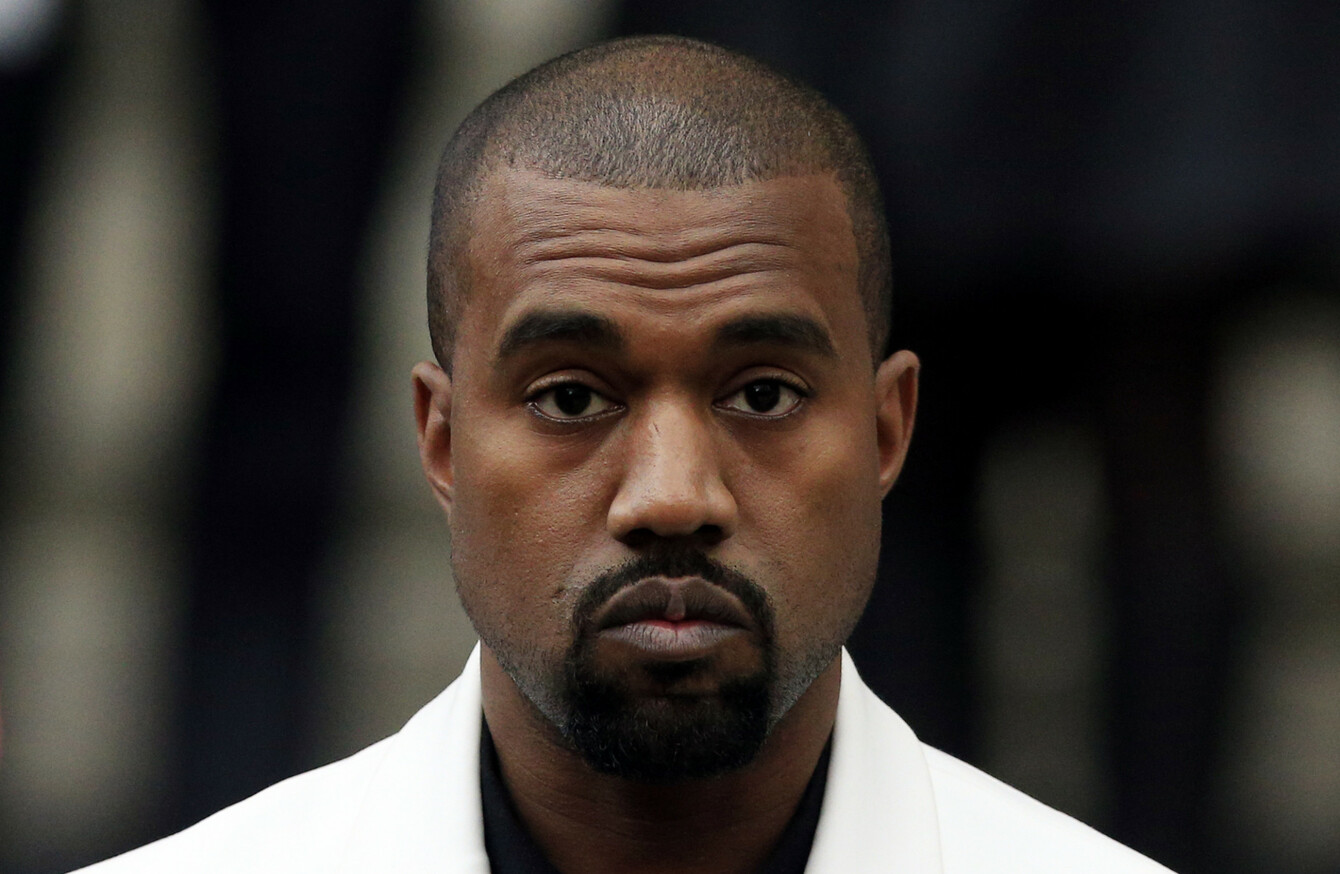 Image: PA Wire/PA Images
Image: PA Wire/PA Images
MUSIC STAR KANYE West has been criticised by musicians, fans and famous faces after he said that black slavery sounded like "a choice".
The rapper made the comments in passing during one of two free-flowing interviews he gave as he promotes two upcoming albums.
"You hear about slavery for 400 years. For 400 years? That sounds like a choice," West told TMZ Live, the broadcast wing of the celebrity gossip site.
West attempted to elaborate on that by drawing a parallel to how he claims to be "thinking freely" as an African-American artist.
"We're mentally in prison. I like the word 'prison' because slavery is too direct to the idea of blacks. Like Holocaust is Jews, slavery is blacks," West said.
He was challenged by a TMZ employee who said he was "disappointed, appalled and hurt" by those comments, saying they represented an absence of thought and "weren't real".
Source: TMZ/YouTube
West's remarks also sparked an uproar on Twitter, causing the hashtag #IfSlaveryWasAChoice to go viral.
The Black Eyed Peas' Will.i.am told Good Morning Britain that the comments "broke his heart".
"…because I thought about my grandma, who was born in 1920, and her connection with her mom who raised her, who was born in the late 1800s.
And my grandmother's grandma, who was a slave. And when you're a slave, you're owned. You don't choose if you're owned. When you're a slave you're deprived of education. That's not choice, that's by force.
"So I understand the need to have free thought, but if your thoughts aren't researched, that is just going to hurt those that are still in conditions where it's not choice."
American film producer Spike Lee posted a photo of himself with Kanye to Instagram, asking him to "wake up".
"SLAVERY… A CHOICE???' My brother, our ancestors did not choose to be stolen from mother Africa. Our ancestors did not choose to be ripped of our religion, language, culture.
CNN anchor Don Lemon said that his comments were "the most shocking" to date.
I can't believe that I actually need to say this – black and brown people who were enslaved for centuries had absolutely no choice. They weren't just mentally enslaved. This wasn't some kind of mind game. They were in very real chains.
The 40-year-old rapper, designer and husband of reality television star Kim Kardashian re-emerged last month after a year-long absence that followed a purported mental breakdown.
He enraged many fellow artists – but was embraced by conservative commentators – as he praised Trump, who has since cited the rapper's words as evidence of minority support.
In a separate interview with radio host Charlamagne tha God, West said he had not followed Trump's policies but "when I see an outsider infiltrate, I connect with that."
West and the White House
West – who in 2005 made headlines by saying that then president George W Bush "doesn't care about black people" – is one of the few prominent African-Americans to support Trump.
The president built his political career by promoting unfounded conspiracy theories about his predecessor Barack Obama's birthplace and has been embroiled in a number of racial controversies since taking office.
Speaking to Charlamagne tha God, West said he was upset that Obama invited other rappers to the White House such as Kendrick Lamar and Jay-Z.
Obama, in off-record small talk with a reporter in 2009 that leaked, called West a "jackass" after the rapper disrupted the MTV Video Music Awards to say that Taylor Swift did not deserve her prize.
"You know, he never called me to apologise," West said, explaining that Obama had met him and his mother before being elected president.
The same person who sat down with me and my mom, I think should have communicated with me directly.
- © AFP 2018, with reporting from Gráinne Ní Aodha