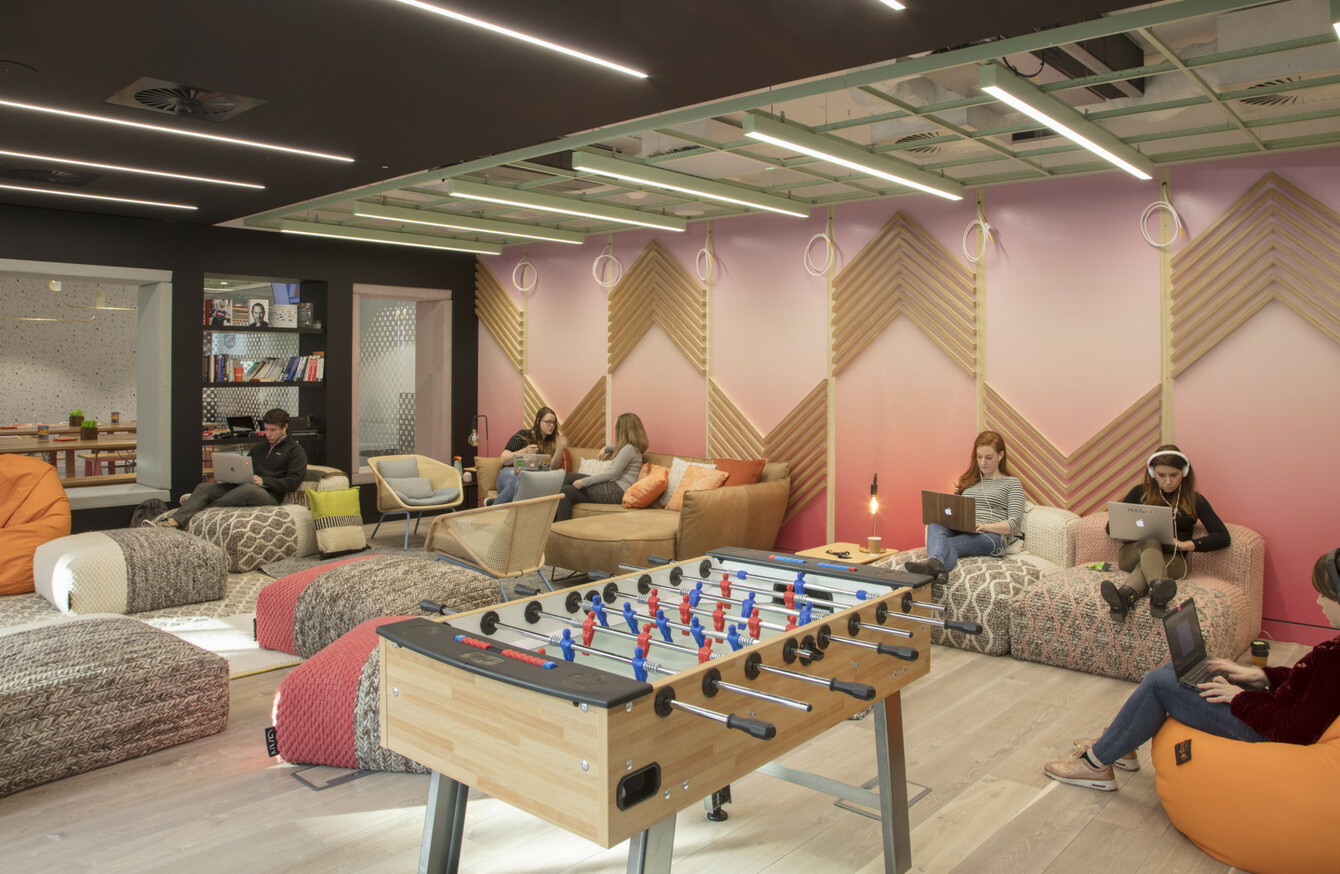 The HubSpot offices
Image: HubSpot
The HubSpot offices
Image: HubSpot
WHEN I WAS asked to write an article on work-life balance, I had an idea that perhaps working parents were cut more slack in terms of being afforded the opportunity by their employers to take 'work-life balance time'.
As a parent, I had certainly seen evidence of this in my own career, with non-parent co-workers over the years marvelling at concepts such as force majeure, paid parental leave and – shock, horror – even time off for school plays.
However, when I looked into this further, I discovered that there's a whole new culture out there that really embraces work-life balance in an authentic way; in a way that's not just accessible to parents who happen to have a child with an ear hanging off on any given day.
To be clear, I am in no way a tech-sector fan girl. Although I'm certainly a victim of 'always on' culture, I can't say I enjoy it. It certainly does nothing for my stress levels, relationships with friends and family, attention span or intellect. I know plenty of people feel the same way. Yet we continue to text, tweet, WhatsApp and Snapchat our little hearts out. As tech burnout and smartphone addiction become the norm, the tech sector is sometimes thought of as the big bad guy who's going around wreaking havoc on the natural ebb and flow of our lives.
After talking to a number of people in the sector about this topic, though, I'm beginning to wonder if I'm simply a luddite. The more I speak to people in the tech industry, the more I envy the level of attention their employers seem to pay to their wellbeing. Now, the cynic in me would say it's all for show; that the reason big tech companies ply their employees with free food, open beer fridges and lute players on demand is to minimise their desire or need to ever leave the workplace. But maybe I'm wrong.
We asked Kate Moran, Culture Program Manager at software firm HubSpot, to explain to TheJournal.ie what makes her sector so great at work-life balance.
Kate, you work in the tech sector for a large multinational. What is their WLB ethos like?
At HubSpot, our work culture is centered around the values of flexibility, transparency and autonomy.  We consider our employees our best asset and we work hard to make their experience a remarkable one. For WLB, each employee has the ability to build their own schedules and find a 'balance' that works for them.
For me, as a mum of a toddler, I get up early and wave her off on her way to crèche with her dad. I'm on the 8am train and I'll begin to check emails on my phone and mentally plan my day ahead. I do my best to leave the office by 5pm each day. On Fridays I'll generally work from home, which allows me to collect my daughter early and spend extra time with her ahead of the weekend.
I work on a global team, where my colleagues are in different time zones. We've identified times during our day that work for conference calls and we've set expectations on response times and out of office times. If we're unnecessarily online after hours, we've created a team culture where we call each other out for logging in. I'm not lying when I say more than once my manager has slacked me to say, 'Hey Kate, I see you're online, please log off and enjoy your time outside work'. She leads by example and it's positively infectious.
We also offer wellness sessions in work such as yoga, muay thai, 1:1 session with nutritionists, gym reimbursements, 15-minute massages… I could go on, but I won't. To be very honest, we do know how important WLB is for productivity and employee happiness so we invest in it. We haven't got it all figured out – as no two people are the same – but we're making a good head start at it!
How do you find this compares to other places you've worked?
In terms of WLB, it's extremely refreshing to know you are in control of your own productivity.
In a previous workplace, I will never forget receiving a call from my manager, while I was seven months pregnant, to tell me that being 20 minutes late back from lunch was unacceptable. It was a colleague's 50th birthday lunch that had ran over.
You have an unlimited vacation policy. How do you make sure that you get results?
A belief we hold pretty strongly is that results matter more than the hours we work. What matters most is the impact employees can have by doing great work; but we don't track where or when that work happens.
Employees are encouraged to work from home, come in and leave the office when they need to, and take vacation time when they want. They don't need permission and we don't track time off. Employees have complete autonomy and we trust them to drive results regardless of their work-life balance or schedule.
We introduced unlimited vacation because years ago, an engineer had worked long hours to get a product ready to launch. After the launch, he asked our CEO if he had permission to take a few days off later that month. Our CEO thought it was crazy that he would work around the clock to help the company but then needed permission to take time for himself.
Since then, we've had unlimited vacation globally, and it's used for traditional vacation and trips, but also for flexible day-to-days. For example, some employees come in "late" certain days because they take a fitness class in the mornings, or stay at home with their children until the afternoon, or would prefer to commute after rush hour.