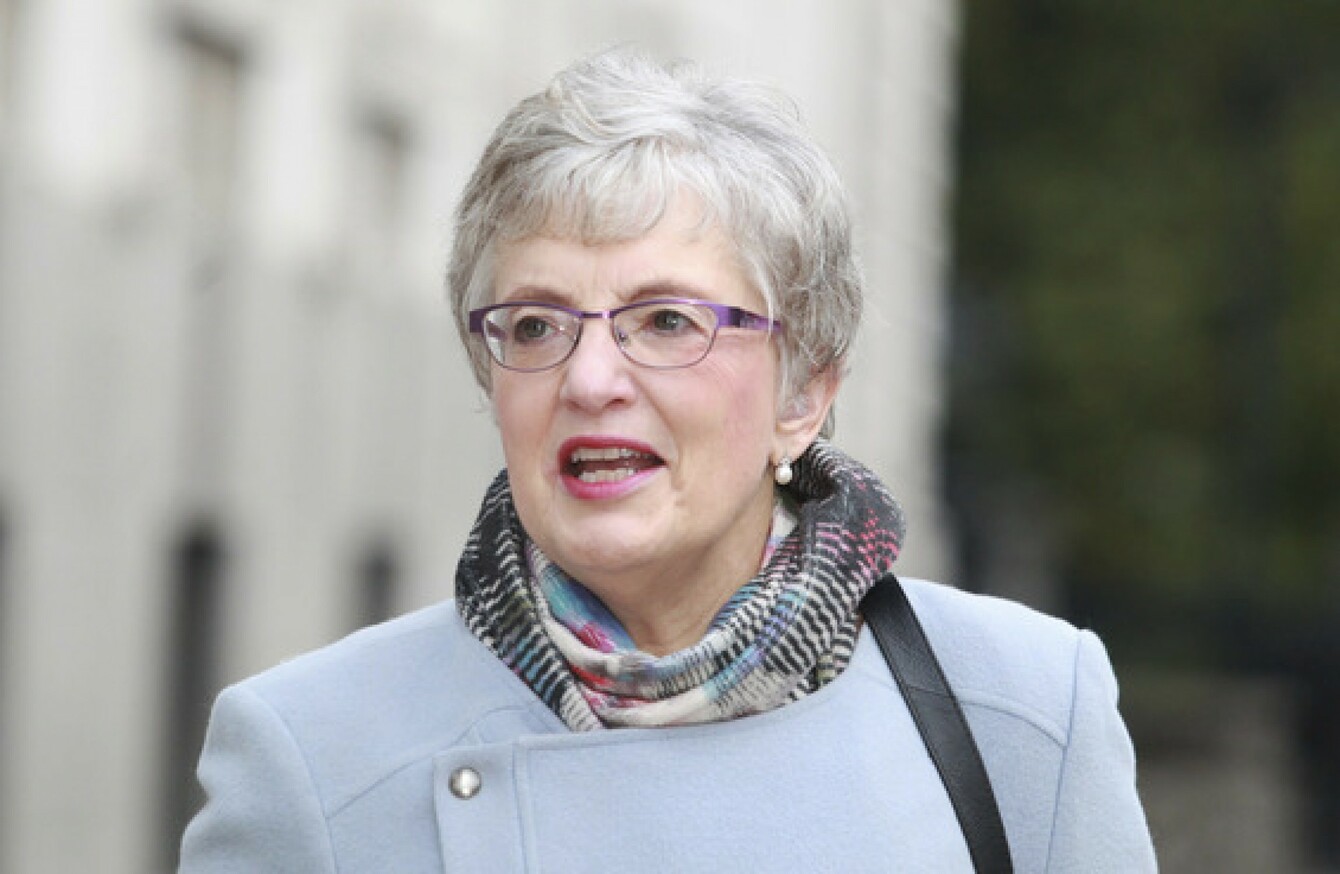 Children's Minister Katherine Zappone.
Image: Rollingnews.ie
Children's Minister Katherine Zappone.
Image: Rollingnews.ie
Updated 3.15pm
A SPOKESPERSON FOR Minister for Children, Katherine Zappone has said the minister met Maurice McCabe and his wife Lorraine McCabe after the issue of the false Tusla allegations were brought to her attention last month.
It's understood Zappone became aware of the circumstances when McCabe's wife contacted the office of the Minister for Health Simon Harris on 18 January.
Zappone later met with the couple on 25 January.
The minister has been under pressure today to clarify what her knowledge is of the case and what information she passed on to her Cabinet colleagues on Tuesday.
However, in a statement issued this afternoon, Zappone said she informed the "relevant Government colleagues during the course of this period".
Further clarifying the situation, the statement continues to say that as the false Tusla file related to the Department of Children and Youth Affairs (not the Department of Health) the private secretary of the Department of Children (DCYA) was requested to call Lorraine McCabe.
He did so on 18 January.
The statement continues:
Since then her office has been in regular contact with Mrs and Sgt McCabe and Tusla – which has led to the offer of a public apology.
The Secretary General of the Department of Children and Youth Affairs held a meeting with Senior Tusla Personnel on Friday 27 January.
Tusla provided DCYA with a chronology and analysis of the case – which the Department gave to Mrs and Sgt McCabe on Saturday 28 January.
Tusla informed the Secretary General that they have instituted a case review to extrapolate all relevant information in order to provide a more detailed analysis.
The statement ends:
Minister Zappone was always of the view that Tusla would form part of the investigation by the Commission of Inquiry.
It's understood the delay in issuing the statement today is due to the minister being overseas in Seattle on family business.
Tusla allegation 
It emerged yesterday that an allegation was reported to Tusla by a counsellor in 2013.
Nine months later the counsellor contacted the agency to say she made "an administrative error" – she had accidentally pasted these details into her report. By this stage the complaint had already been passed onto gardaí.
McCabe had been told that he was being investigated for sexual abuse, but last year was informed that this was a mistake and no allegation had been made.
Mistake 
In a statement today, Tusla said it is clear "that mistakes have been made".
Speaking on RTÉ News at One, Fianna Fáil Micheál Martin said he thinks it "would be incredible and very difficult to understand that when discussing the Iarfhlaith O'Neill report and the recommendations that emanated from that report… that this issue [the Tusla error] wasn't referenced, or raised as being pertinent to it, as it clearly is".
He said "alarm bells" must be going around government at the moment.
"Surely the Taoiseach must have been alerted by Minister Zappone and surely the Minister for Justice would have been alerted by Minister Zappone about this development," he said.
Health Minister Simon Harris said he could not comment as to what was discussed at Cabinet due to Cabinet confidentiality.
The Wicklow TD told RTÉ News that he has confidence that the terms of reference of the inquiry are broad enough to deal with the question the public want answered: was there a smear campaign against a whistleblower?
Putting information into the public domain
However, he pointed out Tusla does not have to wait for the commission of inquiry to begin before putting more information into the public domain.
This week, Justice Minister Frances Fitzgerald indicated that while she is willing to accept the O'Neill terms of reference in full, she is also willing to make amendments to them.
Fianna Fáil proposed the terms be widened to include other state agencies, with TD John McGuinness particularly referencing Tusla in the Dáil.
Speaking this morning on RTÉ's Today with Sean O'Rourke, McCabe's solicitor Sean Costello said that an apology from Tusla would not be enough.
He said a report on the litany of errors made against his client was given to the Department of Youth Affairs.
The Chair of the Oireachtas Committee on Children and Youth Affairs, Jim Daly said Tusla must appear before the committee to explain the sequence of events of how they sent false allegations of child sex abuse against McCabe.
This is incredible and quite hard to comprehend what has occurred here against a serving garda member.
"Tusla is the State body responsible for the protection and wellbeing of children across this country. That is their purpose – to protect children and their interests – and not to send files of false allegations to gardaí for further investigation," Daly said.
"The explanation that it was a copy and pasting error or an administrative error is incompetence of the highest degree. Is this credible? It needs to be outlined fully."
TheJournal.ie has contacted the Department of Justice for comment.