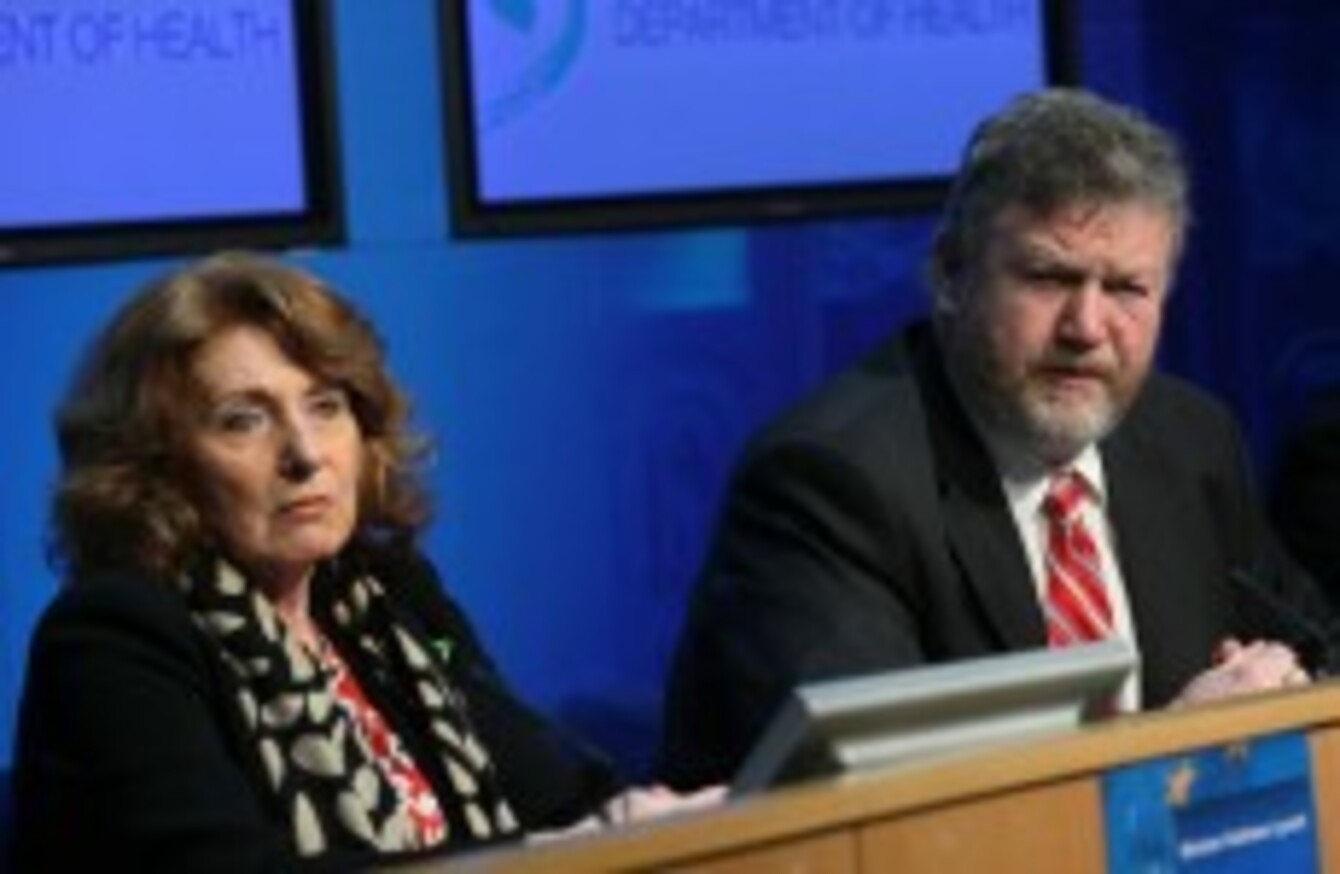 Kathleen Lynch with James Reilly (File photo)
Image: Laura Hutton/Photocall Ireland
Kathleen Lynch with James Reilly (File photo)
Image: Laura Hutton/Photocall Ireland
JUNIOR HEALTH MINISTER Kathleen Lynch has acknowledged difficulties around the issue of pricing in plans by the government to introduce universal health insurance (UHI).
Health Minister James Reilly has reportedly been told that his plans for UHI, detailed in a white paper currently circulating  in government departments, could threaten the financial stability of the State and add as much as €5 billion to the cost of healthcare.
Reilly has denied these claims but Social Protection Minister Joan Burton emphasised at the weekend the importance of ensuring any health insurance model is "cost-effective", citing "extremely high" pricing in countries like the Netherlands which has a system similar to the one being suggested here.
Lynch told Newstalk Breakfast it was "not true" that she and fellow junior health minister and Labour colleague, Alex White, are being kept in the dark about plans for universal health insurance.
But she admitted there are issues with the plans for UHI, noting that the white paper is "not very detailed" and adding: "Yes there are still difficulties around the whole pricing issue.
"If it's at the levels that is being talked about then clearly it's unaffordable."
She said there are ongoing discussions between Public Expenditure and Reform Minister Brendan Howlin and the Minister for Health with the Department of Finance "deeply involved as well".
"We are at the point of where we are negotiating and trying really to decide what will be in the basket in terms of what is deliverable," she said.
Lynch also insisted that Primary Care Minister Alex White is not suggesting a fee will be charged for free GP care, which the government hopes to introduce for children under 6 this year.
"He was not talking about a fee to be charged in Ireland, he was talking about free GP care. He was discussing what happens in other countries,"she insisted.