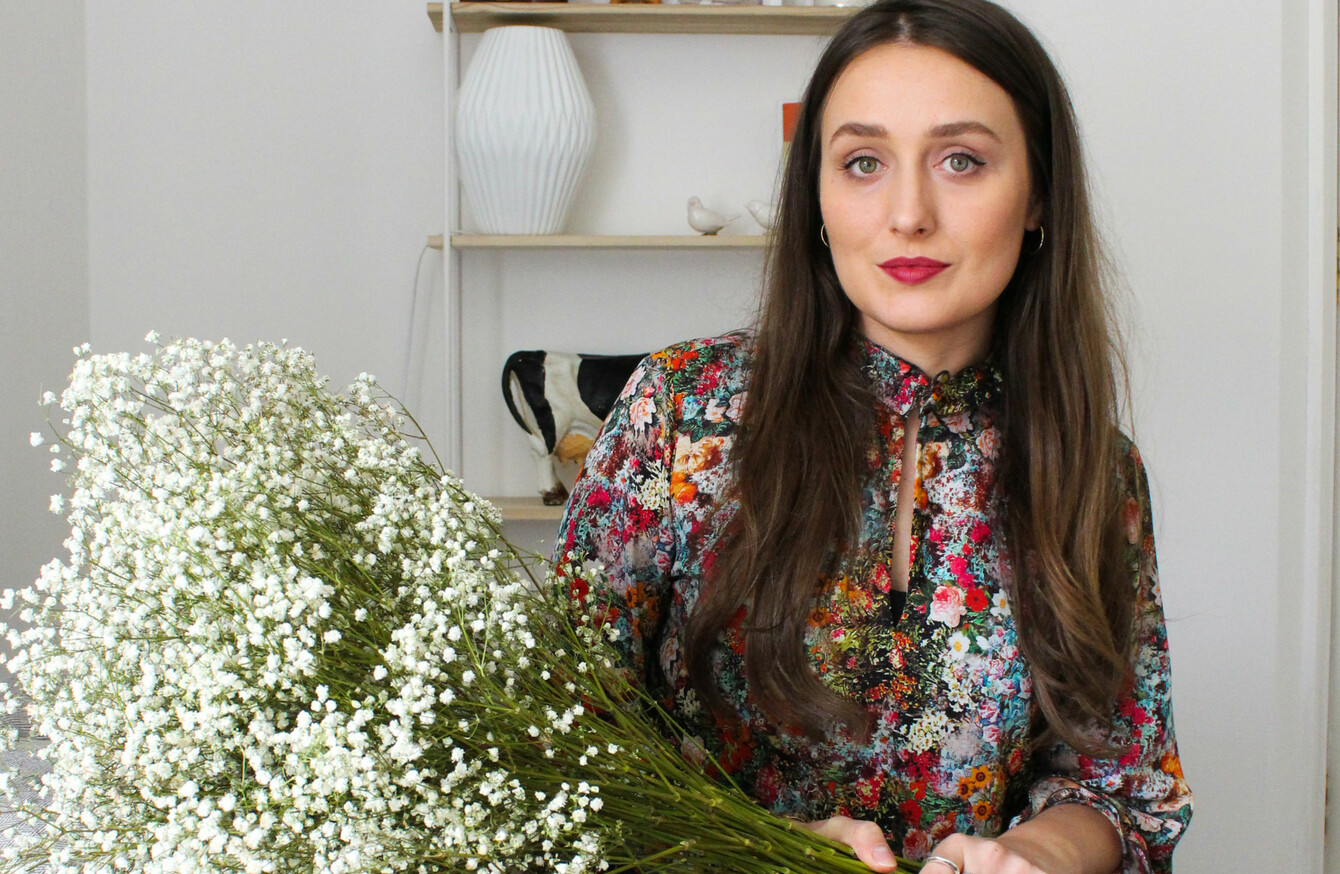 Katie Moore
Katie Moore
"I THINK LIVING with a longterm illness gives you this way of viewing the world."
So says Foxford, Mayo-born visual artist Katie Moore, whose cystic fibrosis has influenced her work not just in a very visible way – previous installations included hand-sewn hospital gowns – but in an invisible way. Growing up with cystic fibrosis and spending so much time in hospital has, she says, given her a sense of empathy for others, an empathy which seeps into her work.
For her latest project, Entropy, Moore was inspired by the Tuam Mother and Baby Home. She was so moved and saddened by the discovery of remains on the site by Catherine Corless that she wanted to create a piece of art to reflect that.
"But then I started working on it and I found it really hard," she says. "It was a bit of a difficult start. And then I went and met Catherine [Corless] in her home. It was just from listening to her talk that really got it going."
"She spoke about her experiences growing up with the children from the home but then she was also speaking a lot about her life," she says.
"I ended up finding her so interesting. And how she is such an empathic person that she took this project on. I was interested in how some people are just drawn to these [situations]. You take other people's feelings on board, almost. And then I was interested in her speaking about how much she loves her home. She doesn't really feel the need to have to travel or go places. I was interested in this connection with her home."
Moore went to visit the site in Tuam, which got her thinking "about connection to the soil and place, and I got looking at the soil and weeds and what was growing there".
She reflected on her many years babysitting when younger, and how she found what happened in Tuam "so scary – all the children I'm around are so loved and it's so nice, which made me so sad".
She observed the weeds that now grow at the site, and from there started to look at flowers – which led her to the flower gypsophila, known as 'baby's breath'.
Baby's breath
The resulting work is an installation about life, and death. It features hundreds of strands of baby's breath. The white flowers are dried, but even in death they retain that sense of lightness and fragility they have while in bloom. For the installation, the flowers are suspended upside-down, while the sound of breathing fills the room.
When you have cystic fibrosis, "you are just really observant about things", says Moore, who started off in millinery before studying visual art. "[Because of] spending so much time on my own, whether I'm in hospital or at home – because life goes on, everyone else has to go to work. Not in a lonely way, that's just the way it is. You just see things a bit differently."
So because of her experiences – including spending two years in and out of hospital during the final two years of her degree – Moore has empathy with those who have suffered.
"You have this empathy, and understanding," she muses. "A lot of my work would be about my experiences of hospital isolation or home isolation."
"Because of this empathy I have… I almost take on other people's feelings and I feel like I have this hyper awareness," says Moore. So when she found out about Catherine Corless's Tuam discovery, "straight away I felt this overwhelming empathy towards the project. And for me in my life, even though I might get some bad news now and again I am a really positive person and that helps. But I always say, I need to acknowledge 'oh this is shit – but OK, I can handle this'."
For her, picking the Tuam Mother and Baby Home as a subject is a way of acknowledging the situation.
Art from the self
It was a lecturer, Seamus McGuinness, who encouraged her to turn to herself for artistic inspiration during that period of serious illness. "I just started to – I was almost a method actor," she recalls. "Everything was part of the process and that was the first time I really went into conceptual art, I suppose; that every little action was important."
The artwork featuring hospital gowns was about the 'false privacy' of such gowns, but it was also about "this absence of me", says Moore. "I was working with the presence of an absence."
Another project of hers, about Patrick Pearse's prison cell, meant enlisting volunteers to help sew 22,000 fabric lilies together. In the final artwork, the lilies cascaded down to the floor.
Today, Moore's health is the same as it was during her time in college – it hasn't improved, but she says she's coping better with it. She's even run a number of marathons to raise funds for a cystic fibrosis unit in Mayo. Living with cystic fibrosis often means campaigning for treatment or medication.
Moore says she takes part in campaigns because she's well enough to. "It's disheartening [that we have to campaign], it definitely is but I guess you do just have to fight," she says. She uses the cystic fibrosis unit in Mayo, but also attends hospital in Dublin every month.
"Even though it's difficult and crap, I am lucky I can walk," says the artist. That's why she uses her time and art to help others.
"I worked on a 1916 project as well – it's just so important to acknowledge situations in history," says Moore. "Some people might write a book or a song, or make a piece of art."
She received an Arts and Disability Ireland bursary for Entropy. "It's fantastic, it's always great," she said of receiving the financial boost. "You always feel so lucky and it's so reassuring. You always have a slight panic about being an artist, and then when you get a bursary award it's always great."
Katie Moore's new installation Entropy will be exhibited at the Linenhall Arts Centre, Castlebar Friday 4 May – Saturday 2 June.