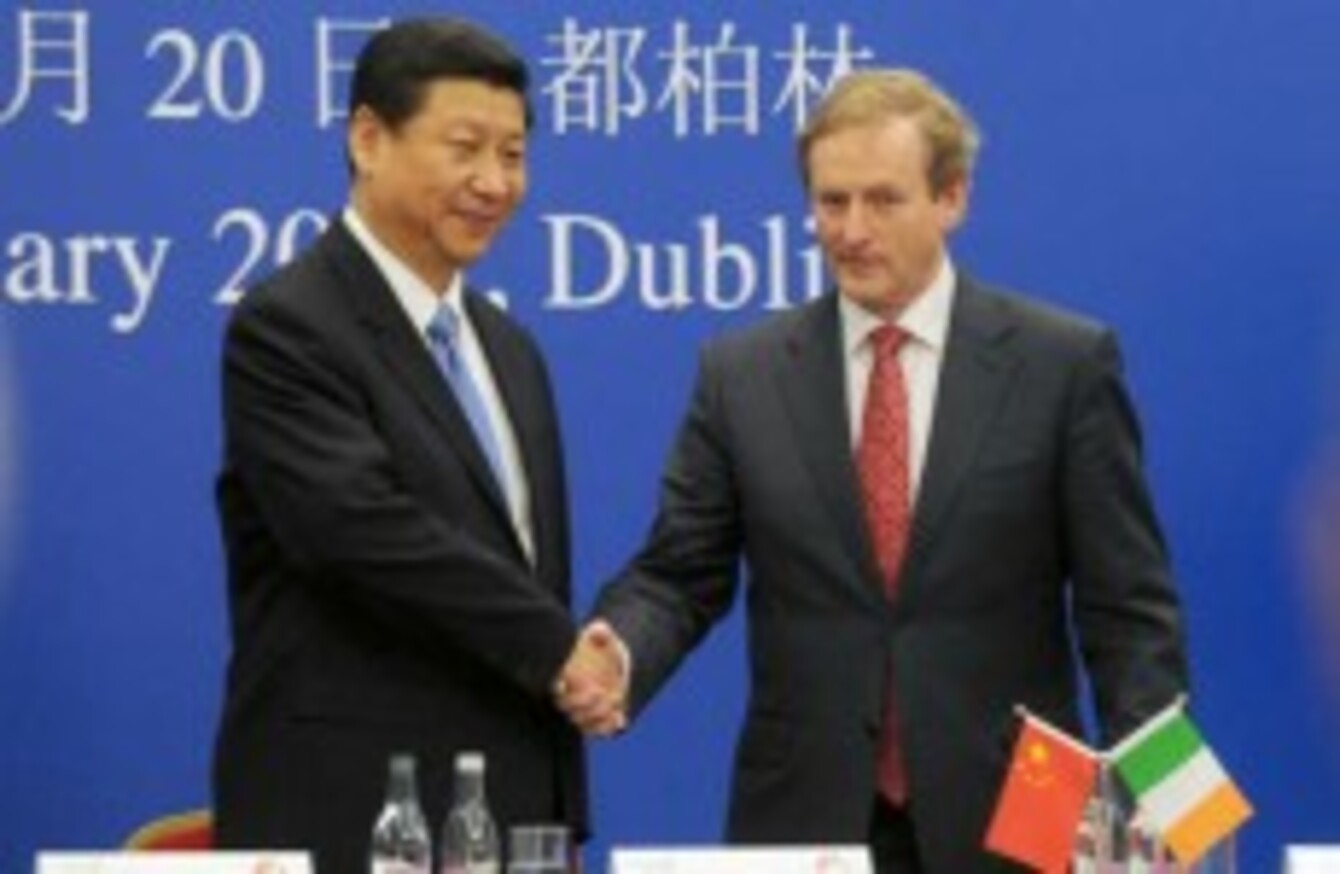 Xi Jinping in Ireland last month.
Image: Photocall Ireland
Xi Jinping in Ireland last month.
Image: Photocall Ireland
AN TAOISEACH ENDA Kenny has heard from a number of human rights groups ahead of his weekend visit to China.
Kenny is to lead a trade and investment mission to China on Sunday, where he will join Jobs and Enterprise Minister Richard Bruton and representatives from 90 Irish exporting  companies.
As Ireland tries to majorly tap into the lucrative Chinese market, the Taoiseach has come under pressure to discuss China's humanitarian record with Government officials in Beijing.
The Tibetan Community of Ireland handed a petition into the Taoiseach's office on Wednesday, urging Kenny to speak directly to the Chinese government on behalf of Tibet.
Chairman of the group Samdup Tashi said, "Taoiseach Enda Kenny said in the Dail, on the 22 February, that China's human rights record was improving. We would like to remind him that this is not correct and we have much evidence to the contrary and that he must raise the issue of Tibet and the horrendous treatment of Tibetans, the imprisonment of Tibetan people without trial and the killing of Tibetan people inside their own country by China, as a matter of urgency."
Amnesty International were granted a meeting with Kenny yesterday during which representatives asked him to "deliver a clear and forceful message on human rights".
"Amnesty International has urged the Irish Government to make human rights a central part of the discourse with the Chinese authorities," said executive director Colm O'Gorman.
The return trip to China comes just weeks after Xi Jinping's State visit to Ireland. China's VP spent three days in Ireland, during which Tánaiste and Minister for Foreign Affairs Eamon Gilmore insisted the issue of human rights abuses was raised.
Although Amnesty recognised the "need and opportunity" for trade with China, it said that Ireland should not "shy away" from naming China's human rights abuses while doing business with the country.
The activist group had a specific list of concerns, including detention-without-trials in China, treatment of human rights lawyers and prisoner executions.
The group said the issues are particularly prevalent as Ireland seeks election to the United Nations Human Rights Council.
No specific cases were discussed with Xi Jinping during his visit to Ireland, according to Gilmore but Amnesty wants this trip to be different.
It listed five individual cases which it urged the government to discuss with Chinese authorities, including the immediate release of Nobel peace laureate Liu Xiaobo.
Access China
Before leaving for China yesterday, Minister Bruton launched a guide to doing business in China to help facilitate Irish companies break the export market there.
Over the next two days, Bruton will lead 130 executives from 90 companies across Hong Kong and Shenzen. They will then travel to Shanghai on Saturday evening.