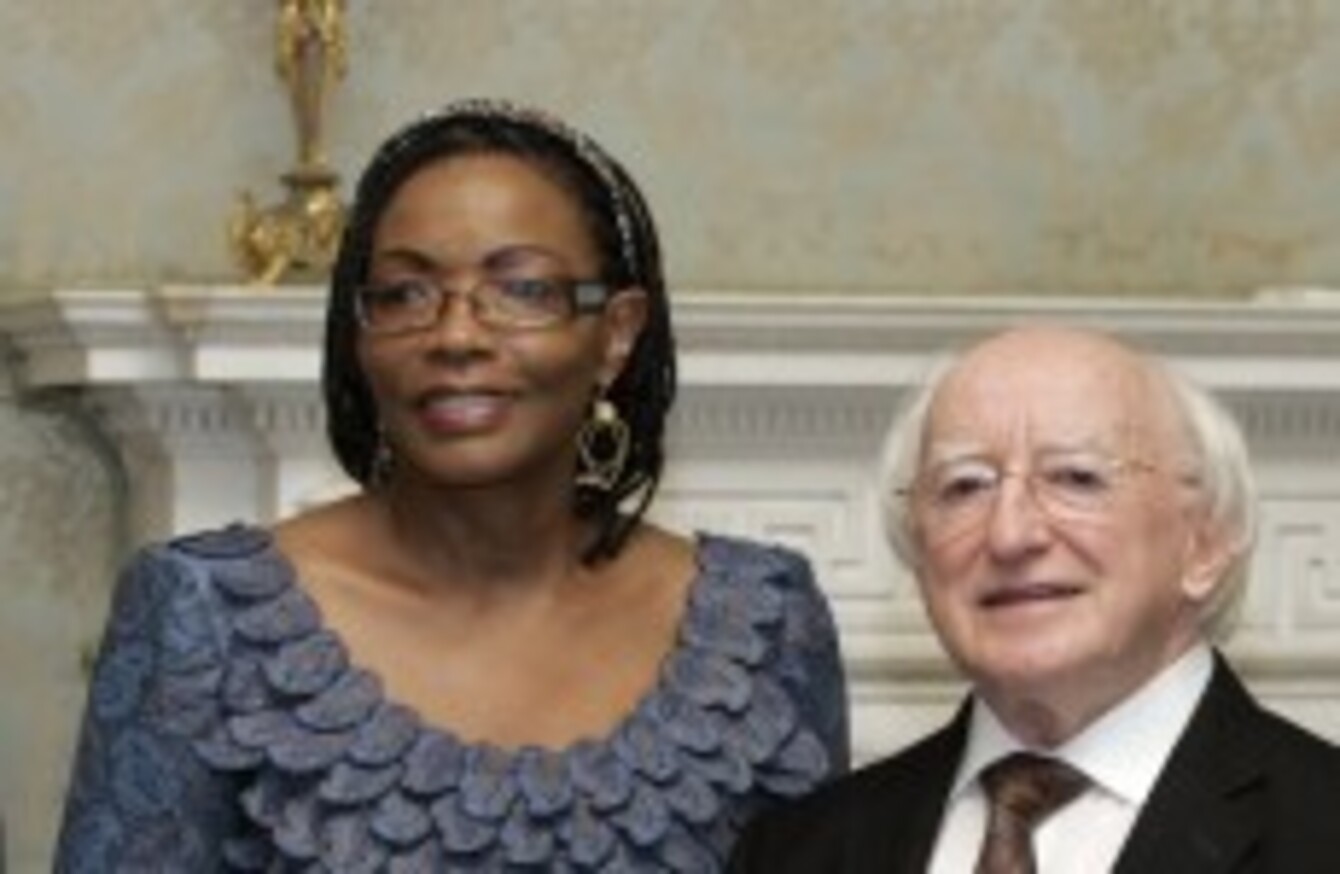 Catherine Muigai Mwangi with President Michael D. Higgins at a function in the Áras last year.
Image: Photocall Ireland
Catherine Muigai Mwangi with President Michael D. Higgins at a function in the Áras last year.
Image: Photocall Ireland
THE SON OF the former Kenyan ambassador to Ireland, Catherine Muigai Mwangi, was amongst those killed in the terrorist siege on a Nairobi shopping centre at the weekend.
Mbugi Mwangi was shopping with his fiancée Rosemary Wahito when the violence began at the Westgate mall on Saturday. Both lost their lives in the ensuing gun and grenade attacks.
A spokesperson for the Kenyan embassy said staff were devastated by the news.
"It's a really traumatic experience for the ambassador," the spokesperson told TheJournal.ie.
Catherine Muigai Mwangi opened the country's Irish embassy in 2007, and served in the post until last month — departing home to Kenya on 15 August.
Mbugi was the former ambassador's only son, and it's believed the couple were shopping for their planned wedding.
He was also the nephew of Kenyan President Uhuru Kenyatta, who yesterday described the couple as "lovely young people" who he "personally knew and loved".
The president also promised retribution for the attacks, saying that security forces would "punish the masterminds swiftly and indeed very painfully".
There were also reports that the president's older sister was in the shopping mall at the time, but escaped unharmed.
At least 69 people are now confirmed to have been killed and 63 more are still missing in the ongoing siege, according to the Kenya Red Cross.
The 63 recorded missing are thought to include both hostages still being held by the Islamist militants fighting Kenyan troops inside the complex, as well as those possibly killed in the three-day-long siege.
Others may be hiding in the sprawling centre. As the stand-off entered its third day this morning, sustained bursts of rapid gunfire erupted at dawn and lasted 15 minutes — soldiers posted around the mall ducking for cover.
Kenya security personnel, one in plain clothes, take cover outside the Westgate Mall [Sayyid Azim/AP/Press Association Images]
The Somali Shebab militants threatened to kill the hostages they are holding as Kenyan troops moved to end the siege.
Kenyan Interior Minister Joseph Ole Lenku said in a security update that "a few" hostages remained in the mall, but would not give precise figures.
The Shebab have not said how many people are being held by the dozen-or-so attackers, who marched into the four-storey building at midday on Saturday, spraying shoppers with machinegunfire and tossing grenades.
Additional reporting by AFP