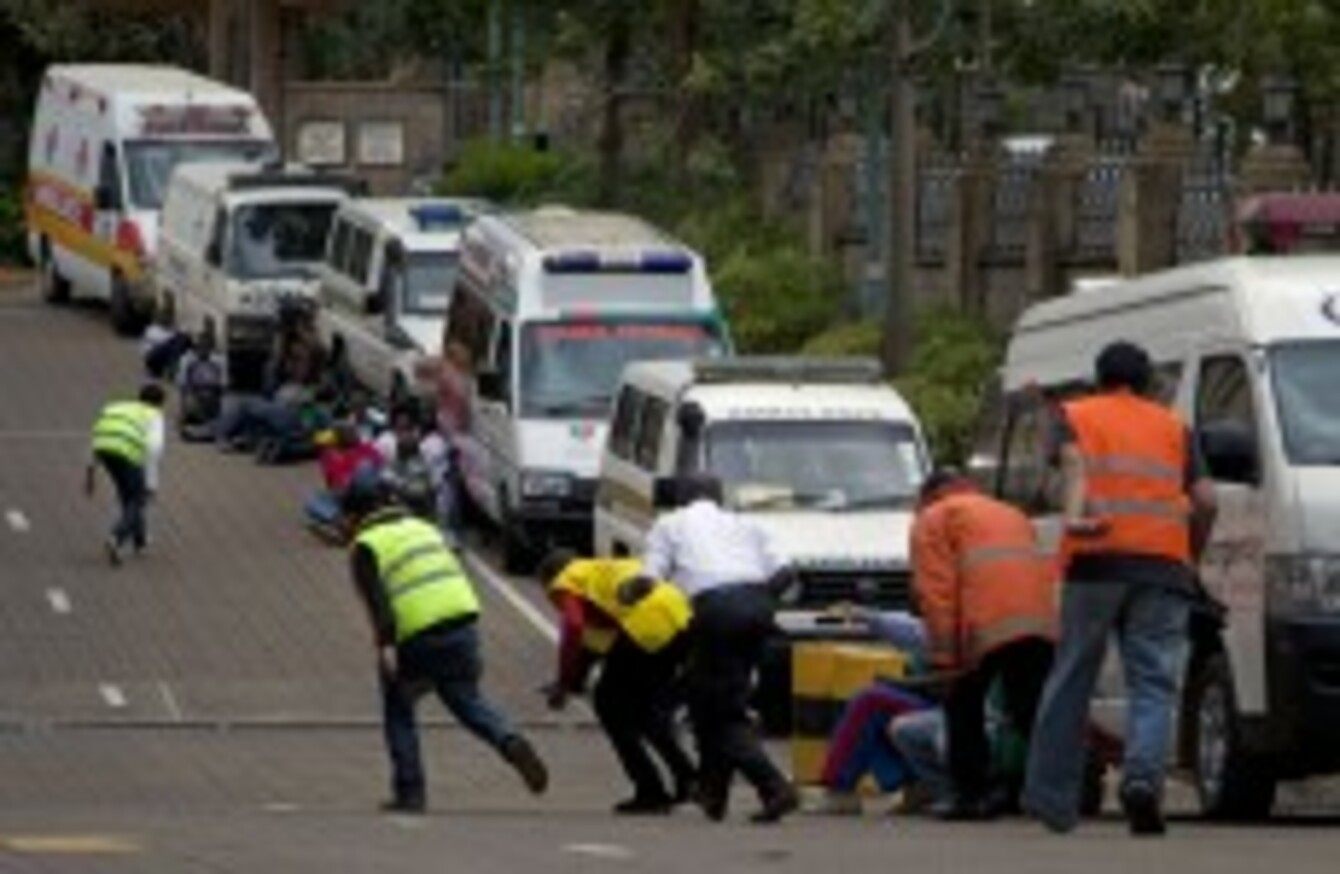 Paramedics take cover beside parked ambulances outside the Westgate mall
Image: Sayyid Azim/AP/Press Association Images
Paramedics take cover beside parked ambulances outside the Westgate mall
Image: Sayyid Azim/AP/Press Association Images
Updated at 3.53pm
KENYAN SECURITY FORCES remained locked in a fierce, final battle with Somali Islamist gunmen inside an upmarket Nairobi shopping mall today as huge explosions and a barrage of heavy gunfire echoed out of the complex.
A thick cloud of black smoke billowed out from the Westgate mall as Kenyan officials said the 50-hour-long siege — which has seen the gunmen massacre at least 62 people and take dozens more hostage — was close to being resolved.
"We think the operation will come to an end soon," Interior Minister Joseph Ole Lenku told reporters camped outside the vast part Israeli-owned complex, which was popular with wealthy Kenyans and expatriates.
"We are in control of all the floors, the terrorists are running and hiding in some stores… there is no room for escape," he said, adding that some hostages had been freed, but without giving specific numbers. Two gunmen were also killed in the fighting.
The Kenyan Red Cross said at least 63 people were recorded missing, thought to include hostages as well as those possibly killed or still hiding. Around 200 people were wounded, officials said.
Somalia's Al-Qaeda-linked Shebab insurgents have claimed responsibility for the attack, which began at midday on Saturday, when the gunmen marched into the complex, firing grenades and automatic weapons and sending panicked shoppers fleeing.
Foreign fighters
Kenyan army chief Julius Karangi said the gunmen had different nationalities. Several foreign fighters, including Somalis with dual nationalities, are members of the Shebab force.
"They are from different countries. We have sufficient intelligence this is global terrorism," Karangi said.
Lenku denied that any of the insurgents were women.
"There are no women, all the terrorists are men. Some of them had dressed like women," he said
Shebab spokesman Ali Mohamud Rage warned that the hostages would "bear the brunt of any force directed against the mujahedeen" — signalling that hostages were being used as human shields.
[Image: AP Photo/Riccardo Gangale]
Kenyan President Uhuru Kenyatta vowed the attackers will "not get away with their despicable and beastly acts."
"We will punish the masterminds swiftly, and indeed very painfully," he declared in a televised speech to the nation yesterday.
Israeli forces
A Kenyan security source and a Western intelligence official said Israeli forces were also involved in the operation, along with British and US agents.
Non-Muslims selected for execution
The Shebab rebels said the carnage was in retaliation for Kenya's military intervention in Somalia, where African Union troops are battling the Islamists.
"If you want Kenya in peace, it will not happen as long as your boys are in our lands," rebel spokesman Ali Mohamud Rage said in a statement posted on an Islamist website.
Shocked witnesses said the gunmen tried to weed out non-Muslims for execution by interrogating people on their religion or asking them to recite the Shahada, or Muslim profession of faith.
A Kenyan police security officer runs for cover [Jerome Delay/AP/Press Association Images]
The dead include four Britons including a British-Australian, two French women, two Canadians including a diplomat, a Chinese woman, two Indians, a South Korean, a South African and a Dutch woman, according to their governments.
#Open journalism No news is bad news Support The Journal

Your contributions will help us continue to deliver the stories that are important to you

Support us now
Also killed was Ghanaian poet and former UN envoy Kofi Awoonor, 78, while his son was injured. The son of the former Kenyan ambassador to Ireland also lost his life in Saturday's violence — Mbugi Mwangi was also a nephew of President Kenyatta.
Israeli interests in Kenya have come under attack before, and the Westgate mall — popular with well-to-do Kenyans, diplomats, UN workers and other expatriates — has long been seen as a potential target.
Kenyans line up to donate blood for victims [Khalil Senosi/AP/Press Association Images]
Red Cross officials have revised down the official death toll from the siege. The figure is now at 62, seven lower than previously reported, due to "double counted bodies".
Travel advice
The Department of Foreign Affairs has updated its travel advice for Irish citizens in Kenya today, in light of the ongoing siege at the Westgate mall.
The warning, posted on the DFA website this morning, advises all Irish nationals to avoid the area and to "exercise extreme caution".
It adds: "Irish citizens are advised to keep in touch with the Honorary Consulate Office in Nairobi and to monitor this website for further information."
Speaking in Dublin earlier, Foreign Affairs Minister Eamon Gilmore said he hoped that the hostage situation could be  brought to a conclusion as quickly as possible "and that everyone will be brought out safely".
The Tánaiste said he wanted to offer his particular condolences to former ambassador Catherine Muigai Mwangi following the death of her son, and that she was in the thoughts of "her many Irish friends and colleagues and members of the diplomatic corps".
Additional reporting by AFP.
[This article was originally posted at 12.19pm]