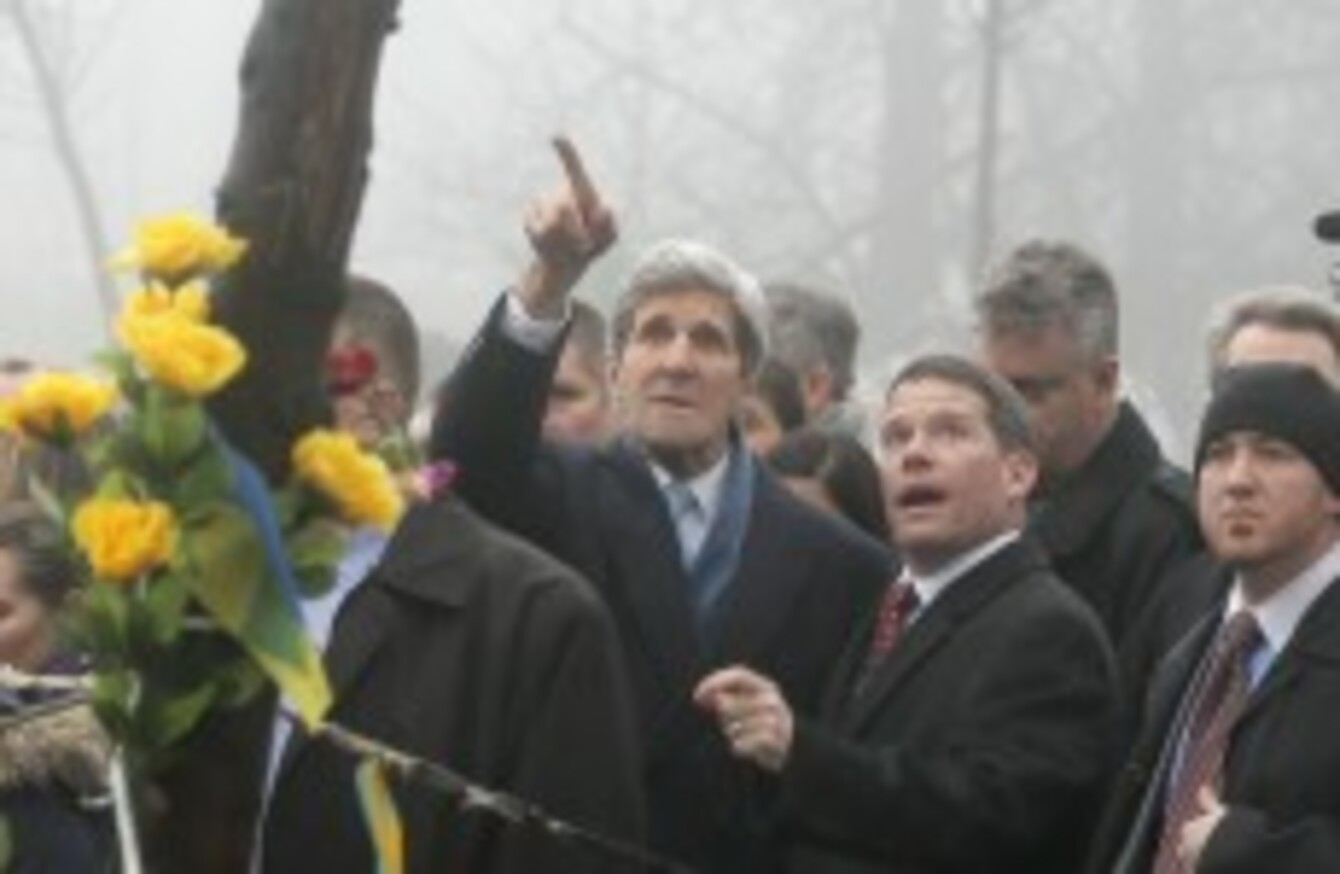 US Secretary of State John Kerry points to the bullet hole in a tree during a visit to Kiev
Image: Efrem Lukatsky/AP/Press Association Images
US Secretary of State John Kerry points to the bullet hole in a tree during a visit to Kiev
Image: Efrem Lukatsky/AP/Press Association Images
US Secretary of State John Kerry is expected to meet with his Russian counterpart Sergei Lavrov in Paris today in a bid to find an end to the crisis in Ukraine.
The move comes five days after President Vladimir Putin won parliament's authorisation to use force against Russia's neighbour in response to three months of protests that swept pro-Kremlin leaders from power and installed a new Western-backed team in charge.
Kerry yesterday accused Russia of looking for a "pretext" to invade Ukraine after taking de-facto control of the ex-Soviet state's strategic Crimea peninsula.
"I think that it is clear that Russia has been working hard to create a pretext for being able to invade further," America's top diplomat told reporters after meeting Kiev's interim leadership.
He warned Russia that it faced further punitive steps from the international community if it did not act to reduce tensions.
"If Russia does not choose to deescalate… then our partners will have absolutely no choice but to join us to continue to expand the kind of steps we have taken in recent days in order to isolate Russia politically, diplomatically and economically."
President Putin yesterday described the recent events in Ukraine as amounting to an "anti-constitutional coup and armed seizure of power".
Speaking at a media conference, he said his government reserved the right to use "all means" to protect Russian citizens should the necessity arise.
Kerry and Lavrov are due to meet on the sidelines of a long-planned conference in the French capital later.
Includes reporting from AFP