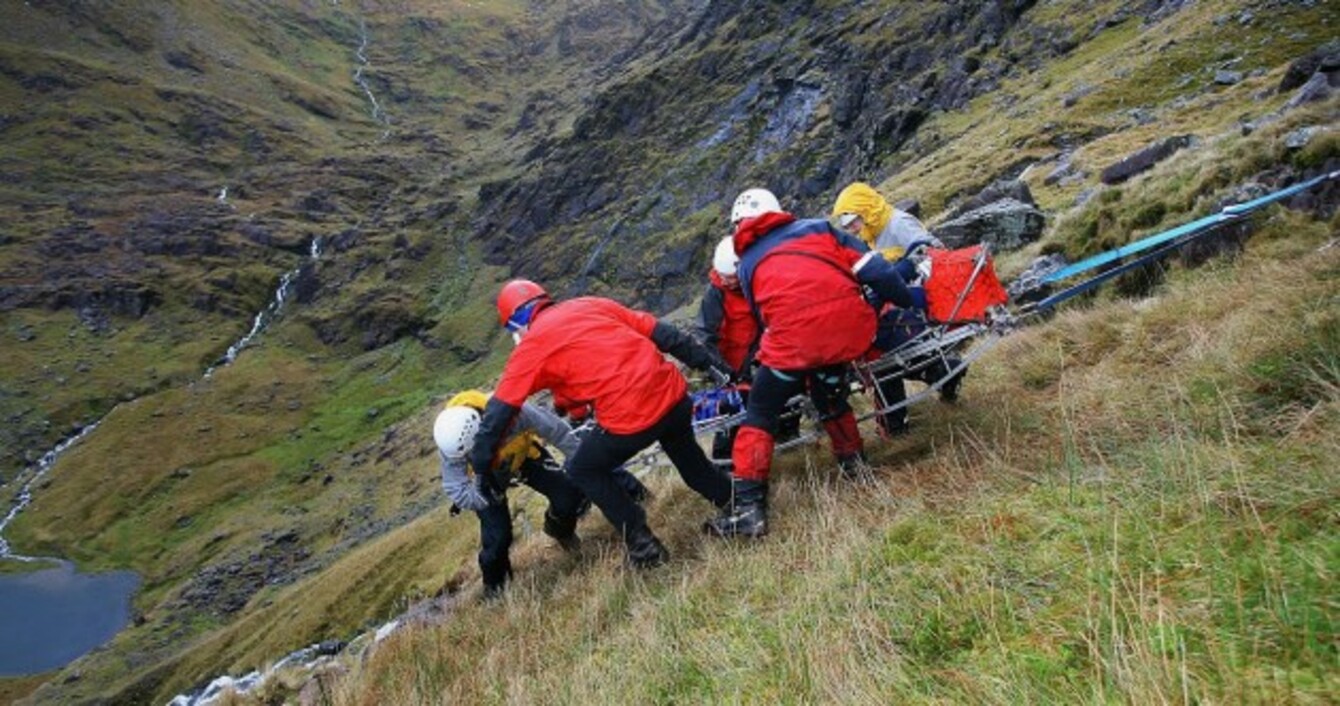 Image: Kerry Mountain Rescue Team
Image: Kerry Mountain Rescue Team
OVER THE PAST year the Kerry Mountain Rescue Team have assisted 40 people who got in trouble, spending 1,771 hours out rescuing.
The team dealt with some very serious incidents, with two people dying in the mountains.
Poor weather conditions are often a feature in these call outs and rescuers have issued a warning to those hoping to get out over the holiday period.
PRO of the Kerry Mountain Rescue Team Alan Wallace told TheJournal.ie that things "definitely get busier over the holiday periods".
One of the reasons we're so keen on getting safety messages out at winter is because conditions are more challenging and there's a lot more potential for incidents.
"The big thing is to decide where you want to go and pick somewhere that is suitable. If it's a forest walk, check if there's a path you can follow."
Wallace added that the team are called in for a lot of minor injuries as the terrain can be too difficult for ambulances.
"If it happened in an urban environment, an ambulance would be called. It might be on a forest track, but sometimes ambulances don't have the equipment to get to them."
Safety Tips
Kerry Mountain Rescue has the following safety advice for anybody considering a walk on the the mountains in the next fortnight:
Prepare and Plan
Develop the skills you need to judge hazards, including the ability to read a map. Consider the equipment, experience, capabilities and enthusiasm of your group, taking into account the time of year and the terrain -and choose your routes accordingly.
Clothing and footwear
Wear footwear with a treaded sole and ankle support. Clothing should be colourful, warm, windproof and waterproof, including hat and gloves.
Food and drink
Bring plenty of food and drink, high energy food such as chocolate and dried fruit are ideal. In cold, wet weather a warm drink is advisable, and always carry water.
Equipment
A map and compass are essential. A mobile phone and GPS are useful tools but don't rely on your mobile – in may areas of the mountains there is no coverage. Bring a first aid kit, bivvi bag, whistle and a torch (plus spare batteries and bulbs). Climbers should wear a helmet and in winter conditions, an ice-axe, crampons and survival bag are essential.
Before setting out
Check the weather forecast and local conditions. Mountains can be major undertakings and, in the winter months, night falls early. Leave your route plan including start and finish points, estimated time of return and contact details with an appropriate person. Charge your phone battery and eat well before you start out.
On the hill
Keep an eye on the weather and be prepared to turn back if conditions turn. Make sure group leaders are experienced. Keep together, allow the slowest member of the party to determine the pace. Watch for signs of hypothermia, particularly in bad weather – disorientation, shivering, tiredness, pale complexion and loss of circulation in hands or toes, discarding of vital clothing.
If you think you need mountain rescue you can contact Kerry Mountain Rescue Team by calling 112 or 999 and asking for mountain rescue. Remember to keep injured or exhausted people safe and warm until help reaches you.