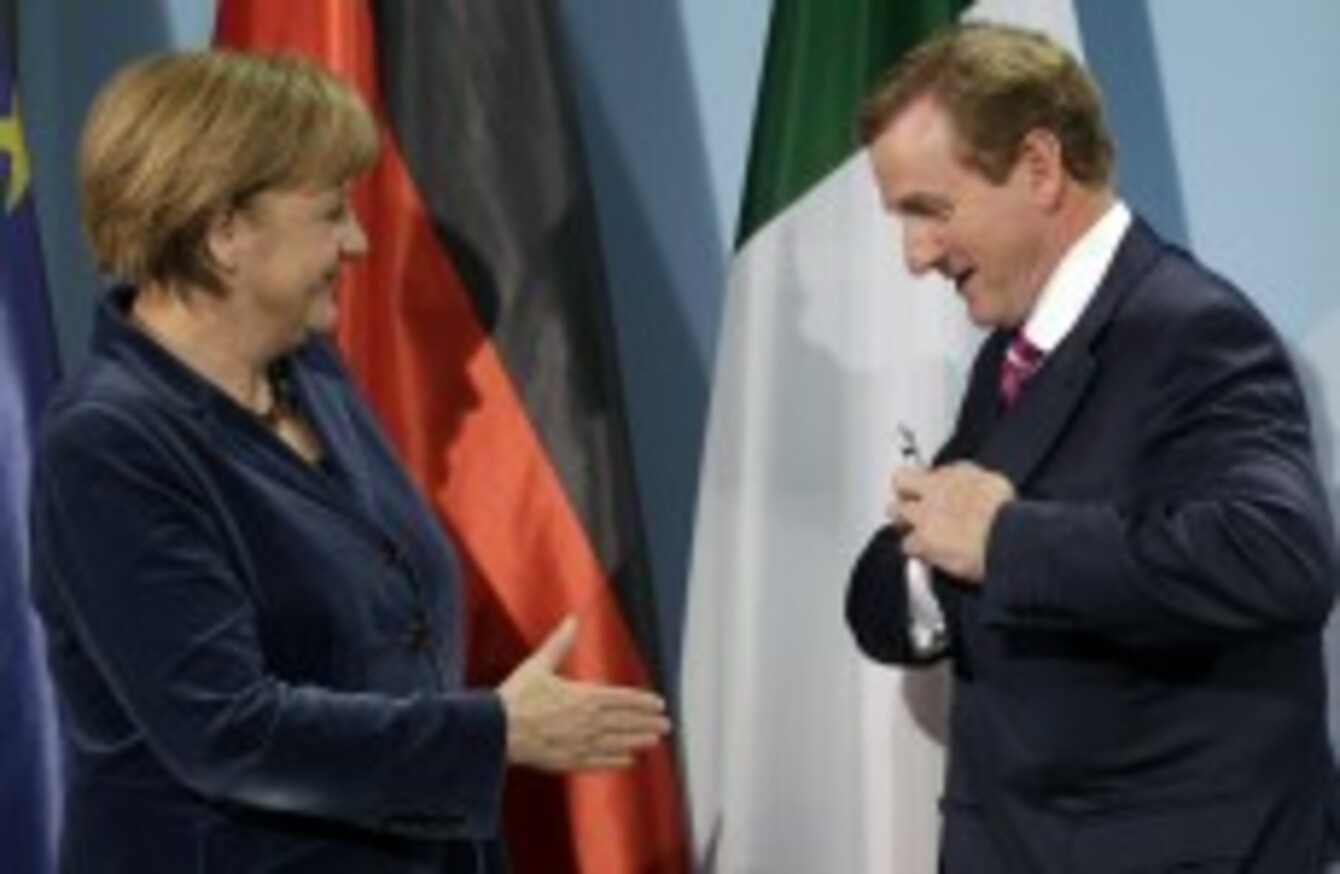 Angela Merkel and Taoiseach Enda Kenny meeting in Berlin earlier this month
Image: File photo - Michael Sohn/AP/Press Association Images
Angela Merkel and Taoiseach Enda Kenny meeting in Berlin earlier this month
Image: File photo - Michael Sohn/AP/Press Association Images
FINANCE MINSTER MICHAEL Noonan says work will now begin on the detail of an agreement with Germany on a deal that could provide low cost loans to Irish firms.
Under the plan, the money would be made available through the German state-owned bank KFW.
"The Taoiseach and Chancellor Merkel have an agreement in principal that Germany will bilaterally assist us in providing low cost credit to what they described as 'the real Irish economy'," Noonan told Newstalk Breakfast.
He said work would now get under way between Irish and German officials to work out the details of the plan.
"If we could access some money from KFW to channel into the SMEs in Irelad we would be able to provide another source of liquidity at very low cost.
"We are exploring lots of options on how to improve the liquidity of Irish banks through this mechanism, and the cost of money."
He added: "It's not a European strategy, this is a bilateral arrangement that was offered by the German Government to the Irish Government.
The development follows the announcement yesterday that Ireland would be departing the EU-IMF bailout programme without taking the option of a precautionary line of credit.
The Taoiseach briefly mentioned the KFW deal in his speech announcing the decision, saying that the the development bank would "work with the German and Irish authorities swiftly in order to deliver on this initiative at the earliest possible date".
He said the agreement had been reached following a number of conversations with the German leader discussing ways "to reinforce Ireland's economic recovery by improving funding mechanisms for the real economy, including access to finance for Irish SMEs".
Fianna Fáil has called for more clarity from the Government on the lender's future role.
The party's spokesperson on jobs, Dara Calleary said it was an "extremely vague announcement" that "raises more questions than it answers".
"People are wondering what exactly this means for the Irish banking sector, for Irish taxpayers and for Irish businesses," Calleary said.