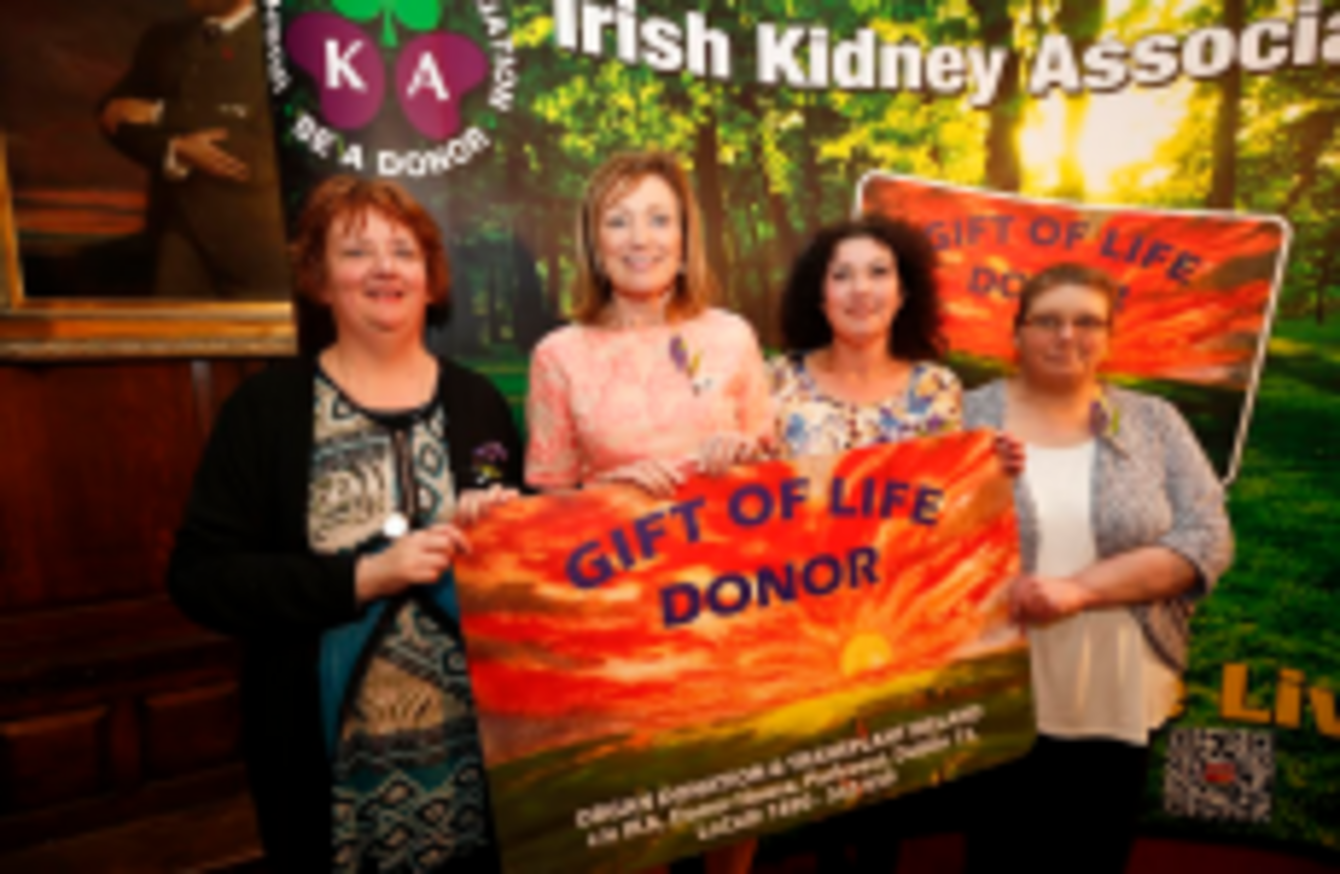 Annetha Kiernan with Mary Kennedy, Cathriona Charles and Margaret Charles
Annetha Kiernan with Mary Kennedy, Cathriona Charles and Margaret Charles
"I WAS IN total shock when I was told I was in renal failure," said Leitrim woman Annetha Kieran Loughran from Drumsna.
A teacher in St. Clare's College, Ballyjamesduff, Cavan, she underwent a kidney transplant  in November 2014 after 6 years receiving dialysis treatment.
"I was carrying on with my normal life, I had never really been sick a day in my life. I went to America on holidays and when I returned I had swollen ankles and was later diagnosed with purpura."
She was ill on and off for some time, but the doctors could not provide a diagnosis. Blood work would later show she was in renal failure.
Renal failure 
When in hospital she was told she had Anti-GBM, a rare autoimmune disorder. "Most people get diagnosed with it post-mortem, so I was lucky in one way. I was rushed to Beaumont Hospital to assess the damage and I was told I was in total renal failure."
She spent a lot of time in intensive care and high dependency units in Letterkenny, Sligo and Beaumont.
"When I was initially told about the seriousness of the situation – that I needed to go on the transplant list – I couldn't really believe it. The doctor was speaking to me and my husband, but I remember I had to ask so many questions afterwards, as I wasn't sure if I was listening," she explained.
"I had to get dialysis three times a week. It was very difficult. Your whole life is disrupted. It's not just you though, it is difficult for your loved ones too. In the first few days of me being ill, he thought he was going to lose me. It was very frightening from his point of view."
Annetha said she tried to make the most of life while she was ill. "I kept saying to myself, 'at least I'm alive," she said.
"My job was my saving grace, which I carried on with. I was determined not to get into 'invalid mode'."
No match
Despite screening, there was no kidney match in her family, so it was simply a matter of waiting for a donor. "There was quite a few complications over the years, so I was on and off the list at some points.
"For the times I was on the list, I didn't sit around waiting for the phone to ring – that would drive you crazy. I just put it to the back of my mind and hoped my day would come."
She said she never believed in karma until she helped raised money for the Irish Kidney Association. After handing in the money she said to herself that she hoped the world would pay her back somehow. Not long after she got a call to say there was a match.
"It was the last thing I expected," she said.
She added that she couldn't thank the staff at the hospitals that cared for her saying they went above and beyond for her. " I could never thank them enough."
"Someone had to die so I could get this kidney. Everyday I pray for that family and that special person, and I will for the rest of my life."
"It really is the most special gift. The gift of life. It's wonderful to have my life back. I lost it there for six years, but now I never look back."
Organ Donor Awareness Week takes place from 28 March – 4 April. The Irish Kidney Association is promoting the week and urging people to have a family discussion around the subject of organ donation. You can offer your support for organ donation through donor cards, smartphone app, driver's licence (code 115) and Freetext numbers. You can text "kidney" to 50300 and €2 will be donated from your mobile phone account to the IKA. 
Throughout the week, IKA volunteers will be distributing organ donor cards and selling forger-me-not flower emblems (the symbol of transplantation) in cities, towns and villages throughout the country.