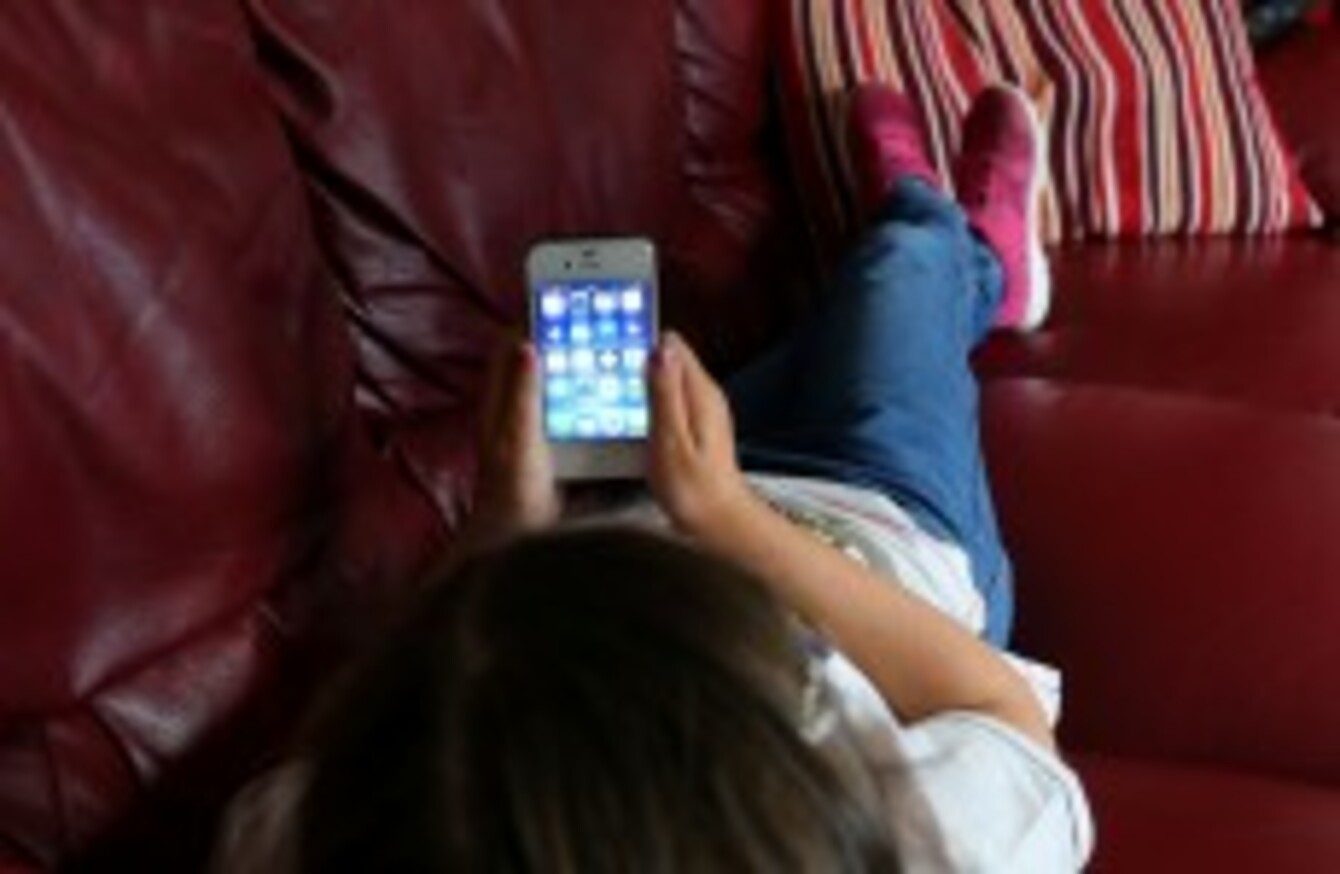 Image: Peter Byrne/PA Wire
Image: Peter Byrne/PA Wire
IT'S A QUESTION that's going to come up sooner or later, your child is eventually going to ask when they can get their own smartphone.
For some it's a relatively straightforward decision, for others, it's something that can fill them with dread. No matter what stance you take with this, it is a major decision to give your child a smartphone since there is so much to consider before doing so.
What's the right age?
The answer to this will depend on a number of factors, but usually, it's when they reach their teens that it's seen as acceptable to get them one.
That said, deciding when to get them one isn't exactly black and white. This will very much depend on your own judgement and circumstances, but realistically you want to take into consideration the following factors.
- Is there a reason why you would need quick access to them (safety reasons, etc.)?
- Do they understand what apps they're allowed to download and how to browse the internet safely?
- Do they know how to use the phone safely and responsibly? Do they know what information not to give out and who to trust/not trust?
- Will they use it responsibly (not spend it on apps without permission, use it inappropriately, etc.)?
- If you have restrictions on how often they can use devices like consoles, computers, etc., will they follow the same rules when they own a smartphone?
There are other considerations as well, but each situation is different and it's best to assess each measure first before you made a decision.
Don't buy the latest model
Simply because kids and teens will inevitably drop them or lose them, and if/when that happens, it's better that it's a cheap device than an expensive iPhone. Similarly, the chances of it being stolen is also high when it's a new model, and expensive to replace too, so keep that in mind.
Don't automatically give them a hand-me-down device
In one way, doing this is useful since it kills two birds with one stone. You get a new device and your child gets a smartphone that they wanted. While there is merit behind the idea, you need to make sure the device is reset and it's not connected to any of your accounts like the App Store.
The other benefit to offering them a hand-me-down device is that you will be more familiar with it and can set restrictions on the phone faster, but it also means you're giving them a device that much like the web, exposes them to many things. With that in mind…
Go through the basics
Considering the fact that they're growing up with technology, it's likely that your child is more tech-savvy than you are, but it's easy to forget that they can neglect certain elements of technology when using it.
It's worth sitting down with them and going through the basics. Things like what information they give out, security settings, what apps they can download and where from and what to avoid and in-app purchases should all be covered.
Set restrictions
More specifically, set restrictions on the phone itself. For iOS and Android, you can set restrictions or create restricted profiles for your kids on the phone itself.
These are protected by a passcode mind, so you will have to change the lock password from a four-digit PIN to a complex password in settings to keep it safe.
Always go for Pay as you Go plans
While this is an obvious point to make, it can't be emphasised enough. Not only does it control their spending, but it also ensures that they don't overspend by going over their data allowance (all networks provide free calls and texts which is almost an afterthought considering how much we use instant messaging services).
Just bear in mind that this doesn't cover app purchases (that requires credit card details for the respective app store) or online purchases so make sure they require your permission first before they can make a purchase.
Should you get them a dumb/feature phone instead?
Considering how cheap and easy it is to get one, it certainly worth considering getting them one to start off with, they provide basic calls and text and while they're not going to offer the same capabilities as a smartphone (much to their annoyance rather than yours), the potential of them being compromised is less.
Although you will have to put up with your child likely complaining that everyone else has a smartphone except themselves.