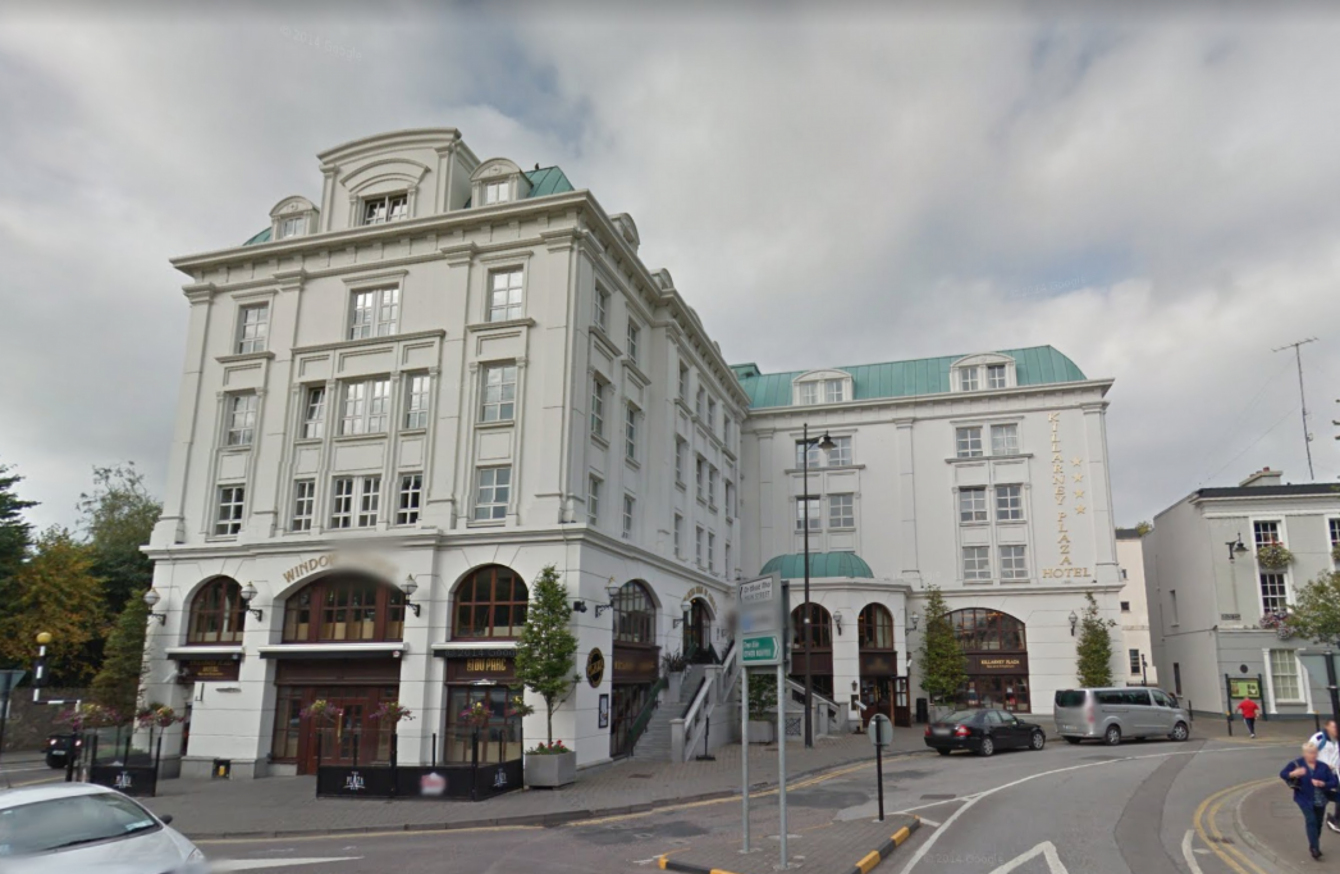 The Killarney Plaza Hotel
Image: Google Maps
The Killarney Plaza Hotel
Image: Google Maps
AN ENGINEERING COMPANY has been fined a total of €750,000 over an incident that saw a lift in a Killarney hotel fall nearly six metres.
Ellickson Engineering, which is in receivership, was found guilty in March at Tralee Circuit Criminal Court of a charge under Section 10 of the Safety, Health and Welfare at Work Act 1989.
In July 2011, five guests boarded the lift at the Killarney Plaza Hotel in the Kerry town. The court heard evidence that the guests entered the passenger lift at the basement carpark level and selected reception level. However, the lift by-passed the reception level and continued to the lifts uppermost floor.
The passengers described how they heard a loud bang and how the lift rapidly fell, stopping momentarily before again falling some 5.85 metres (three floors) to the ground at basement level. All five of the passengers – guests at a wedding – were injured.
The Health and Safety Authority investigation found that the company installed the passenger lift in 2004. The lift was installed into the existing building of the Killarney Plaza Hotel. On completion of the installation, the lift was placed into first use in April 2004.
The court also heard that the company had failed to install a safety electric system for the refuge space safety system, which is a critical requirement for personnel carrying out maintenance work in such passenger lifts with reduced headroom and pit space.
Brian Higgisson, Assistant Chief Executive of the HSA said:
"This investigation determined that there was a clear failure in the installation process of this lift.
"All lifts, when installed, must have the required safety features included and those with the responsibility for the installation process must ensure that this is the case. The consequences of failing in this duty, as we have seen, can be extremely serious."
Today in Tralee Circuit, Judge Thomas E O'Donnell fined the company a total of €750,000.