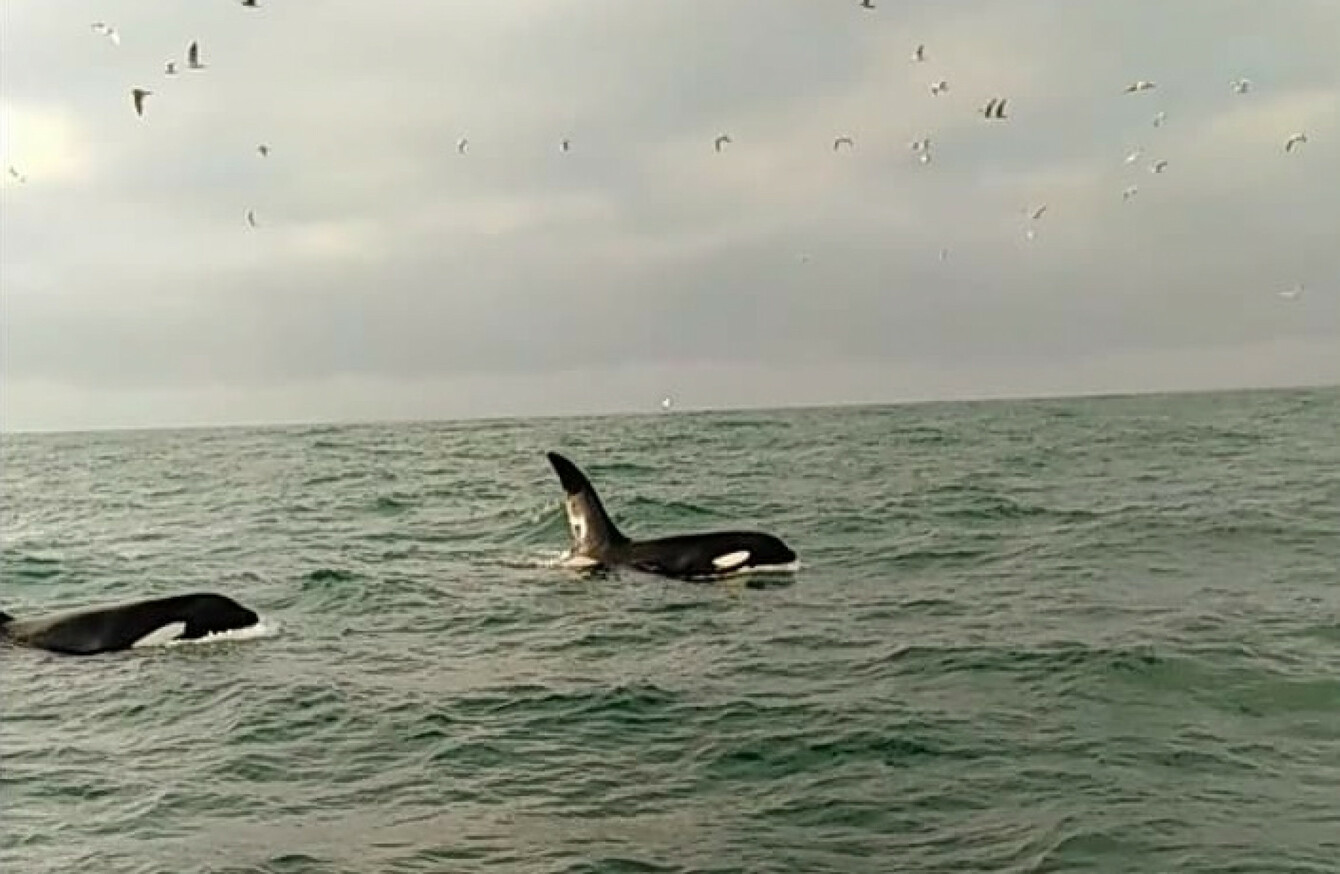 Image: James Mac Cluskey via IWDG
Image: James Mac Cluskey via IWDG
TWO KILLER WHALES have been spotted off the coast of Rockabill, Dublin. 
The pair were filmed by a crew on board a fishing vessel on Saturday. 
Speaking to RTÉ's News at One, Irish Whale and Dolphin Group's sightings officer Pádraig Whooley said there is a chance that these whales are the same pair that were spotted back in March. 
One of the whales identified in March was John Coe, a killer whale that has made numerous appearances in Irish waters in recent years.
Whooley said that while it's unusual for killer whales to be spotted off the coast of Dublin. 
"Most of the time we get records of killer whales in Irish waters is off the north coast or the western seaboard," Whooley said. 
"It is interesting because … two weeks ago there was another sighting of a pair of killer whales, which are very likely to be the same animals," he said. 
There's obviously something happening off the Dublin coast which is attracting these top apex predators. 
Speaking to TheJournal.ie in March, Whooley said that killer whale sightings in Irish waters are rare events, and they are getting even rarer.
"In the recent years, we've generally had three or four killer whale sightings per annum. We do get them every year but about seven or eight years ago we were getting a lot more sightings of killer whales," Whooley said.
"In more recent years, we've had fewer sightings of killer whales. They may well be the same killer whales that we're seeing every time. The sightings of them are certainly on the decline every year."
When asked by RTÉ whether the public should be afraid of the whales, Whooley said "not at all". 
John Coe has been documented previously attacking and killing minke whales off the Minches in Scotland, but Whooley noted that there has never been a documented case of a killer whale in the wild attacking people.
"We're completely safe. I'd be more fearful of being in the water with the likes of bottlenosed dolphins … than I would killer whales," he said. 
Since the IWDG began collating cetacean records in Irish waters over 25 years ago, it has validated 216 killer whale sighting records.