North Korean leader Kim Jong Un delivers an annual New Year's Day message in Pyongyang, North Korea.
Image: AP Photo/KRT via AP Video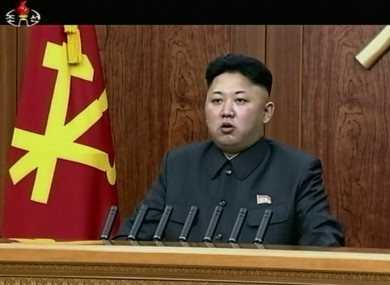 North Korean leader Kim Jong Un delivers an annual New Year's Day message in Pyongyang, North Korea.
Image: AP Photo/KRT via AP Video
NORTH KOREAN LEADER Kim Jong-Un called for unity in a New Year message today and hailed the execution of his once-powerful uncle as a resolute act to remove "factionalist scum".
"Our party took resolute action to remove… factionalist scum within the party last year," Kim said in his message broadcast on state TV.
It was his first public comment on the shock execution last month of Jang Song-Thaek, once the country's unofficial number two and Kim's political mentor, although the young leader did not mention him by name.
Our party's timely, accurate decision to purge the anti-party, anti-revolutionary and factionalist elements helped greatly cement unity of the party and the revolution and strengthened our solidarity by 100 times.
Kim's tone was strong as he called for nationwide ideological education and political awareness to eliminate "even the slightest phenomenon and element" undermining unity.
"It is necessary to establish stringent revolutionary discipline and order in all domains of the revolutionary struggle and construction work," he said, pledging a crackdown on "any sort of alien ideology and decadent lifestyle".
Purge and execution
Jang's purge and execution was staged in an extraordinarily public and brutal fashion. A party statement denounced him as "human scum" and a drug-addicted womaniser who pocketed state money to support his decadent lifestyle.
Jang played a key role in cementing the leadership of the inexperienced Kim, who took over after the death of his father and long-time ruler Kim Jong-Il in December 2011.
But analysts said Jang's growing political power and intervention in the lucrative coal trade was resented by his young nephew.
In his message Kim struck a rare relatively conciliatory note with South Korea, after extreme tensions in the spring of last year.
He called for a "favourable climate" to improve relations, saying it was "high time" for the two Koreas to stop doing "anything detrimental to national unity and reconciliation".
We will join hands with anyone who opts to give priority to the nation and wishes for its reunification, regardless of his or her past, and continue to strive for better inter-Korean relations.
But Kim said North Korea would not beg for peace. He accused the United States and South Korea of manoeuvreing for a nuclear war against the nuclear-armed North and vowed to strengthen its military power.
"If war breaks out again in this land, it will bring about a massive nuclear disaster and the US will also never be safe," Kim said.
"We are faced with a dangerous situation in which a small, accidental military clash can lead to all-out war."
Jang's execution raised concerns over potential instability in the North, or military provocations such as an atomic test aimed at rallying domestic unity.
The North staged nuclear tests in 2006, 2009 and last February. But Kim made no direct mention of the North's nuclear weapons programme.
South Korea said the young leader had expressed a desire to cement his leadership through tight social discipline and order.
"It remains to be seen whether North Korea will change its attitude as it continues to criticise us," the South's unification ministry, in charge of inter-Korean affairs, said in a statement.
Kim Jong-Un also called for "a decisive turn" in agricultural output and vowed to rebuild the crumbling economy with priority on infrastructure, agriculture and energy.