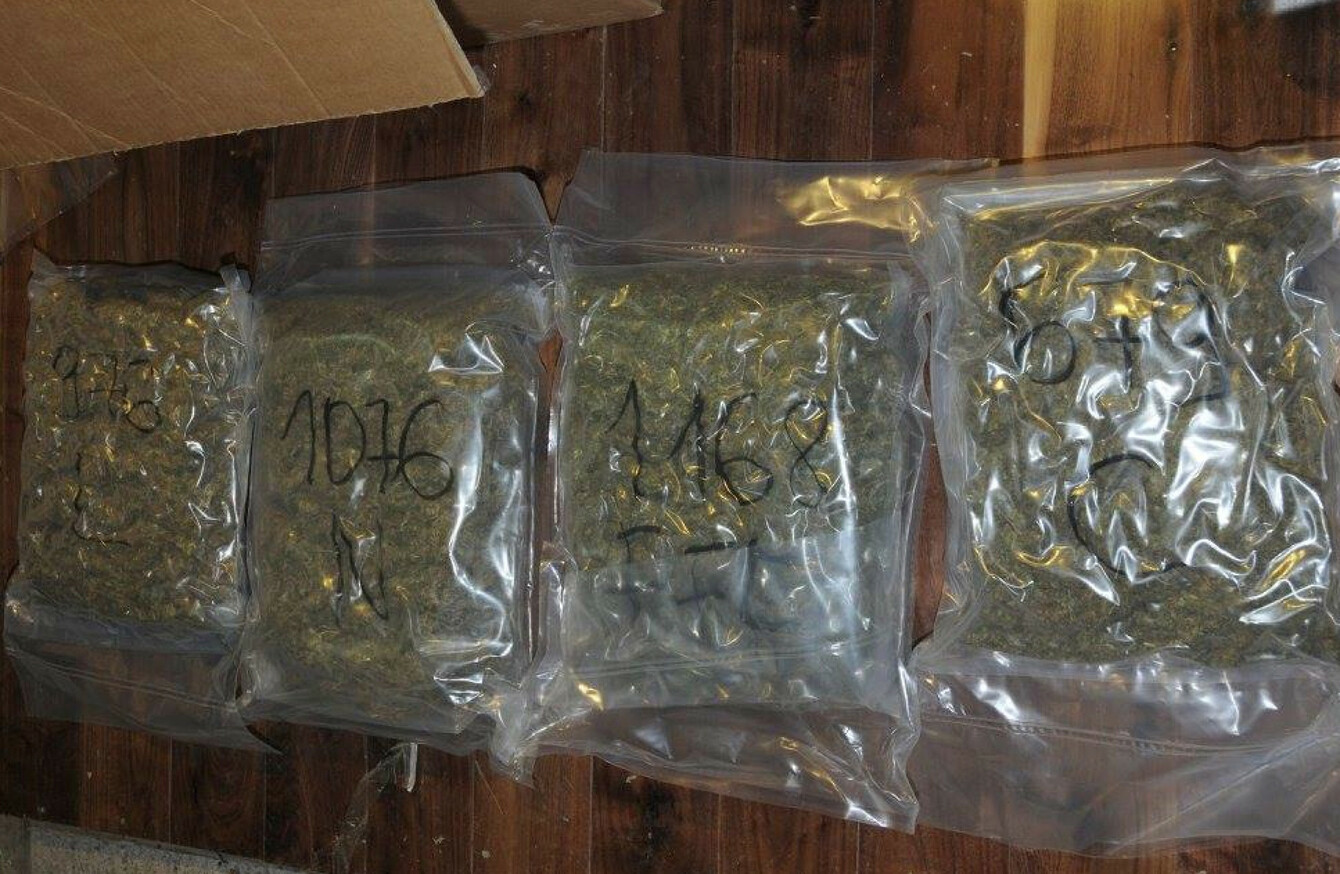 Last week's cannabis seizure in Kildare.
Image: Garda Press
Last week's cannabis seizure in Kildare.
Image: Garda Press
DRUG RAIDS CARRIED out by gardaí in the last month suggest that the Kinahan cartel is losing its influence in Ireland.
Gardaí now believe they rely on other gangs to import drugs into the country.
An Garda Síochána have ramped up their cooperation and joint operations with international police forces, working recently with their Dutch counterparts on a number of raids which led to arrests in both Ireland and the Netherlands.
These latest garda operations have led detectives to believe that the Kinahan gang is now taking advantage of supply chains used by smaller gangs.
This is partly down to the arrest of Chilean drug lord El Rico. The suspected gangland figure supplied 60% of all of Ireland's cocaine. His arrest also led to a number of seizures on continental Europe where the Kinahans control their estimated billion euro enterprise.
Recent seizures have led senior officers to believe that the Kinahans have had to join up with a number of gangs to continue importing cocaine to Ireland. That means a young dealer in Finglas, an Eastern European gang in Meath and a veteran drug trafficker in west Dublin no longer have to request permission from the Kinahans to bring in their own supplies, loosening their grip on the industry.
Instead, the Kinahans are now attempting to piggyback on those supply lines of smaller criminals.
Recent raids were orchestrated by gardaí from the Garda National Drugs and Organised Crime Bureau and the Special Crime Task Force as part of an international operation.
As noted, the arrest of El Rico is a serious problem for the cartel. EL Rico had been using a German IT protection system, used by many multinational financial organisations, in an attempt to safeguard his communications. Leading members of the Kinahan cartel were in conversation with El Rico by using this system.
It is thought that as the server's privacy has been compromised, it will lead to a significant number of drug seizures across Ireland and the Kinahan's European network.
Charges for murder, drug trafficking and the importation of arms are expected to be brought against Irish drug dealers by US and Dutch authorities in the coming weeks once all of the encrypted communications have been accessed and logged.
The main gang leaders of the Kinahan cartel have fled Ireland in the past six months. Some have a number of outstanding arrest warrants in Spain, Ireland and the UK.
TheJournal.ie contacted Dutch police (Politie and its regional unit in Amsterdam) earlier this week. Both said they could not officially comment on active cases. However, a spokesman did confirm that Dutch authorities are attempting to extradite El Rico to the Netherlands to face charges. A request for a formal comment was denied.
Leading members of the Irish cartel, including Daniel Kinahan, have fled in recent weeks with many arriving in Dubai in recent days.
Well-placed sources have told TheJournal.ie that this is the "beginning of the end" for the cartel in its current form.
Speaking to RTÉ's Morning Ireland about a drugs seizure in Meath, Assistant Commissioner John O'Driscoll said that it was "not worth less than €5 million" and that they hope the seizure will be a "more significant disruption" than a normal raid due to the gardaí sharing information with other countries' police agencies.
O'Driscoll said Gardaí wouldn't be identifying "any particular crime gang" involved in this raid, adding that "it may be a conglomerate of crime gangs" working together.
O'Driscoll, who has charge of Special Crime Operations said that there was a particular emphasis "on protecting life and tackling threat to life incidents, but also, on targeting the sale of drugs and other illicit products and, importantly, targeting the financial gain and money laundering involved".
"As can clearly be seen, An Garda Síochána, through Serious Crime Operations, is engaged in activity on all three fronts in recent days."
Comments are disabled as legal proceedings have been initiated.