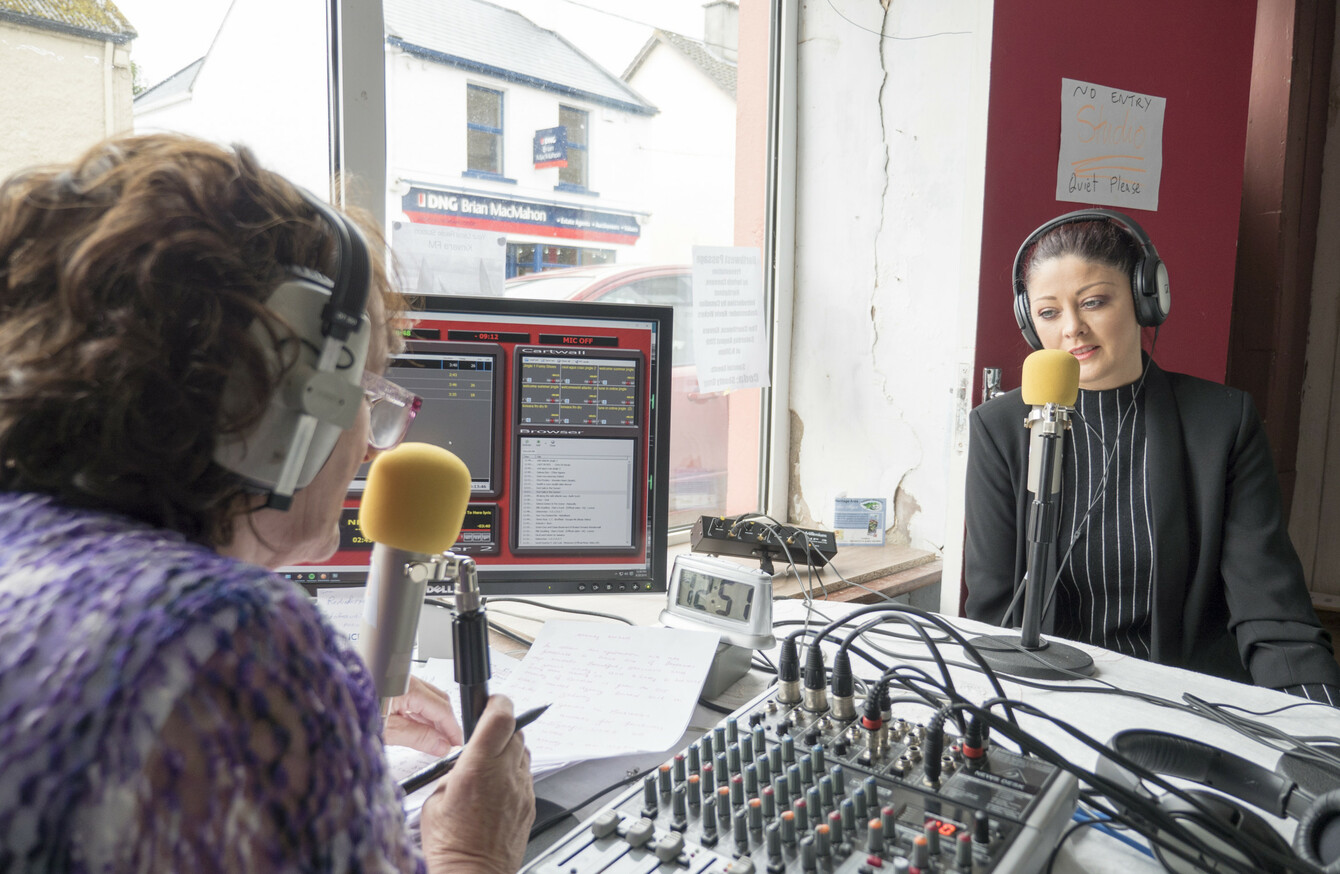 Volunteers hosting a show on Kinvara FM
Image: Kinvara FM
Volunteers hosting a show on Kinvara FM
Image: Kinvara FM
A COMMUNITY IN Galway are being given the opportunity to own a share in a new local radio station through an annual membership scheme of €20.
Kinvara FM, a new community radio station based in the south Galway village, has received a 30-day licence from the Broadcasting Authority of Ireland, running on the bandwidth 92.4FM.
Broadcasting began at the beginning of this month, from its studio in the centre of Kinvara.
A local resident, Gerry Wallace, came up with the idea of starting up a station in the area and set up a meeting to discuss the project.
About 40 people showed up.
From there, a committee was set up and they made the decision to fund the station through a co-op system.
"There had to be some sort of structure. You either have to be a company limited by guarantee or a co-op," Kinvara FM board member Frank Hall told TheJournal.ie. 
"We decided to go with the co-op because we thought it'd be the easiest. That way we can have unlimited members and it can be totally community-owned, anyone in the community can have a share.
Community radio is its own sort of thing, it's a local-based effort and it's supposed to remain locally focused, so it becomes a real community integrated system.
Annual membership of the station is €20 – allowing the people of Kinvara to own a share in their local radio station. The subscription also allows members a vote at the general meetings, giving them an aspect of control.
In the 18 months since the committee was formed, a studio has been equipped, a transmitter purchased and volunteer presenters have been trained to certificate standard.
The station plans to host a variety of shows, such as music, children's, sports and science themed.
The station is set to celebrate its launch by broadcasting live on stage at the Cruinniú na mBád festival in the village on Saturday week, where the station will also launch its membership drive.
"We haven't even launched our membership campaign but we already have a good 30 people. Our goal is to get about 200 people by the end of the year," Hall said.
"To be honest, we don't know how it'll go because we're only starting. I think the people are into it and people are happy to have an ownership in it.
I think it'll draw people in, but it doesn't matter as long as the radio station functions as a true community radio that's giving a voice to local people.
Kinvara FM is currently broadcasting on Saturdays and Sundays between 10am and 8pm.
For more information about the station, you can visit www.kinvarafm.com.