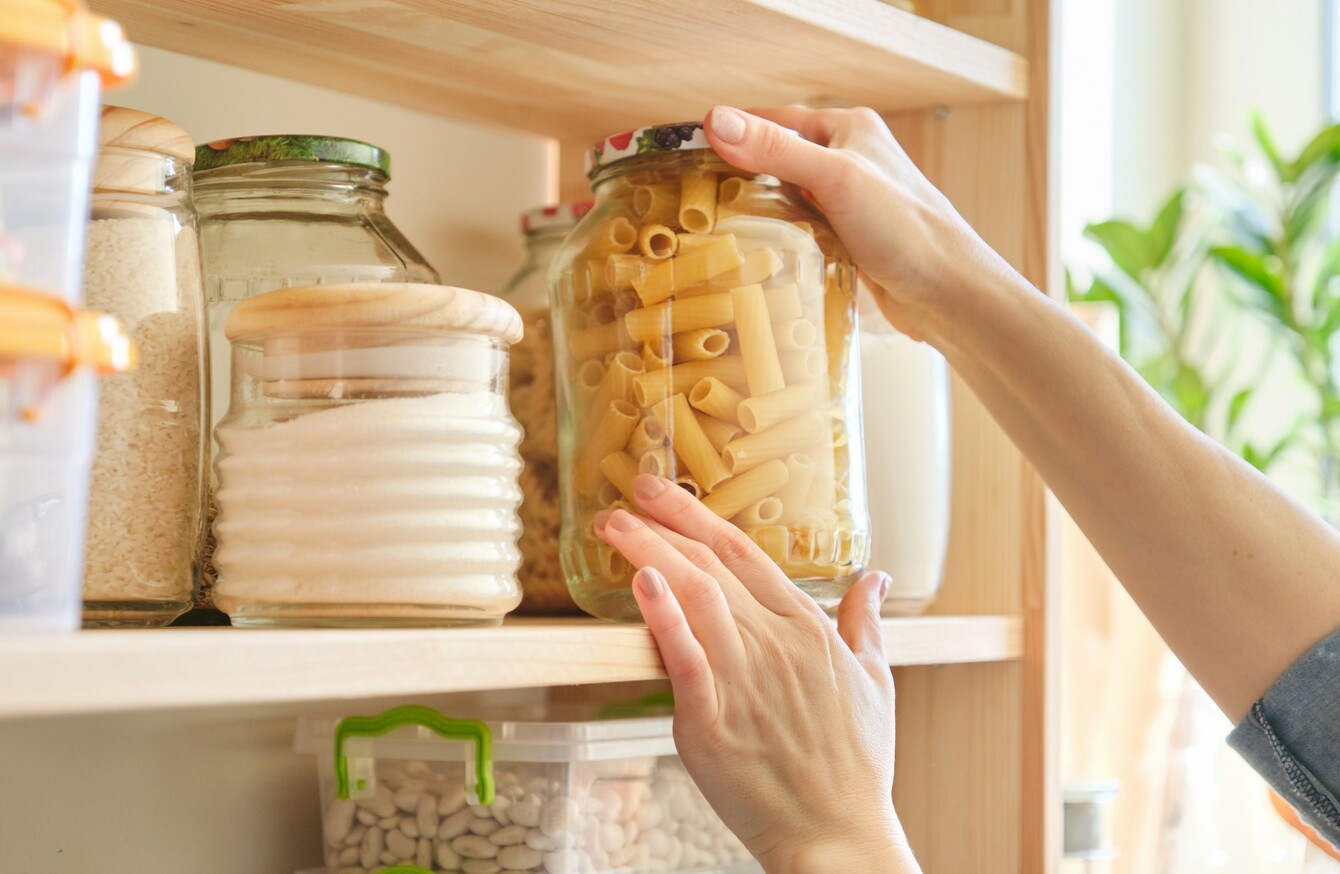 Image: Shutterstock/VH-studio
Image: Shutterstock/VH-studio
LAURA DE BARRA regularly brings her lifestyle and home maintenance masterclasses to the Glenveagh Home Magazine on TheJournal.ie. This week: organising your kitchen cupboards, zone by zone.
Deciding what goes where in your kitchen is no mean feat. It's one of the most used spaces in the home and getting it wrong can hinder our enjoyment when cooking and using the kitchen.
Daily routines become more of a chore than they need to be in a badly organised kitchen, and we tend to resent a space that doesn't allow a relaxed flow. Here are my top tips for getting it right and ensuring your kitchen moments are as enjoyable as possible.
First, do a cull
Before you undertake any reorganising of kitchen cupboards, a purge is in order. Always. We tend to store a lot more than we want or need in the kitchen. First, get rid of anything that's out of date or clearly ready for the bin.
Now, start to divide your remaining items into sections: crockery, condiments, tea/coffee, spices and so on. Next, divide these sections again: separating out the things you use most, the stuff you use now and again and the items you use rarely or never.
The kind of sectioning helps you identify the main functions of your kitchen, and will also tell you what you may have too many of. Mugs, anyone?
Next, give the countertops a makeover
Countertops are the first thing the eye runs over as you walk into your kitchen. It's always best to keep them as clear as we can, but in a small kitchen you may need to rely on work surfaces for storage. If this is the case, think creatively about what you keep on show, and limit to two categories: things you use most often, and things you love to look at.
Move items around based on accessibility
We tend to designate whole cupboards to one category; this can be fine in a massive kitchen but in reality, it can waste a lot of space.
Instead, think of your kitchen in terms of accessibility. Which cupboards and drawers are the easiest to access, at eye level or within easy reach? Keep your more frequently used items here. Which ones are harder to access, because they're high up or in a tight corner? These areas can be used as homes for less frequently used appliances, solving a storage and a functionality issue in one.
Do some stock rotation here too, with the least used items going in first and most going in last so it's at the front. To make the most of your most accessible areas, consider dividers, mini shelves and stackable storage.
#Open journalism No news is bad news Support The Journal

Your contributions will help us continue to deliver the stories that are important to you

Support us now
Now, set out your zones
Everyone uses their kitchens differently; you don't have to have a baking zone or spice cabinet if you don't bake or cook often. This is all about making your kitchen suit your life so keep your daily routines in mind the whole way through.
You will usually have at least a couple of eye level cupboards for your everyday items. When deciding which goes where, store items that match the use of counter space below. Some examples:
Teas and mugs can go above the kettle
Spices and condiments can be close to the oven
Water glasses can do above or near the sink
Once you've identified these main zones, items that match those categories but are less used can be placed higher and lower. You'll start notice that everything is within arm's reach as you go about your daily routines.
And some final golden rules
Heavy or large items, like appliances, are best stored down low. This reduces the risk of any injury and is easier on you when taking them out.
Any 'good' crockery is safest on your higher shelves as they are out of harm's way and you won't risk breaking them when reaching for other items.
Cupboards next to dishwashers and ovens should be avoided for any food items as they can get quite warm. Food items are also best stored up high to avoid attracting any unwanted visitors!
The area under the sink is often prone to leaks and pests and so, crockery, appliances and food should not be stored here. Cleaning products or other items not related to cookery and eating can go here.
Want more tips and hacks? Laura de Barra's debut book, Gaff Goddess: Simple Tips And Tricks To Help You Run Your Home is on shelves now, published by Transworld Ireland. Buy it here or in all good bookshops, and follow Laura on Instagram for even more cleaning and lifestyle tips.