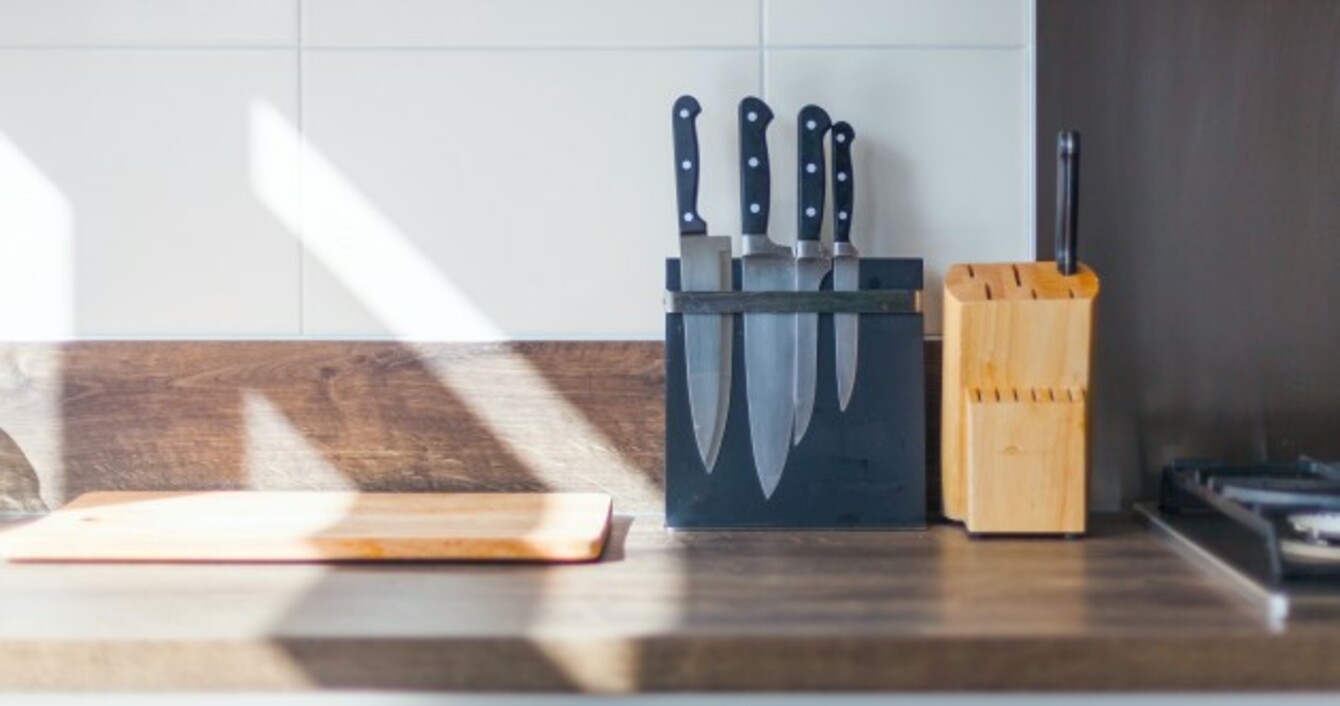 Image: Shutterstock/elroyspelbos
Image: Shutterstock/elroyspelbos
WHEN I WAS 23, I moved to Paris and lived in five different apartments in less than a year. The kitchens I cooked in that year were all along a sliding scale of pokey and under-furnished to what can only be described as properly horrible.
The only piece of equipment I owned was a chef's knife, which I kept it in my bedroom when I wasn't using it. So, once I found the apartment that would be my home for the next six years, improving my kitchen was priority numero uno.
When it comes to kitchenware, there are some items you'll need to be willing to invest in, unless you'd be happy to replace them again in a year. But buying smartly doesn't always have to mean buying the most expensive item on the shelf either. With a little advance planning on what you really need, knowing where to spend and where to save the pennies, you can set up a kitchen that will work well and last you years.
Items to invest in
A decent knife and a board are classic desert island kitchen items, and a really good way to upgrade your basic setup by investing in the best.
You could support local and go the full bespoke route for your knife – there are a handful of craftsmen making really exceptional knives in Ireland right now, although many have a waiting list. Otherwise, there are myriad brands available and a little research will provide something to suit your exact needs and budget. You'll be more invested in looking after your knife if it's extra nice, too – get in the habit of washing it right after you use it, especially if you're cutting tomatoes or citrus, and become tyrannical about never putting it through the dishwasher. I am deadly serious about this rule. The dishwasher will blunt your blade and ruin your handle.
A chunky wooden chopping board will last years with the right care, and won't crack or warp over time. Plus, a nice looking one will double up as a serving board for your most chic cheese situations. Another opportunity to buy Irish here – I love this one from Irish Design Shop. Again, keep your board out of the dishwasher, wash it right after you use it, and bonus points if you give it a little rub down with a foodsafe oil once in a while.
The right mix of spendy and savvy is key in the pots and pans department. There is truly nothing like a proper enamel casserole like a classic Le Creuset. Yes, they are pricey, but they have so many uses (do a braise! Roast a small chicken! Make popcorn without a microwave!). Not to be dramatic but truly, your casserole's lovely weighty presence will improve your kitchen life. It's well worth keeping an eye out for gently used models on sites like Adverts.ie or DoneDeal.
To open what I'm calling our "bits" category, a spatula will come in handier than you think – this classic guy from French brand Nogent is a little upmarket at €18, but it hits a sweet spot between bendy and solid that you won't get with a €5 supermarket option. Also the translated-from-French website lists it under the sub-category "shovels", which is just deeply charming.
Kitting out the dining room is really a whole separate conversation, but let me just share this one gem. Buy cheap wine glasses, but pricier tumblers. Expensive wine glasses will break, and break your heart. By contrast, a set of very nice tumblers (I love these ripple ones by Danish brand Ferm Living) will be your everyday pals. You'll use them for your water by the bed, your gin and tonic, your morning juice, the list goes on, and they follow my rule of thumb that your everyday things should really be your nicest.
For a final outlier: a decent salad spinner. Hear me out. One of the greatest lessons of my life so far has been that a dry salad leaf is a happier salad leaf. Yes, it's one of the more cumbersome essentials to store, but a decent salad spinner will make your life easier and level up your greens. If you wash and get leaves bone dry before you store them, I promise you they'll last longer. This Oxo one is forty quid, and brilliant.
Items to save on
Purists will say there's nothing like a well-seasoned cast iron pan for frying a perfect egg, but honestly a classic non-stick frying pan will be a workhorse who'll make your overall frying life easier. You don't need to spend loads here, and this is one item that you can't expect to last forever. With regular use you'll likely need to replace it every few years or so, as the non-stick coating can wear over time.
#Open journalism No news is bad news Support The Journal

Your contributions will help us continue to deliver the stories that are important to you

Support us now
An aluminium baking sheet will come in really handy – you can make an entire dinner on it, do most of your basic baking, it's shallow enough to fit right under the grill, and can be used as a tray in a pinch. You can find the best ones in catering supply shops or websites and they generally don't cost a bomb. Just make sure you check your oven dimensions – you want the largest one you can fit, but commercial ovens are built to different specs, and so are catering supplies.
A little pot or two (for, say, boiling an egg) should cover the rest of your bases and won't set you back much. Pick one up in the Lidl middle aisle.
You'll spend much less time faffing about with spoons if you buy yourself a tongs, like these ones, for €7.99. Think of them as your kitchen fingers; an extension of your hand that you can use for grabbing hot things, sautéing, tossing salad, serving and loads more. Inexpensive, mega useful, and will hang or fit nicely in a drawer. We honestly love a tongs.
A standard beech wooden spoon is less than two euro, get a handful and… say it with me now, keep them out of the dishwasher.
Save yourself the aforementioned glassware heartbreak and go for a less expensive set of wine glasses over a Very Nice set; they're are tall and easy to knock over, and people can get pretty loose when they're using them. Dunnes Home does a solid set of four for a fiver – so reasonably priced that you could buy a backup set for easy replacing if and when they break.