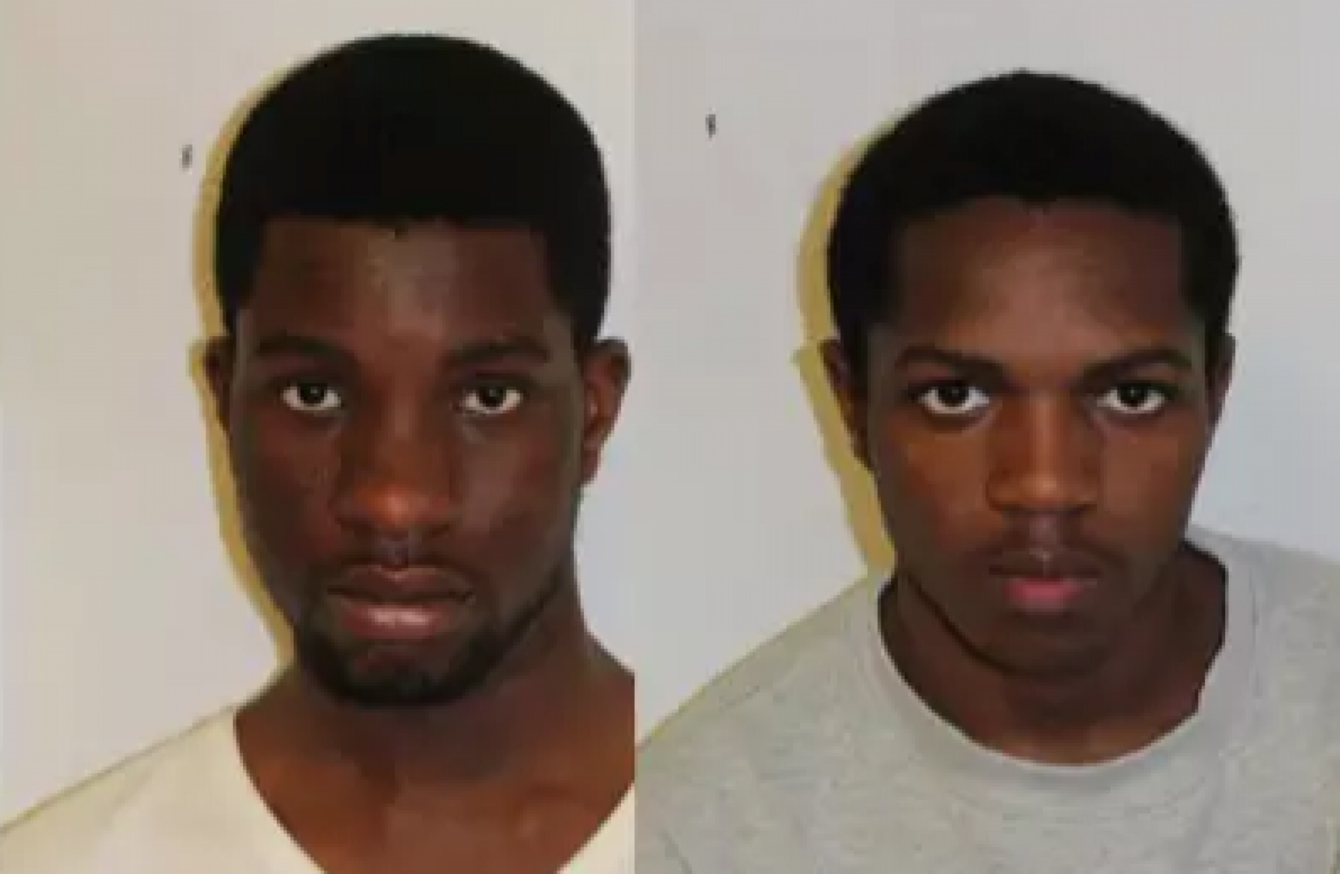 Miracle Osondu and Antoine Mensah
Miracle Osondu and Antoine Mensah
THREE PEOPLE HAVE been jailed for a combined total of more than 30 years for carrying out 19 robberies using knives and acid in London.
21 year-old Antoine Mensah, 19 year-old Miracle Osondu and 17 year-old Mohammed Ali were sentenced today after targeting taxi drivers and people selling items online in a series of attacks.
The group used strong acids, alkalis and knives to rob and maim their victims, some of whom will never recover from their injuries.
Wood Green Crown Court heard that between 26 April and 14 May 2018, the trio embarked on a series of robberies that involved robbing mini-cab drivers at knifepoint.
They also used strong chemicals to rob people they had arranged to buy and sell mobile phones from the Gumtree website.
The first offence they committed occurred on 26 April, when the three took a taxi to a street in Enfield where they robbed their taxi driver, threatening to stab him.
After that attack, they began physically restraining taxi drivers and on two occasions produced a knife with which they threatened the drivers.
Ammonia
Following this, they moved on to targeting unsuspecting victims from Gumtree.
In one incident on 11 May, the trio arranged to meet their victim, a 40-year-old male, in Barnet, pretending that they were going to buy a phone from him.
When they got there, Mensah and Osondu sprayed ammonia in the victim's face, tackling him to the ground and stealing his phone.
The victim was left with serious eye injuries with irritation, burning and permanent impact on his vision, while the psychological impact of the attack is ongoing.
In another incident, the trio arranged to meet a different victim, a 49-year-old male, in Barking, pretending that they were going to sell a phone to him.
While there, they sprayed acid in the face of the victim before stealing cash and the contents of his wallet from him, returning again to spray him before making off.
The victim sustained life-changing injuries, losing the majority of the vision in one eye, causing him to have to leave his previous employment.
Balaclavas
On 14 May Enfield Proactive Unit officers, using a wide range of policing tactics, tracked the suspects to a taxi travelling from Enfield to Ilford en-route to commit another robbery.
The trio were stopped with the assistance of armed officers, and were found in possession of a bottle of PH1 acid, a 22cm long knife, nearly £2,000 in cash, balaclavas and multiple phones.
They were taken into custody where they refused to comment, before all three were charged on 17 May.
They pleaded guilty to conspiracy to rob, comprising 19 counts of robbery, as well as a planned robbery, possession of an offensive weapon and possession of a bladed article.
Mensah, of Commerce Road, N22, was sentenced to 13 years in prison, which was extended to 17 years.
He also pleaded guilty to six counts of assault in an unrelated case, and will serve a minimum of 8 years and 8 months in prison.
Osondu, of Constance Street, E16, was sentenced to 11 years in prison, extended to 15 years, and will serve a minimum of seven years and four months in prison.
Reporting restrictions were also lifted on Ali, of Ilford, at the instruction of the judge.
He was sentenced to eight years in prison, extended to 12 years, and will serve a minimum of five years and four months in prison.
Trust
In a victim impact statement, one of the victims who suffered life-changing injuries said called the attack "excessive".
He said: "Even after I gave them what was in my pockets, they kept pouring acid over me, just because they could.
"When I looked in the mirror and saw my injuries for the first time, I felt like I had become a zombie in just two hours.
"They could have taken my money or physical possessions if they had just threatened me, I wouldn't have fought back because they're just possessions.
"Even when they threw acid over me, I still didn't fight back and just tried to shield my face from them."
They added that the attack has had an impact on their social life, and that they have lost the ability to trust other people.
Investigating officer Detective Constable James Rush, from Enfield Major Crime Unit, said the men appeared to feel no guilt over their actions or thought about the impact the injuries they inflicted would have.
He said: "They are dangerous individuals and these lengthy prison sentences are the only way to ensure the public are kept safe.
"Their behaviour is truly shocking. I commend the bravery of all the victims and witnesses who provided the evidence to help secure these convictions."