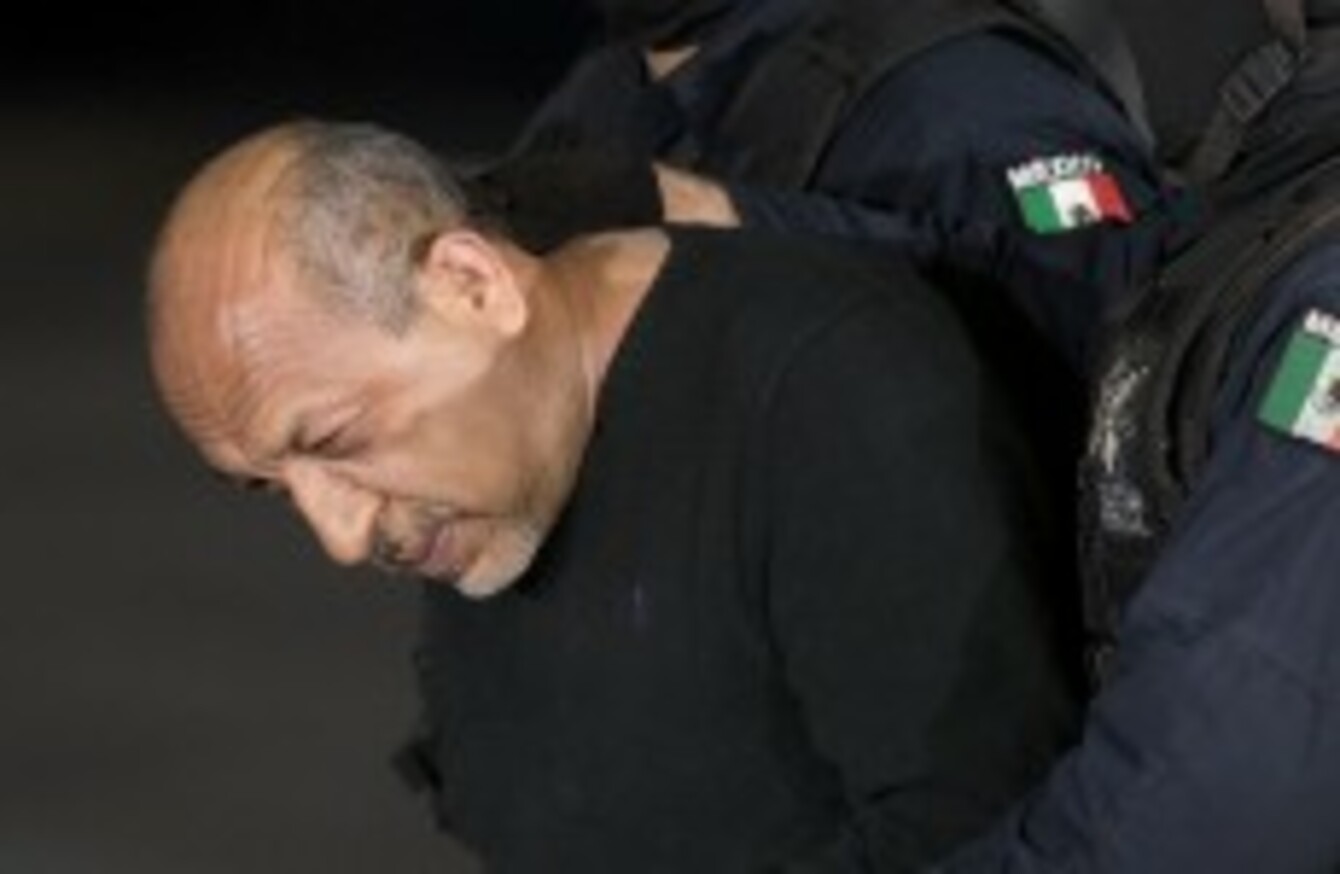 Servando "La Tuta" Gomez
Image: AP/Press Association Images
Servando "La Tuta" Gomez
Image: AP/Press Association Images
DURING HIS MONTHS on the run, Mexican drug baron Servando Gomez fled on donkeys and hid in a bat-filled cave – a far cry from his days of showing off in videos and flashing cash in his fiefdom.
The former teacher known as 'La Tuta' used to lord over the mountain towns of the western agricultural state of Michoacan, sowing fears among his enemies through his cult-like Knights Templar drug cartel.
The 49-year-old gangster eluded a massive manhunt by hiding in homes or a shack on a ranch, riding horses, donkeys or all-terrain vehicles to move across the rough landscape, authorities said.
With the backing of supporters, Mexico's most wanted man "was able to go anywhere", never staying in one place for more than a few days or hours, federal police chief Enrique Galindo said Monday during a media tour of Gomez's hideouts.
A year after authorities intensified the search for Gomez, federal police grabbed him before dawn last Friday as he left a house in Morelia, the state's capital, hiding his face behind a scarf and a cap.
Whiskey and cable TV
Gomez knew the mountains well. He was born there, in the town of Arteaga.
While his cartel cooked crystal meth in makeshift labs on the hills, he nurtured a Robin Hood figure in his region, doling out cash in towns he dominated and denouncing enemies in YouTube videos.
But farmers fed up with his reign of terror formed vigilante forces to combat his cartel and joined the hunt for Gomez.
Before his capture, Gomez had narrowly escaped the authorities in two operations. In one raid, police arrived at the scene only to find half-eaten plates of seafood left by Gomez and the five or eight men who followed him, Galindo said.
Although he often stayed in spartan quarters, Gomez managed to find some comfort in his escape, getting good wine, 18-year-old whiskey and cable television in a simple shack in the Aguililla mountain range.
Gomez navigated between hideouts through dirt roads hidden in lush vegetation, making the police search more difficult despite a 1,000-man contingent in an operation launched in early 2014.
Using helicopters to track him down was risky because the cartel could have easily taken them down with their arsenal of weapons, Galindo said.
Before fleeing into the mountains, Gomez lived with his family near his hometown in Tumbiscatio, where he began his criminal life as the jefe de plaza', or local gang boss.
But he was forced to flee as the authorities closed in on him, leaving him without food or water, thanks to information from the vigilante forces, Galindo said.
Caught by cake
Gomez ended up in a cave with a steel door that La Tuta had used to jail and punish his enemies between Arteaga and Tumbiscatio.
The damp cave, where he stayed for 15 days, is a muddy tunnel with stalactites, bats and stretches where the ceiling is no more than 1.6-feet high. Bottles of booze and plastic cups were still strewn on the ground when journalists visited the cave.
Four months ago, the authorities believed they had detected Gomez far from the mountains, in the urban state capital Morelia.
Gomez lived in a house with his twenty-something wife Lulu and three children. (He is believed to have fathered 37 children with other women).
Authorities were able to confirm suspicions that he was in Morelia after Lulu brought him a cake for his birthday on 6 February.
Gomez, who once said "I'd rather die than be caught", was planning to find a new hiding spot with his henchmen when he was captured on Friday, without a shot fired.
Gomez is now back in a dark place: A small cell at the notorious maximum-security El Altiplano prison, under the same roof as other famous fallen drug kingpins.