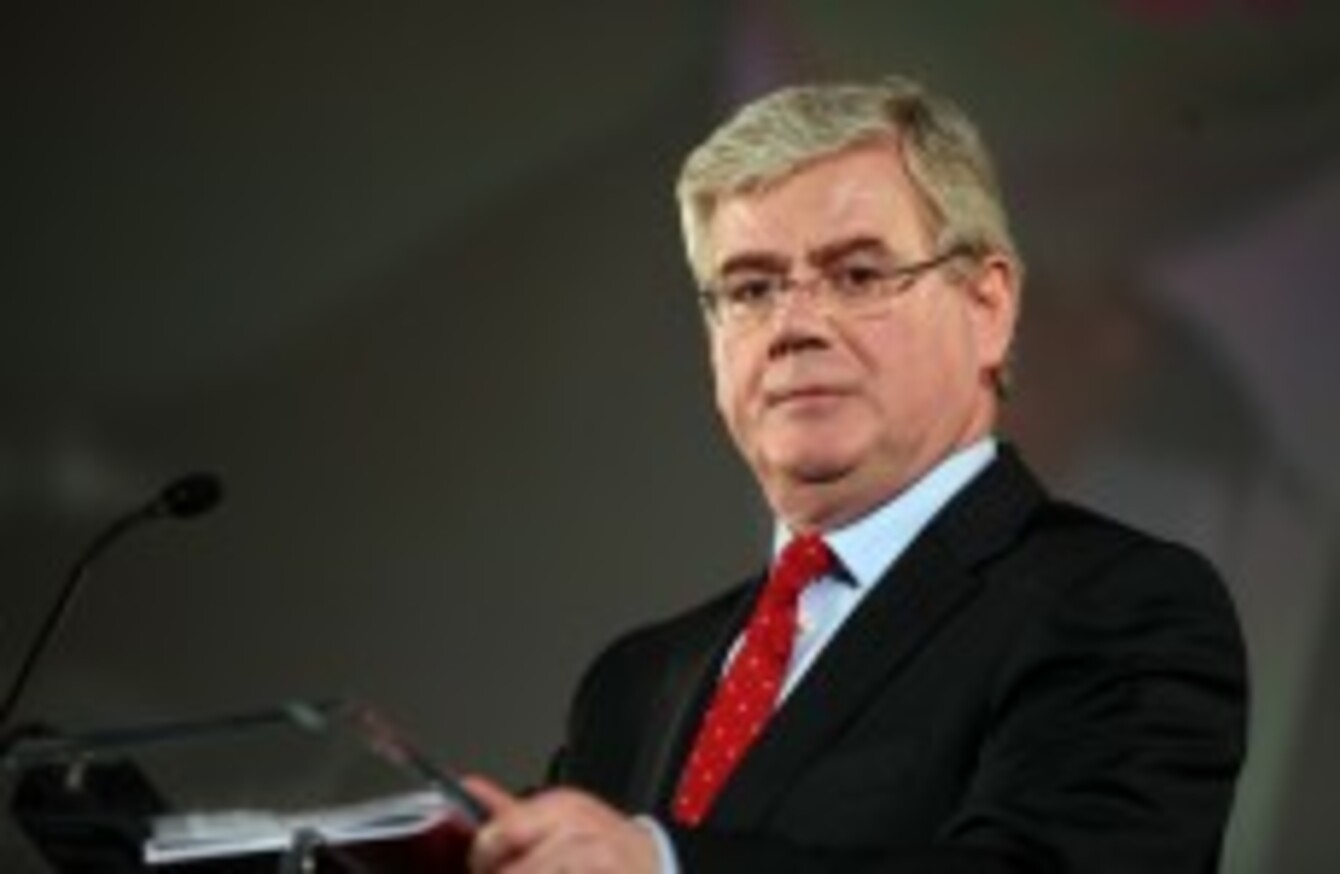 Eamon Gilmore's Labour Party has approved the coalition agreement struck with Fine Gael by an 'overwhelming majority'.
Image: Stephen Kilkenny
Eamon Gilmore's Labour Party has approved the coalition agreement struck with Fine Gael by an 'overwhelming majority'.
Image: Stephen Kilkenny
FINE GAEL AND LABOUR will form the next government, after both parties last night gave their comprehensive backing to the draft Programme for Government agreed between the two parties.
Fine Gael's parliamentary party gave its unanimous backing to the deal, while in UCD a Labour conference saw rank and file members vote "by an overwhelming majority" – thought to be around 95 per cent – in favour of the 64-page document, which sets out the coalition government's proposals for the next five years.
The full document can be downloaded here, and a summary is offered below.
Economy
The Department of Finance will be split into two ministries. One will focus on fiscal planning and the banking sector. The other will focus on public sector reform. Fine Gael is expected to take the former, Labour the latter.
There will be an Economic Council set up which will be established to ensure an equal decision making process between two parties and to determine economic policy.
There is an agreement to reduce the deficit to 3 per cent by 2015 in line with the parameters set down by the EU/IMF bailout.
The first two years' worth of provisions in the Four Year Plan, set out by the outgoing government to reduce the deficit, will be adhered to.
Jobs
There is a plan to reduce the number of public sector workers by between 18,000 and 21,000 by 2014, and by a further 4,00o thereafter.
A jobs fund will be created within the first 100 days of the new government.
A national development plan will be drawn up for the period 2012-2019.
The state training agency FÁS will be replaced by a National Employment and Entitlements Service.
A commercially financed "New Era" plan will be put in place.
Health
A Universal Health Insurance system will be introduced by 2016.
The HSE will cease to exist over time, and its functions returned to the Department of Health.
Public hospitals will no longer be managed by the HSE; they will be independent, not-for-profit trusts, run by boards.
The VHI will be kept in public ownership and insurers will be obliged to offer the same package of services to all people.
Taxes and welfare
The universal social charge will be reviewed.
A Fiscal Advisory Council will be set up to under take
There is a commitment to not increasing income tax.
There is also a commitment to not decrease social welfare.
There are no plans to change child benefit.
Top marginal rates in income tax will not be increased
There is pledge to "reduce, cap or abolish" property tax reliefs and other tax shelters which benefit those on high income.
Education
Funding for third level education will be examined in a "full review" and a funding mechanism that will not deter access will be found.
There will be a "thorough reform" of the Irish curriculum and the way it is taught, but no specific mention of making it non-compulsory as Fine Gael controversially proposed.
Water
A new state-owned water utility company is to be set up that will takeover from local authorities.
Water meters will be installed in every household in a move to a charging system that is based on use above free allowance
Referenda
The document says there will be a constitutional convention that will review the country's constitution. The government will "prioritise" referendums on five topics:
Abolition of the Seanad
Reversing the effects of the Abbeylara judgment on the powers of Oireachtas committee investigations
Protecting the right of citizens to "communicate in confidence" with their public representatives
Cutting the salaries of judges in "restricted" circumstances
Children's rights.
Constitutional reforms
The aformentioned constitutional convention will also consider topics such as:
Same-sex marriage,
Reducing the presidential term from seven to five years
Reducing the voting age,
Removing the provision on blasphemy.
Reducing the number of TDs in line with the April 2011 census.
Ministers' salaries and severance payments will be cut
Additional reporting by Gavan Reilly.