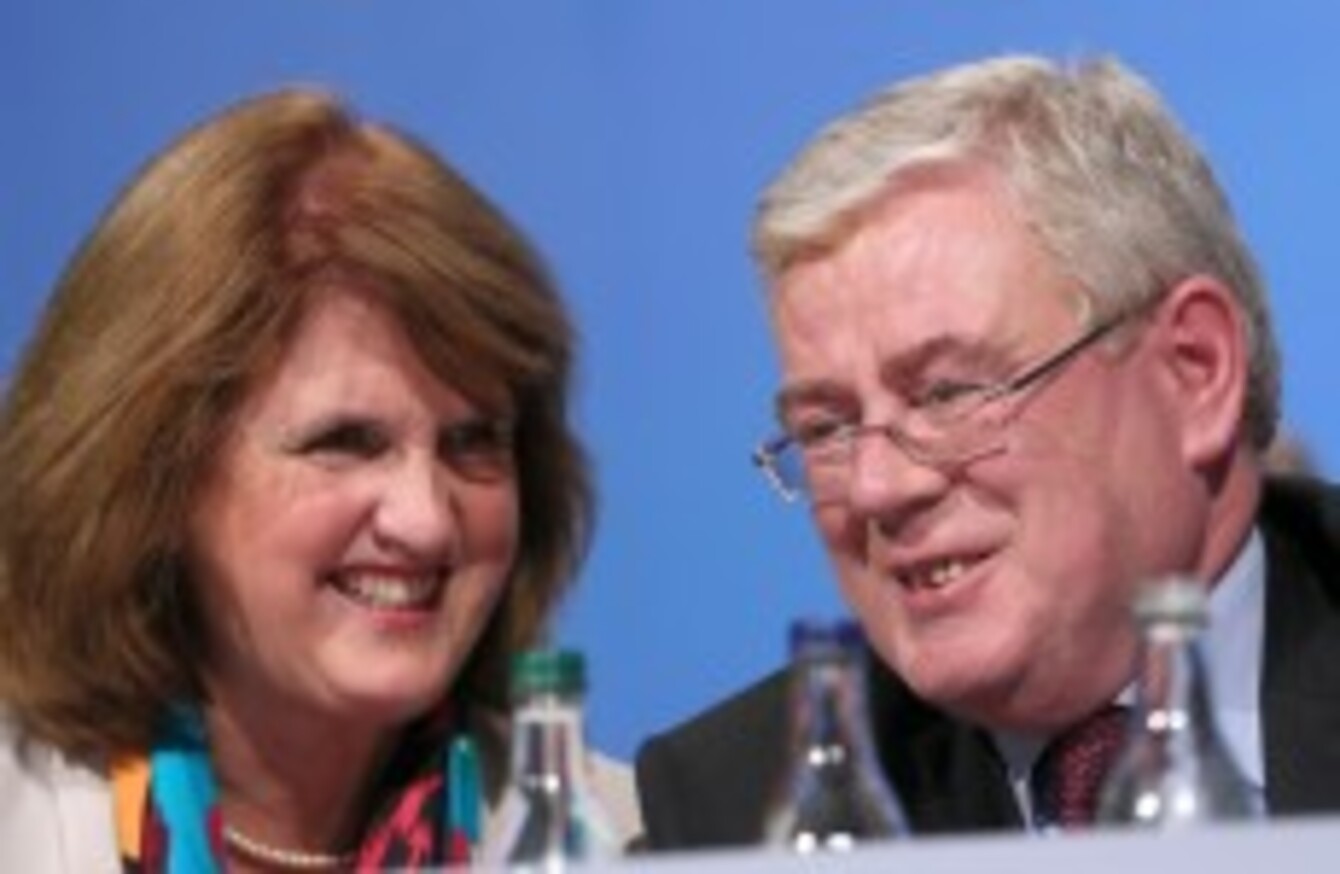 Joan Burton and Eamon Gilmore were happy-out at the Labour conference this weekend.
Image: Laura Hutton/Photocall Ireland
Joan Burton and Eamon Gilmore were happy-out at the Labour conference this weekend.
Image: Laura Hutton/Photocall Ireland
IT GOES WITHOUT saying that the fortunes of the Labour Party are closely tied to the fortunes of the Irish economy.
With good news on the jobs front this week, delegates arrived at the national conference in better mood than they might have been in a few weeks ago, and as they depart tomorrow that mood is likely to be improved further.
Over the last two days there have been a huge number of motions processed with 93 in total before the conference, that's not to mention the 25 that were controversially excluded from the agenda.
There's plenty more that's been happening at the INEC in Killarney. So here are a few things we've learned this weekend…
1. Labour wants action on adoption, property tax, travellers' rights and FEMPI
Among the dozens and dozens of motions passed this weekend, one called for full adoption and tracing legislation as well as legislation to give full recognition to Travellers as an ethnic minority.
Elsewhere, SIPTU managed to push through a motion that would exempt large swathes of people, such as those dependent on social welfare, from paying the local property tax after a tight vote that required tellers. Another motion to replace property tax with a site value tax was also passed.
On foot of another motion, Brendan Howlin also indicated his wish to repeal emergency legislation that allows him to impose unilateral pay cuts on certain areas of the public sector if they don't agree to Haddington Road.
These motions now become official party policy.
2. Labour Youth gets a bit older
The party has voted to increase the age limit for being considered part of Labour Youth from under 27 to under 30. This brings it into line with other parties across Europe.
3. There is still anger towards Eamon Gilmore
The Tánaiste was called onto resign just once at conference today – as far as we know anyway – but Gerry Kerr's remarks about disability cuts will have hit home and demonstrate that Gilmore still has to convince some members he is the right man to lead the party into the next general election.
4. The leadership got their their pick for party chair elected this time
Loraine Mulligan, the interim Labour chair, is now the party's elected choice having beaten former general secretary Ray Kavanagh by just 22 votes. Last year, the leadership's favoured choice lost out with Colm Keaveney's election and subsequent term in office notable for his vote against the Budget before he quit the party altogether. This time Mulligan, with the backing of the many senior party figures and the unions, got over the line.
5. Some in Labour want change from within
The Campaign for Labour Policies held a breakaway meeting a few yards down the road from the INEC. The turnout was low – just over a dozen are believed to have been present – but the idea was to discuss ways in which to work towards reforming the party from within.
Neil Warner, from Labour's Trinity branch, said his plan was to stay in the party: "I don't see any other way to change things. I think the party is still the best vehicle to work within. It's going to be a hard fight but the Labour Party is worth saving."
Interestingly he said that he does not believe that a change in leadership will be of any benefit. This underlines the complexities of Labour's internal problems and the fact that people are unhappy for various different reasons
6. There was progress on the contentious pylons issue
The contentious issue of Eirgrid pylons – which many communities want put underground – has caused uproar among Labour backbenchers and Minister Pat Rabbitte but a behind-closed-doors meeting with 100 public representatives saw Rabbitte apparently allay some fears of TD, Senators and councillors.
Senator John Whelan said afterwards that Rabbitte was "in listening mode" and claimed that the issue would "go back into the melting pot for further scrutiny". Whelan said he expects to have "results" from the consultation process when it concludes in January but we'll have to wait and see on that front.
7. Labour may have to settle for coalitions with the right
SIPTU president Jack O'Connor made an interesting point in his speech to conference – where he was awarded with the magnificently titled 'James Larkin Thirst for Justice Award' – that Labour and others on the left, or the "serious left" as he called them, "must be prepared" to go into coalition with centre-right parties "to defend the interests of working people and civil society as far as possible".
The left hasn't yet made the argument that it alone should govern this country and it may be some years before that does happen, particularly if Labour, for all its improvement in recent weeks, takes a wallop in next year's local and European elections.
8. Labour isn't just about tax and spend
Echoing remarks he made in an Irish Independent interview during the week, Gilmore told conference in his keynote address that the party may consider offering some form of tax relief to the so-called 'coping classes' in the lifetime of this government.
There were no specific promises and much will depend on economic conditions, but these remarks show that Labour are as cognisant as Fine Gael that current rates of taxation may be hitting the middle classes too hard.