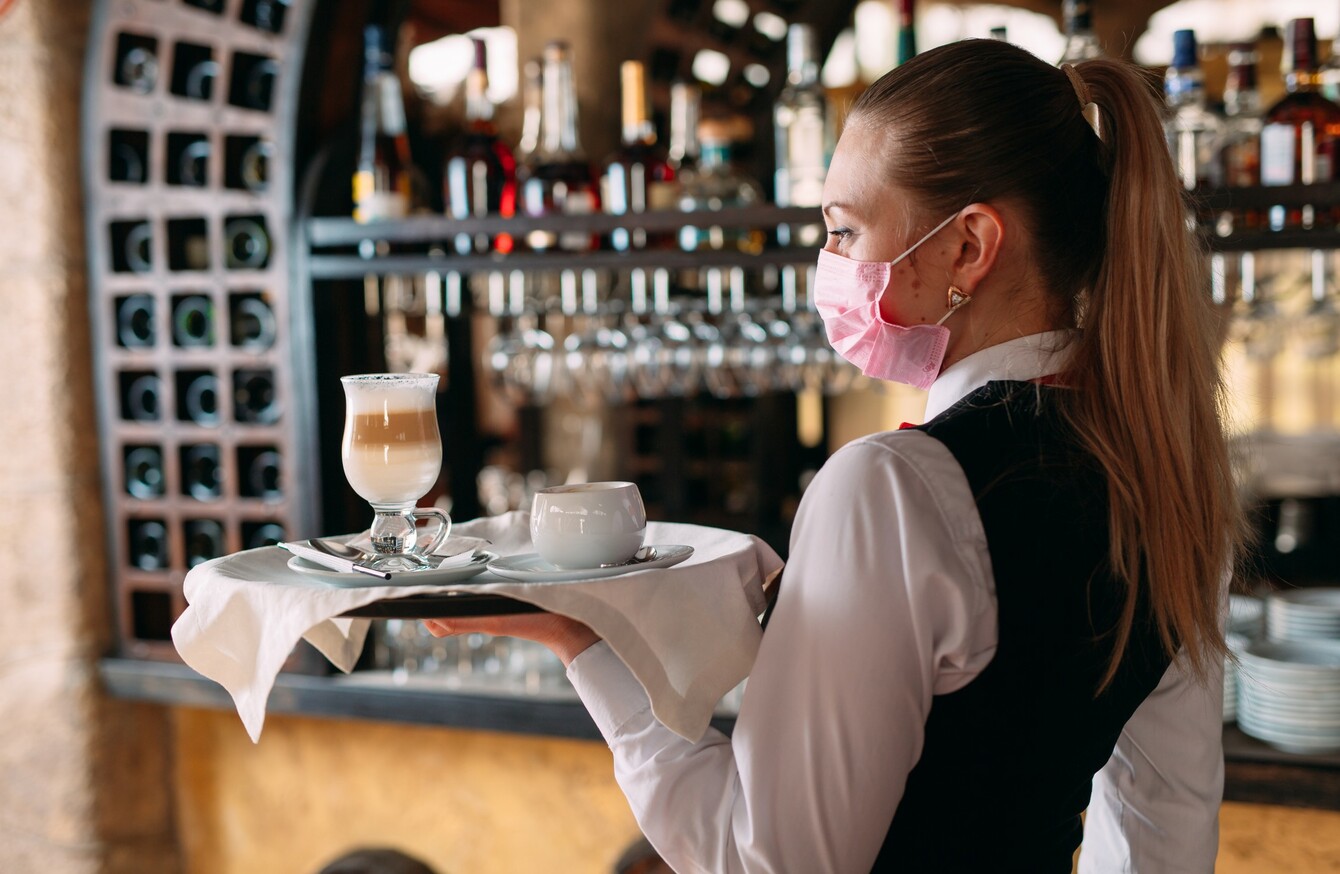 The Deputy Data Commissioner said the data collection in this incidence is "not significant" and doesn't pose a risk to personal rights.
Image: Shutterstock/David Tadevosian
The Deputy Data Commissioner said the data collection in this incidence is "not significant" and doesn't pose a risk to personal rights.
Image: Shutterstock/David Tadevosian
Updated Sep 4th 2020, 5:15 PM
THE NEW RULE requiring pubs and restaurants to keep details of customer food orders was designed to "crack down" on the small number of pubs in breach of Covid-19 regulations, the Tánaiste Leo Varadkar has said. 
The statutory instrument, signed into law by Minister for Health Stephen Donnelly, took effect yesterday and requires pubs and restaurants to "retain and make available" all customer information – including food orders – for 28 days.
The regulations state that business owners must be prepared to share this information, if necessary, with gardaí and the HSE. 
Tánaiste and Minister for Enterprise, Leo Varadkar, said today he wanted to clear the record on the new measure. 
"There is no requirement for restaurants or pubs that are serving food to keep an individual record of what everyone eats, that's not the case at all," he said, speaking to reporters outside Pfizer in Dublin. 
He said they simply must show evidence that a substantial meal was served. 
This measure is "designed to crack down on misbehaviour by a small number of pubs operating as restaurants", Varadkar said. 
Similarly, Taoiseach Micheál Martin today said the new measures have been "misinterpreted" and "misrepresented". 
"[It] got misinterpreted and misrepresented completely as somehow government trying to have an investigation or assessing what people are eating, that was never the cast. We have no interest in really finding out what people are eating," Martin told reporters this afternoon. 
"The regulations are basically about making sure any rogue operator wouldn't be opening up and not serving meals at all, as we heard reports about," he said. 
Concerns have been raised about data protection issues and the new rule.
The Deputy Data Protection Commissioner has said there is "sufficient justification" for the new rule.
Responding to TheJournal.ie, deputy commissioner Graham Doyle said the new regulations introduced by government does involve the collection of personal data.
However, he added that the data collection in this instance is "not significant" and doesn't pose a risk to someone's rights.
"Details of meals of a dining party will now be added to that contact information. The interference with fundamental rights in this case is not significant and the data collected and the purpose for its collection (ensuring compliance by pubs/restaurants with the regulation) mean it is unlikely to result in any significant risks to the rights of an individual.
"Where the interference with fundamental rights is not serious, the justification for the personal data processing does not need to be weighty.
"In this case, the stated aim of Government in procuring compliance with the regulations through inspections by An Garda Síochána in the context of the pandemic is sufficient justification for the level of interference that arises," he said.
The Deputy Commissioner added: "It is not a matter for the Data Protection Commission to decide or comment on Government policy. It is the role of the DPC to monitor compliance with data protection law and, in this case, the legal basis is sufficient." 
Poor communication
The CEO of the Restaurants Association of Ireland (RAI) criticised the government for a lack of communication about the new rule, with the Chief Executive Adrian Cummins stating that this should have been better communicated to businesses serving food. 
"The issue around how this was communicated to our industry is the nub of the issue," Cummins said speaking on RTÉ radio's Morning Ireland.  
"There is a lot of fear out there at the moment across our industry, fear of losing their business, and this is more regulatory burden they must do because it's the law." 
Cummins said restaurants give one receipt to customers and keep one for their own records, so this information is generally available but he said "it's more work for the business". 
"We shouldn't be at this situation here today. This should have been communicated after the cabinet meeting on Tuesday," he said. 
Speaking to 2FM Breakfast with Doireann and Eoghan, Health Minister Stephen Donnelly said the new measure is "actually about protecting the people working in the restaurant industry".
The minister said establishments serving food should "make sure you keep the receipts you already keep to show that substantial meals are being served". 
"There's a very, very small number of pubs… essentially operating as pubs and they might have an odd pizza there or just pretend that they were serving food, and that's not fair.
"It's not fair on everyone who is doing the right thing."
'Proof' for gardaí
Speaking on RTÉ's Prime Time last night, the Minister of State for Employment Affairs and Retail Businesses, Damien English, said the new rule will serve as "proof" to gardaí that people did eat a meal at a pub or restaurant. 
"This is to enable the health authorities as well as the gardaí to monitor compliance to the regulations," English said. 
"It's extra hassle, but if it helps us reopen the pubs, that's what we have to do." 
The Minister for Higher Education, Simon Harris, said there has been "a lack of clarity" about this rule. 
"The government doesn't care whether you had a dessert or a cup of coffee, or whether you went for the banoffee," he said, speaking to Newstalk Breakfast. 
Harris said this is a "temporary measure to enable the provisions that are there to be enforced".  
Yesterday, the Vintners' Federation of Ireland (VFI) called the new regulations "crazy". 
In a statement, Padraig Cribben, the Chief Executive of the VFI, said: "Not only is it too impractical for our members to implement but why does the Government think this law will help in the fight against Covid? It's madness." 
#Open journalism No news is bad news Support The Journal

Your contributions will help us continue to deliver the stories that are important to you

Support us now
Political reaction
Sinn Féin spokesperson on enterprise and trade, Louise O'Reilly, said the government has "failed to demonstrate" how the new requirement will benefit the "management of Covid-19″. 
"Clear, simple messaging is an essential part of managing Covid-19 and explaining the steps required to tackle the virus is essential," O'Reilly said in a statement.
"What the government is doing, on a continual basis, is the exact opposite of that and all this latest debacle will do is cause further headaches for pub and restaurant staff and for the gardaí."
Social Democrats co-leader, Catherine Murphy, has called on Stephen Donnelly to review the new regulations, which she described as "daft". 
"[The rules] penalise all those pubs and restaurants who are observing the law and existing regulations governing their operation as they climb back out of covid-19 closures," Murphy said in a statement. 
"What we have here is poor processes. Poor processes lead to poor outcomes and severely risk he confidence and compliance of businesses and the public."  
With reporting by Christina Finn and Hayley Halpin