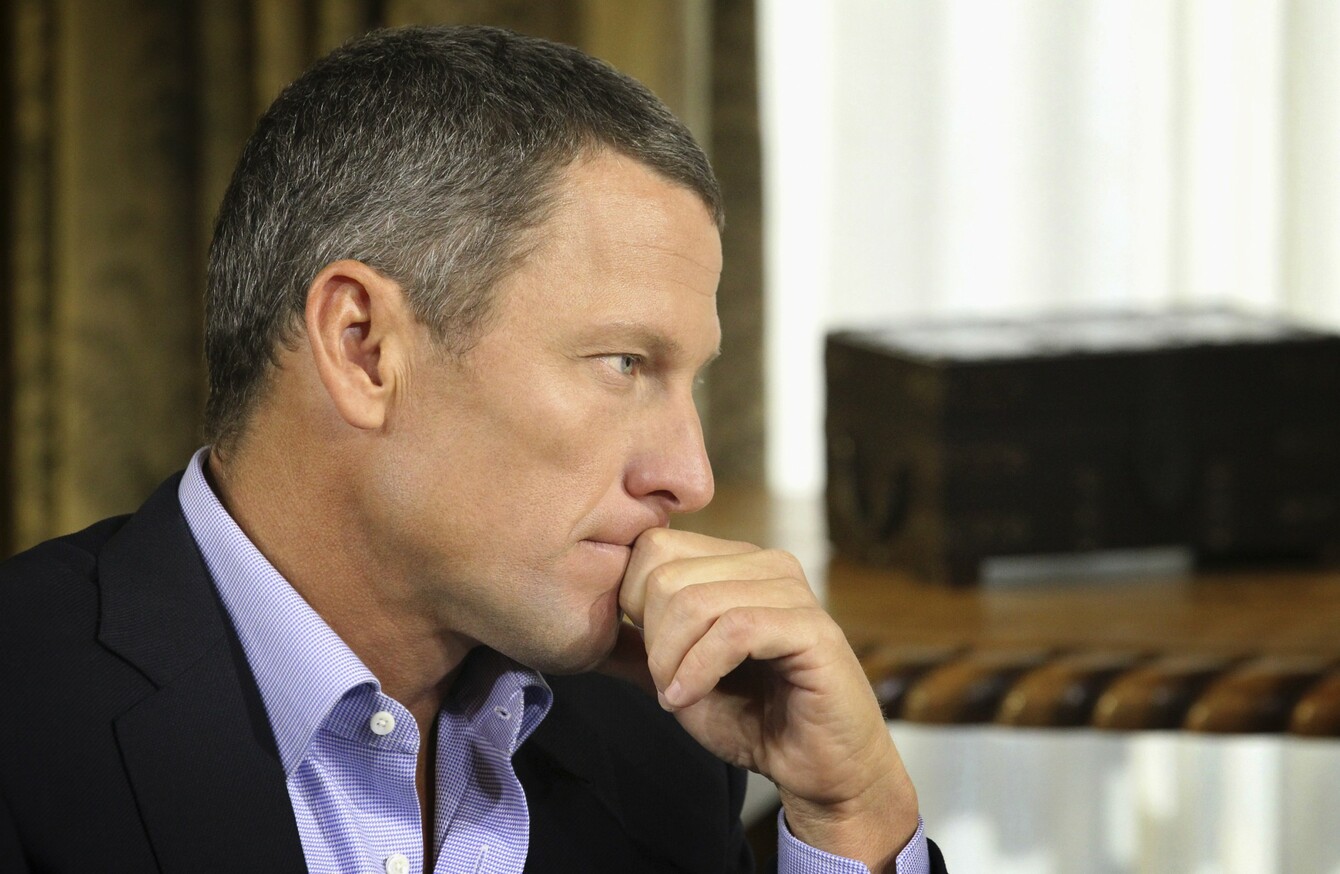 Image: AP/Press Association Images
Image: AP/Press Association Images
THE ORGANISERS OF the One Zero Conference have "a number of legal things" they want to look it in relation to possible refunds after Lance Armstrong pulled out of an appearance at the event.
However, the event's organiser confirmed this morning that they are not currently offering refunds to the sports and tech event, though they could not say if they definitely won't be offering money back.
Armstrong, who was one of 30 speakers booked in for the conference at the RDS this weekend, pulled out of One Zero last night. 
Tickets for One Zero cost from €175 for a general admission day ticket to €775 for a VIP ticket which offers priority seating and VIP events.
One Zero Conference organiser Rob Hartnett told Morning Ireland on Radio One this morning that the organisers "didn't have any inkling that there was going to be a problem" with Armstrong.
There have been "very small numbers" wanting their money back, he said.
On Newstalk's Off the Ball show last night, One Zero co-founder Richie Barrett said:
"We sold tickets on the basis that this was One Zero sports and tech conference – there are 37 speakers, 20 international… Glastonbury is about more than Beyoncé, One Zero is about more than Lance."
Of the athlete's decision to pull out, Hartnett told Morning Ireland:
He cited legal reasons, the advice of his legal team, the forthcoming court case which we all knew about, he knew about, we knew about on 2 November… [he said] he would be better advised not to be speaking in public in that environment.
Hartnett said that One Zero Conference was not going to do a soft interview with former cyclist Armstrong, who was stripped of all seven of his Tour de France titles after being found guilty of doping.
"[We] never had any intention of this being anything other than a tough interview. There was no point in bringing him over here and just sort of dealing him soft balls that he could bat to the sidelines," said Hartnett. "It was always going to be you know a tough interview, we wanted to talk to him about his past and about the future of his sport."
He said that the team was "completely transparent" with Armstrong about this.
Hartnett said One Zero Conference is "disappointed for people", but added:
We probably got an awful lot more supportive messages overnight about the fact that he's not going to be here, that it actually makes it a better conference.
He said they had had "serious doubts" initially about interviewing Armstrong due to his past behaviour, but then realised "that the only way we are going to get to the bottom of cheating in sport is to actually talk to the people who have been there".
He said that refunds are not being given at the moment.
A number of attendees have been tweeting the organisers asking about the possibility of refunds.
The conference had come under fire earlier this month over the amount of female speakers taking part in the event.
One Zero Con apologised for having "fallen short in our first year" and pledged to do better.
At that point, there was just one woman due to speak at the event.
The conference now has a total of five female speakers, out of 34 billed speakers (not including Armstrong).