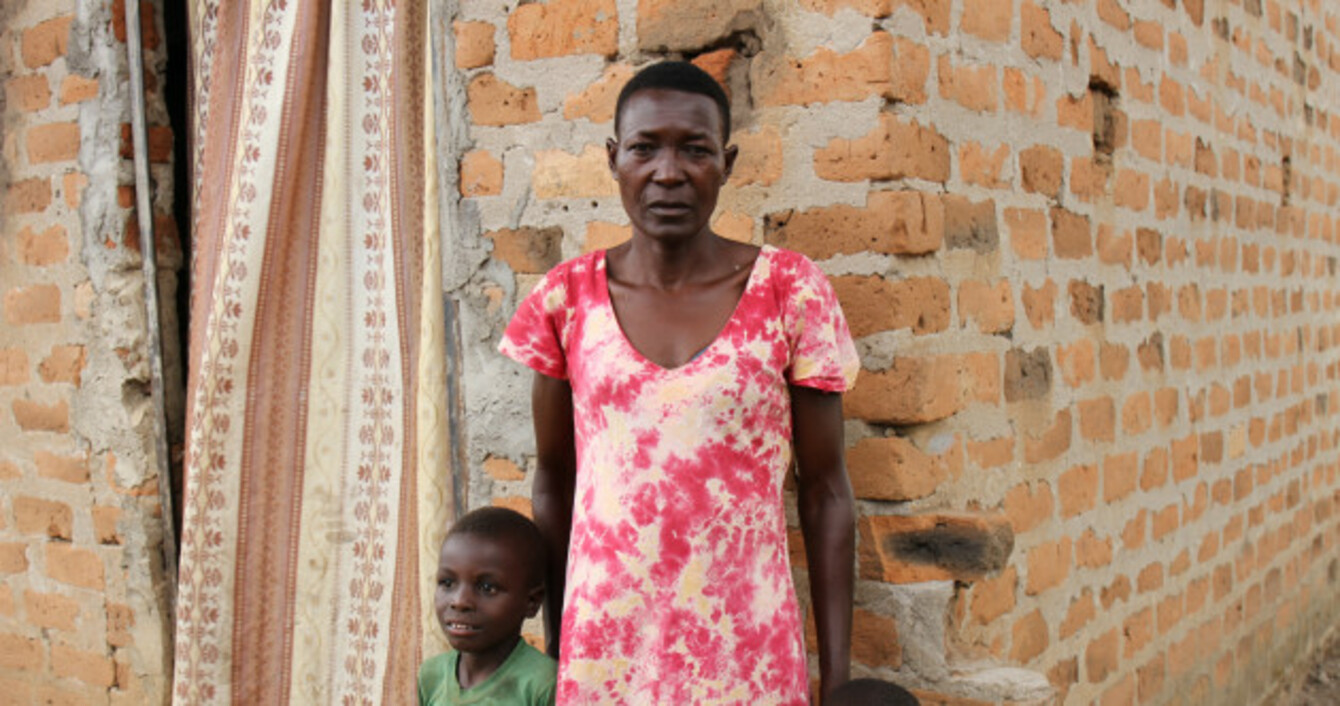 When their husbands die, many widows are told to leave their homes by the husband's family.
Image: Trócaire/Niamh McCathy
When their husbands die, many widows are told to leave their homes by the husband's family.
Image: Trócaire/Niamh McCathy
NEKO ADOMG SAYS she lives in constant fear of having to flee her land.
Widowed at just 25 after her husband was killed by soldiers from the Lord's Resistance Army, the now Ugandan 53-year-old grandmother fears for her family's future as their home is under threat.
TheJournal.ie was invited by Trócaire to visit Northern Uganda, where disputes over land can often turn violent. Women are regularly discriminated against when rows erupt – even when it comes to land that has been in their family for generations.
As a young woman, Neko was herself beaten and left for dead by the LRA, who have been waging an insurgency against the Ugandan government since 1987.
The LRA's insurgency was initially launched as a response by Northern Ugandans against what they described as atrocities that the government and state forces had committed.
Led by the Joseph Kony, who declared himself a spirit medium, the conflict sparked by the rebel group led to over 100,000 deaths and caused over 1.5 million people to be displaced.
The LRA have been accused of human rights violations including slavery, rape and the use of child soldiers in their decades long campaign in the north of the country.
Though still an active conflict, since 2007 the LRA has been pushed outside of Uganda and now operates in the Central African Republic, the Democratic Republic of the Congo, and elsewhere.
In the last decade, many of those who had spent years in IDP (internally displaced persons) camps could now go home and try and put their lives back together.
After her recovery Neko lived with her father-in-law, working four acres on the outskirts of Barkic village in Northern Uganda – around 500 kilometres from the capital of Kampala – while taking care of her children.
The land isn't great, she says. She'd like better a better irrigation system, and more consistent amounts of rain – but she's made the best of it over the years.
Six years ago her father-in-law died. She had been working the land for more than two decades at this point – but, even still, members of his family demanded that she hand over the land.
It was part of their legacy, they insisted. She was still regarded as an outsider.
After surviving loss, conflict and the violence committed against her (her injuries still cause her difficulties and she needs regular medication) and then working the land for years, she was now being accused of squatting and land grabbing.
Through the work of aid agencies and their local partners who help settle land disputes in the area, Neko managed to retain two acres for herself.
Recently, however, she was sent an official-looking letter claiming she was occupying the land illegally and demanding that she leave and pay a large fee.
Those helping her believe the letter is a fake, but now Neko fears that she could lose the small plot of land that her children and grandchildren call home.
Unfortunately, such situations can be a common occurrence in this part of Uganda.
Tradition
Despite legislation that protects communities' rights, problems around administration and an adherence to traditional customs can make issues around land difficult to manage.
80% of Uganda's population depends on agriculture for food and trade. Recently, overseas investors have been interested in Uganda and have been purchasing land and properties.
With a current population of 41 million and a population growth of 3.1% per year, Uganda's population could rise to 200 million by 2050, which will add further pressure.
Land, and who owns it, will be become ever more important.
In the Acholi region of Northern Uganda, where Neko lives, 85% of land is 'customary land' – inheritance follows a traditional set of rules and practices.
The tradition is mostly oral-based, and the land tends to be passed down through generations, usually via the oldest male child.

These lands are connected through extended families. When disputes arise, elders who may have memories of the land's history are often consulted.
During the civil war, however, many people in this region were moved to IDP camps in order to escape the violence.
Some families lost ten to twenty years waiting in these camps – living in cramped quarters where illness and disease were ever-present.
Many clan elders, whose memories were so crucial to land-related issues, died in these camps.
When their people returned home to their land they found everything was different. Boundaries had been changed and tree-lines marking different properties cut down. Sometimes other families had moved into their homes and were farming the land.
The cost of legally solving a land dispute can be expensive and lengthy, with many families not being able to afford to have their case heard.
Trócaire and its local partners in the area – like the Acholi Religious Leaders Peace Initiative (ARLPI) – work with locals in what they call 'alternative dispute resolution'.
They send out counsellors, mediators, and legal professionals to assist people in settling land disputes among themselves, often in the traditional way.
This involves a public meeting of the village. One side makes their case, and then so does the other. This can take anywhere from 4 to 6 hours.
Afterwards, they can start to negotiate and talk the issue through. With the other villagers acting as witnesses, nothing is written down – it is all oral, following the tradition of 'my word is my bond'.
Most people are happy with this method. However the next step, according to community workers, is to recognise that women too have a say in ownership when it comes to land.
Women's Rights
Like many in Northern Uganda, the civil war had left Lilly Amony (45) a widow.
Her husband's family insisted that she and her four children leave their son's farm, in keeping with a local tradition allowing the family of a deceased husband to claim back the family land.
She tried to make it back to her original village, but a stay at an IDP camp delayed the process as fighting raged on.
It was only in 2006 that she managed to get back to her father's land, and it was then that she encountered further troubles.
Lilly's father had allocated shares of his fifty acre farm to each of his seven children.
One year, a good harvest meant that Lilly was able to afford to build a brick-built iron-roofed house – a first for the village.
However, this was too much of an encroachment for one of her male relatives, who claimed she had no right to set up a permanent house.
According to Lilly, the relative insisted she was someone else's responsibility now (despite her husband being years dead) and wasn't entitled to build her own home.
Part of Lilly's house was destroyed, and she was physically threatened when she refused to give up on the building.
She went to local clan leaders, but said they were no use as it appeared the relative may have bribed them. Other family members, likewise, turned a blind eye – perhaps hoping to benefit from her situation, Lilly believes.
Terminally ill with cancer, her father tried to intervene but no one listened, and he eventually died in 2012.
With her strongest ally gone, Lilly went to the ARLPI (the religious leaders group) and through long meetings and negotiations with her family, managed to obtain two acres for herself – far less than what her father had promised each child.
She said:
I used to tell people here is where I am going to die. I am born of this land and I am going to continue to farm it.
Despite the setbacks, Lilly has saved enough money to buy another acre and has also made a claim on her husband's farm.
She hopes her own children (two sons and two daughters) will respect each other when the time comes and the land is divided between them.
"I am going to write a will very clearly giving my daughters rights," she said.
Slow progress
While in law Uganda women have rights to land, in practice it can be difficult to enforce.
To some Ugandans only men can own land, and they will often try and strong-arm war widows and vulnerable people in land grabs, local workers said.
The work being done by local and international organisations to help vulnerable locals understand their rights means that the situation is improving.
However the groups, and the women they are helping, all agree it could take years before there is a substantial improvement.
If you'd like to learn more about Trócaire's work in Northern Uganda you can visit their website at trócaire.org.