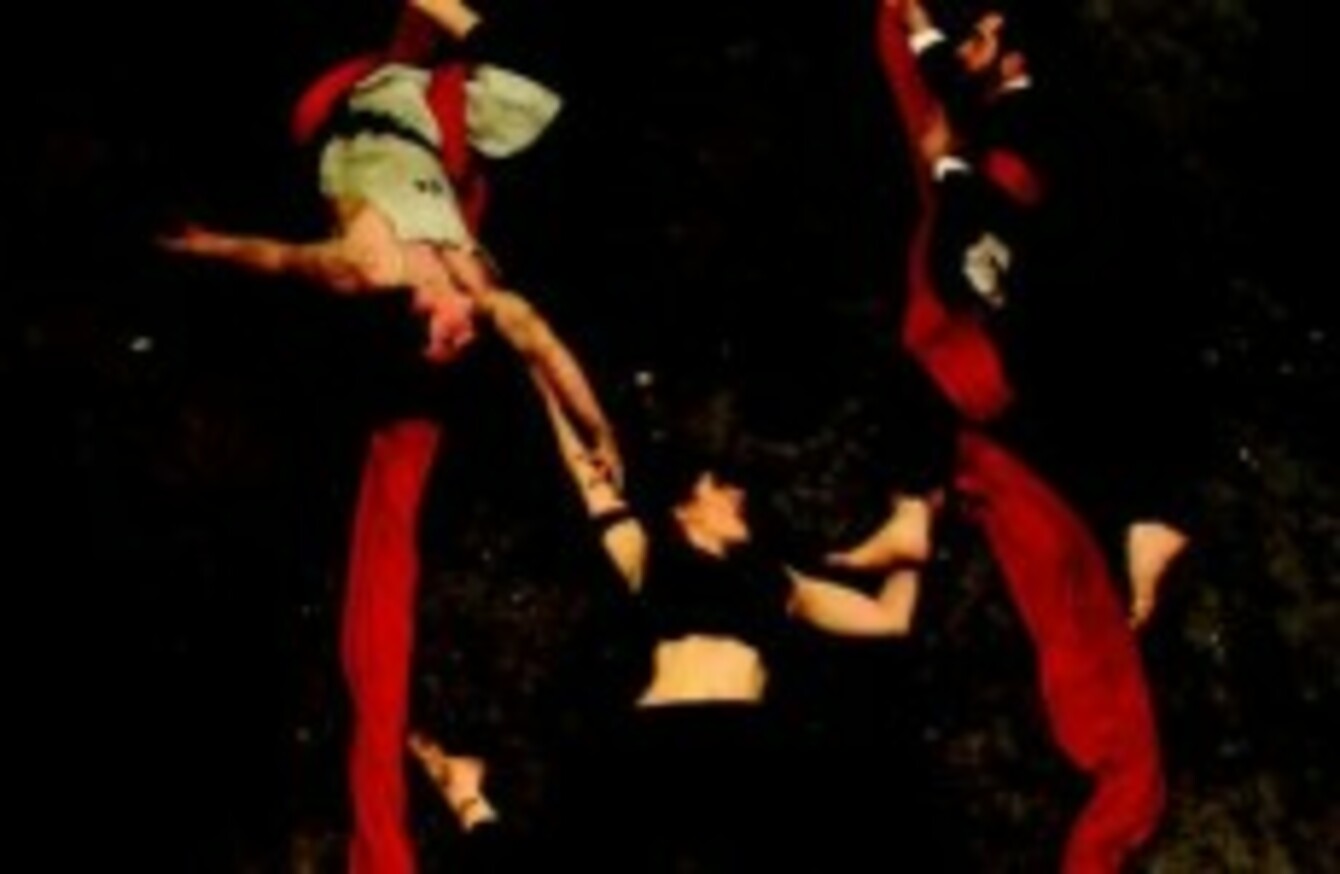 ROPES, HOOPS, DARING performers flying through the air – you might we're describing one of Cirque du Soleil's impressive shows but this circus theatre show originated closer to home.
Landfall is a new circus theatre show funded through the Arts Council, written, performed and produced by Irish talent.
"We're all Irish," Niamh Creely, writer and director, told TheJournal.ie. "The set designers, the musicians and composers and all four of the performers are Irish."
Landfall is set in a post-apocalyptic landscape where the ground has fallen away so the characters live their lives high up in the air.
"They're living in this impossible world for an unknown period of time and something happens that's the final straw so if they're going to survive they have to work together," Creely explained. "If the most fundamental thing in your world is gone, something you thought was reliable, what do you do then?"
All of the characters in the show are aerial performers – an art that is becoming more and more recognised as people across the country get involved in lessons themselves.
"I remember when I first started and no one had a clue what aerial is, so you has to say circus," Creely said. "Now that people are getting lesson themselves and know about Cirque du Soleil, it's more familiar for them."
While Creely said that Landfall is not on the same scale as Cirque du Soleil and focuses more on human characters than those in elaborate costumes, it promises a similarly exciting spectacle.
The whole thing happens on a suspended set, never touching the ground at all. We have these amazing platforms that move around with ropes rigged up and hoops. We don't want people to be genuinely frightened but there are certain moves that might give people a bit of a scare. There'll be people hanging by one hand on a hoop or jumping and grabbing a rope and that can be hard to watch without feeling a rush of adrenaline so there's definitely be a feeling of suspense throughout the show.
#Open journalism No news is bad news Support The Journal

Your contributions will help us continue to deliver the stories that are important to you

Support us now
Here's a sneak peak at the crew rehearsing at a recent photo shoot…
Landfall

Landfall

Performer Aisling Ní Cheallaigh.

Landfall

Performer Johnathan Walsh.

Landfall

Landfall

Landfall

Timmy O'Sullivan in rehearsal.

Landfall

Landfall

Landfall

Landfall

Performer Niamh Creely.

Landfall

Performer Timmy O'Sullivan

Landfall

Niamh and Aisling in rehearsal.