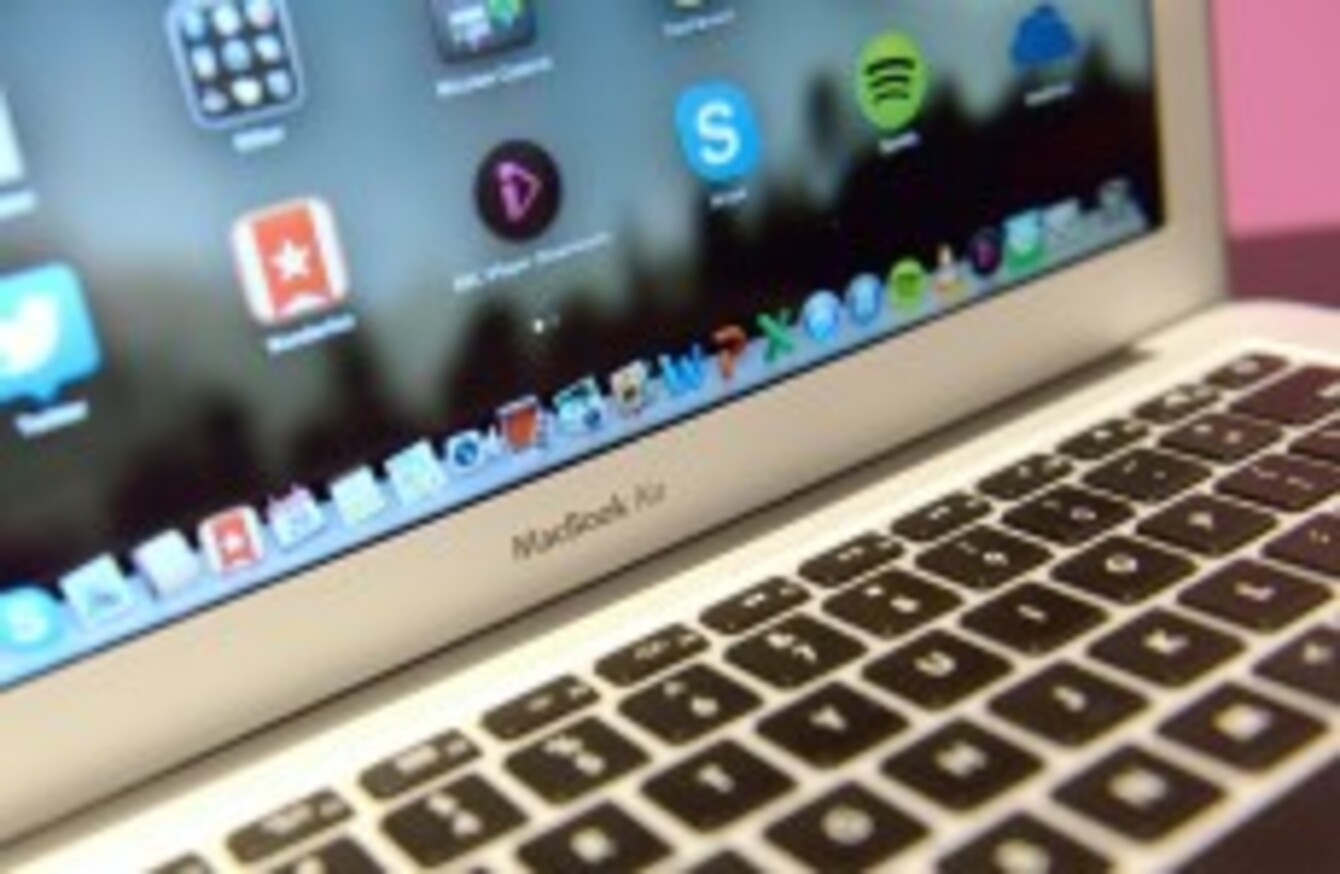 Image: Anthony Devlin/PA Archive
Image: Anthony Devlin/PA Archive
CONSIDERING HOW MUCH some of them cost and the variety of models on offer, the world of laptops can be a confusing place.
There are so many manufacturers, so many versions and the names thrown around like ultrabook, hybrid and notebook, let alone the spec names, can make buying one a daunting task.
To start off, you want to figure out what you're using it for. So ask yourself questions like:
- How often do you plan on carrying it around?
- Will you use it for business or professional use?
- Will you use it for gaming? If yes, will it be casual or intensive games you'll be playing?
Portability might be a strange one to factor in considering that's the entire point of a laptop, but the size and weight of the device you're going to purchase will have a bearing on your decision.
Laptop size
While there are always exceptions to the rule, the size of a laptop can give you a decent idea of the quality and specs they have. Here's a brief rundown.
10 to 12 inches
The smallest screen size you can get. For obvious reasons, laptops this size are the easiest to carry around as they're small and light, but that small size also affects keyboard and trackpad size, meaning typing can feel cramped. Also, the specs for these laptops can be rather limited compared to larger laptops.
13 to 14 inches
The best compromise between portability and size. They manage to be both light(ish) and include decent sized keyboards and trackpads. The majority of them tend to be all-rounders covering many areas but not excelling in any of them.
15+ inches 
Jumping up to this size, laptops can become rather bulky and harder to carry around. The large size means it's able to cram in better specs, making them more suitable for heavy work and gaming instead of casual use.
Software
Once you've figured out what size of laptop you want, you will need to decide on the type of software you want running. In general, there are three to consider.
Chrome OS
Found on all Chromebooks, Google's operating system is based entirely around its products and browsing. Anything you do on these devices is completed through Google or a Chrome app, and the range of Chrome apps you can download has improved in recent times.
The quality of Chromebooks has risen in recent times, and while they don't match the functionality of regular laptops, they've reach a point where they're great for casual use.
Pros
- Perfect for browsing and if you practically live on the web.
- Relatively inexpensive compared to other laptops.
- Battery life can be pretty good since it's low-powered.
Cons
- Entirely based on Google/Chrome software. No scope for installing programmes/apps outside of Chrome.
- Specs are pretty minimal, and inconsistent across devices.
- Limited use when offline.
Windows 8.1
The most popular OS out there thanks to the wide price range it covers, Windows 8.1 laptops can also include touchscreen capabilities and anything that's a tablet/laptop hybrid will run this software. Although if you're used to previous versions of Windows, you may find the experience of 8.1 somewhat jarring for the most part.
While Windows 10 is arriving later this summer (and judging by the preview version, it's a return to form), you should check to see whether the laptop you're buying now will be able to upgrade to it (It's likely a yes, but it never hurts to ask).
Pros
- Wide price point between cheapest and most expensive.
- Has the widest collection of games.
- Offers more software choices.
Cons
- Windows 8.1′s tablet and desktop integration is disjointed at best and a real departure from previous versions.
- Most susceptible to viruses and malware.
Mac OS X
Only available on Apple devices, Mac OS X has a number of useful features and is a relatively straightforward experience once you get used to the differences between it and Windows.
Pros
- MacBooks have great design and build.
- Better trackpad gesture controls.
- Can sync with your iPhone.
Cons
- Expensive entry point. The cheapest Macbook Air costs €1,029.
- Limited selection of games/services from App Store and Steam.
- Takes a bit of time to learn.
#Open journalism No news is bad news Support The Journal

Your contributions will help us continue to deliver the stories that are important to you

Support us now
What is battery life like?
Whatever way you look at it, you're going to use your laptop without a charger, and it's no good if you spend most of your time worrying about whether it's going to last the day or not.
Looking at what the manufacturers say is a decent start, provided you look at the caveats (and there are always caveats) it has in the small print, but you should look for independent reviews to get a better idea of its lifespan.
Think of it this way, how much time do you want to spend with your laptop every day? Use that as the benchmark for battery life as the longer lifespan you have, the less of a slave you are to the power cable. If you spend most of your day at a desk, then this is less important.
What specs are you looking for?
Look, specs can be confusing to most people, even those who are used to it, but here's the best way to break them down.
CPU - this one can be the most confusing as you'll only get the name of a CPU and not the specs themselves.
If performance matters, then look for an Intel Core i5 which is found in the majority of mid-range devices. If you really want a high-end laptop than an Intel Core i7 would better suit your needs. Also, keep an eye on the model number being used (eg: Core i5 5300). A higher number means a more recent edition and better performance.
RAM - The more you have, the more tasks your laptop will be able to handle. 4GB should be the bare minimum, but if you can get more (8GB), even better. High-end gaming would require more than 12-16GB.
Hard Drive - Similar to RAM, the more space you have, the better. 500GB should be the absolute minimum. Also worth factoring in is speed – revolutions per minute or rpm – where a higher version provides faster speeds.
Display - With most laptops boasting HD display, this isn't as important as it once was, but the more you want to fit on-screen, the more pixels you will need. The same applies to gaming which benefits from high-resolution screens.
Graphics Chip – If you're into gaming or video editing, then a high-end graphics chip is a must. For most tasks like surfing the web and watching videos, a basic graphics card is more than enough. Like CPU, the higher number a chip has, the better it is.
USB – What ports does it support. Most support Type B USB (the current standard) but the first Type C USB ports are arriving so it's worth checking if they're included or not.
How much should you pay?
The big question, and it boils down to (surprise, surprise) what exactly you're going to use it for.
As a rough guideline, if you're paying less than €300, you're getting the absolute basics, up to €500 are the reasonable specs and up to €1,000 falls into the more premium range devices.
Everything else above that offers premium design and specs and tend to be the longest lasting laptops. Also, high-end gaming laptops from companies like Alienware would start at €1,000 and move upwards.