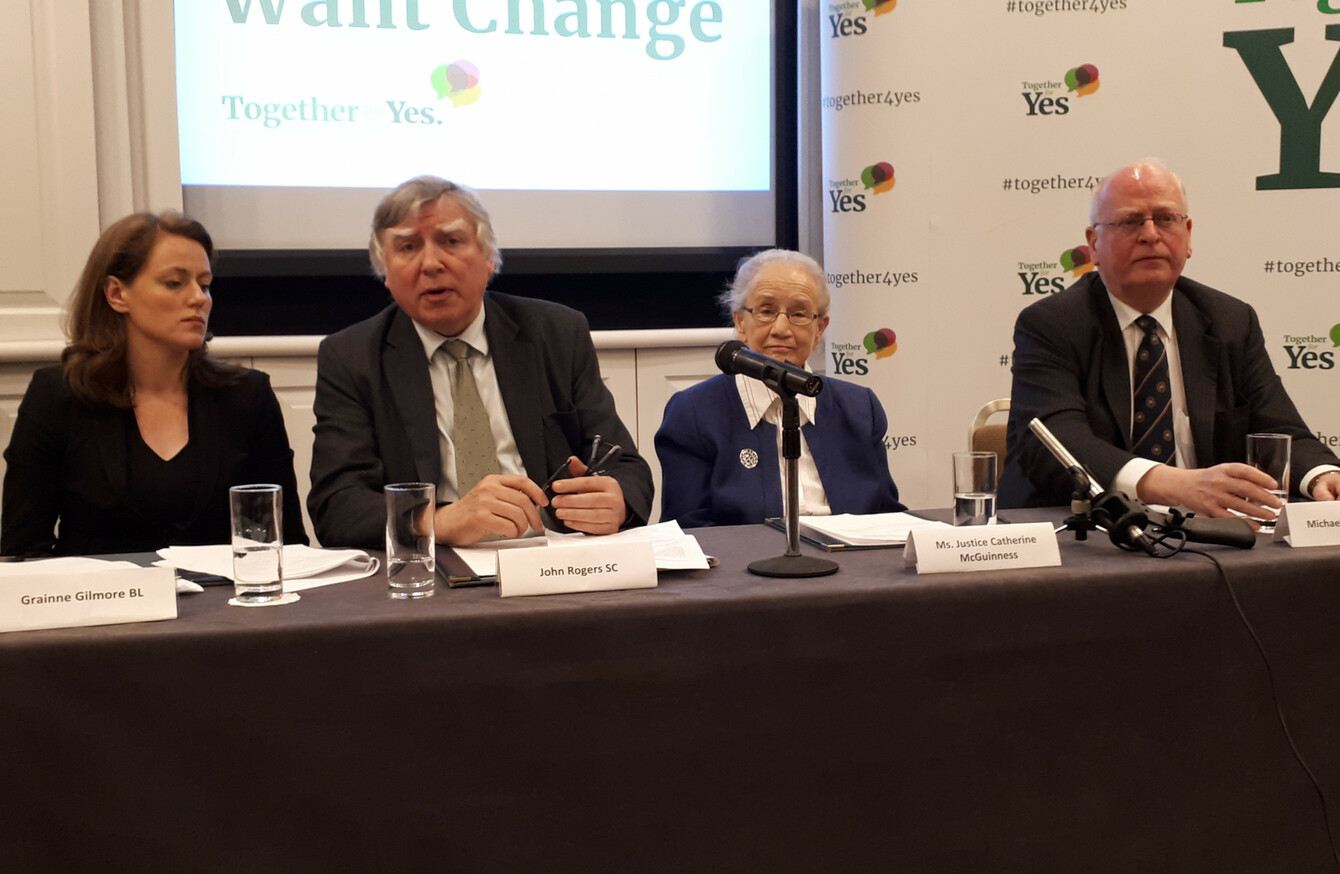 Lawyers for Yes press conference in Dublin this morning.
Image: TheJournal.ie
Lawyers for Yes press conference in Dublin this morning.
Image: TheJournal.ie
TWO FORMER ATTORNEYS general and a former Supreme Court justice have called for a Yes vote in the upcoming vote on the repeal of the Eighth Amendment.
Michael McDowell SC and John Rogers SC were joined by former Supreme Court justice Catherine McGuinness at an event hosted by the Lawyers for Yes campaign group.
Speaking this morning, they said that amending the Eighth Amendment to legalise abortion in "hard cases" such as rape or incest would be "unworkable" because of the inquiries or procedures that would be required.
McGuinness also said that the right of Irish women to travel for terminations abroad essentially made them into "refugees".
"The idea that the 'hard cases' can be dealt with by an alternative constitutional amendment or wording, for example to provide for instances of rape or incest, are not workable for the simple reason that to determine such events had occurred would require an inquiry procedure that would be incompatible with the timescale for the resolution of the woman's crisis. Any such provision would lead to unwieldy litigation with uncertainty of outcome," they said.
The Lawyers for Yes campaign group also published an online database of over 500 legal professionals who have signed a petition supporting a Yes vote.
A Save the 8th event last week featured a call by 200 lawyers for a No vote in the referendum. At the event, it was suggested that a Constitutional change that legislated for such "hard cases" would be preferable to the change proposed by the government.
But Rogers, who served as attorney general from 1984 to 1987, said today that attempting to make Constitutional provision for terminations in cases of rape would lead to "endless" court cases.
"You'd have endless case law, cases going to the courts, on the question of whether or not there was a rape at all," he said.
That would be an interminable process. It would end of course, but it would be a very dilatory, slow process because it would involve the making of an inquiry about whether or not there had been a rape or a consent. Which is the equivalent of a criminal trial in effect.
Asked whether it was possible to change the Constitution to legalise abortion in cases of fatal foetal abnormality, Rogers said it would be similarly difficult.
Again, I would be entirely against creating what I would call Constitutional process to resolve the individual difficulties arising from the pregnancy of one individual woman.
"It seems to me to bring the Constitution into the lives of the most vulnerable and to create potential for dispute resolution through the courts for women carrying pregnancies."
Speaking about referendums since 1983, McGuinness said that votes by the Irish people that allow travel for an abortion has made for a hypocritical legal situation.
"We now have this sort of strange tale and hypocrisy situation where it's quite alright actually, and even when I ask people on the No side do they approve of the travel situation, they eventually come around to saying that yes they allowed that to be done."
"That leaves us in a situation where people are refugees as it were, they have to leave this country and they have done so in their thousands since 1983," McGuinness added.
Love Both
Separately today, the Love Both campaign group held a press conference in which they defended the involvement of people with Down syndrome in the debate.
The group, who are seeking a No vote in the upcoming referendum, were responding to comments by Health Minister Simon Harris.
The minister had said that they should respect a request from Down Syndrome Ireland (DSI) that people with Down syndrome should not be used to make arguments.
Audrey O'Dowd from Drogheda, whose son Conor has Down syndrome, said that she felt this request from DSI was "wrong" and that its CEO Gary Owens was premature in making this request.
"I think he's new, he's not there that long. It's a parent-led organisation and maybe he didn't really think about it, I don't know because a lot of the parents I know value the lives of their children with Down syndrome, and they want them in public life," she said.
And they would love if we could have our children more in the public line, not just in a campaign, but in real life in occupations, everywhere. Children like Conor should be seen everywhere.
Love Both's Cora Sherlock also said there were "no restrictions" in the government's proposals that would prevent terminations in cases where a prenatal diagnosis of Down syndrome was made.
"This proposal allows for abortion for any reason up to 12 weeks. By a simple understanding of how this proposal would work, if you get a detection of Down syndrome at 9 weeks and you get an abortion up to 12 weeks that means that babies with Down syndrome can and will be aborted," she said.
In Ireland, most women are screened between 11 to 13 weeks.