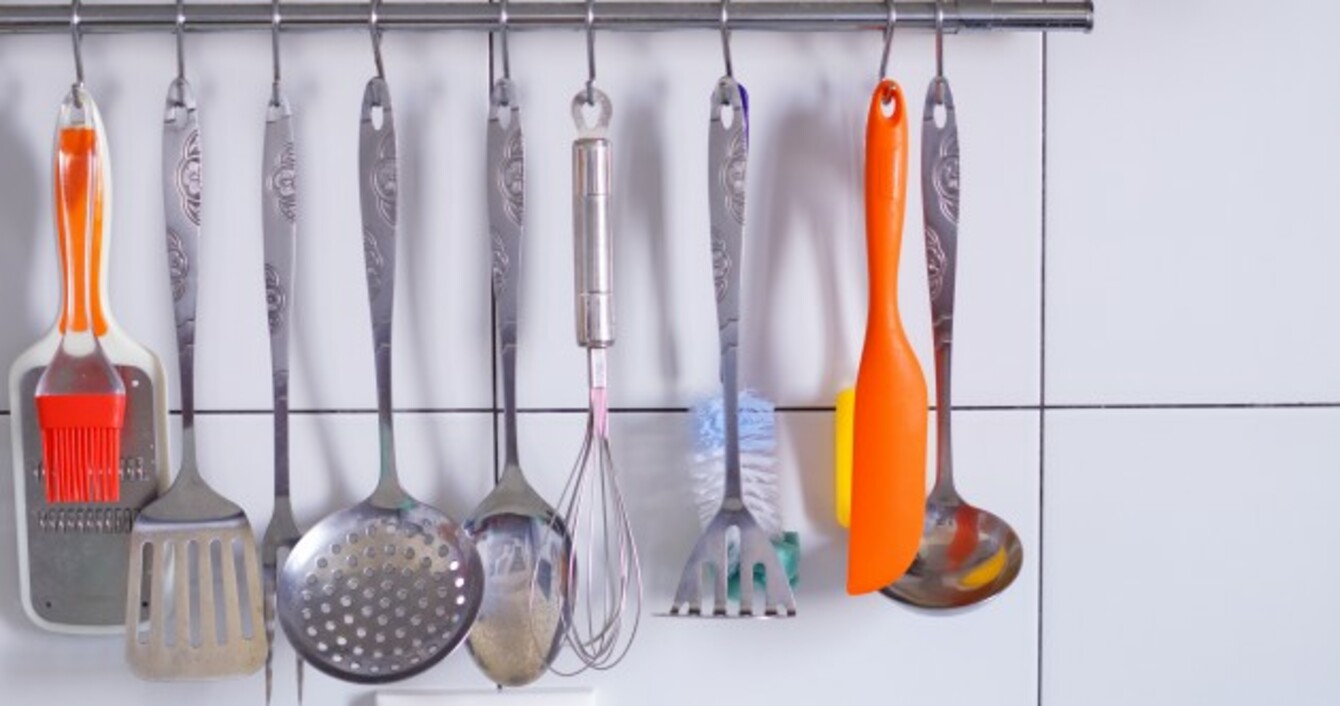 Image: Shutterstock/Vitkarik
Image: Shutterstock/Vitkarik
A LACK OF FLOOR space or a cramped countertop can make it easy to think all is lost when it comes to your kitchen. But it's usually organisation that's the problem, rather than lack of surface area.
There are plenty of ways to maximise efficiency in a small or oddly laid-out kitchen. You'll see the most success by making changes that work with the current shape and size of your space, whether yours runs along one wall, is U-shaped, L-shaped or is a small galley kitchen or box room.
Read on for eight ways to help your kitchen do a whole lot more than you currently give it credit for…
1. Add an island (on the cheap)
You don't have to spend a bomb on a big fancy kitchen island to ensure things work a little easier for you. A butcher's block on wheels like this IKEA classic (€45) is a godsend in a smaller kitchen; it will provide extra prep space but can be easily stored to the side if you have guests over and space gets a little too tight.
2. Free up your cutlery and utensils drawers
If you've got bulky utensils taking up a drawer near the cooker that could be used for easy access to spices or condiments, take inspiration from the kitchens of the pros. Have everything close at hand by displaying utensils on the wall instead. Magnetic wall strips are great for chopping knives – go with wood effect over chrome for a warmer look, like this Wusthof option (€54). Pretty utensils and collections of your favourite crockery, meanwhile, would look super hanging on hooks. 
3. Add storage in tight areas with floating shelves
Small or awkward kitchens aren't necessarily blessed with built-in storage. So now's the time to get creative. Floating shelves are your friends when stacked along free wall space or above the door/window. They're modern and minimalist and let you see, first-hand, what you've got to work with. No more rooting around the back of a cavernous corner cabinet.
4. Create extra work space with a sink cover
If counter space is what you're after, then look to multifunctional items that create flat surfaces. A large cutting board that neatly fits over the sink can do wonders – look for one that's long enough to fit across the entire sink with space on either side to keep it secure. Covering the sink while not in use can create a more streamlined look, too, which will make a small space look less cluttered and easy to work in.
5. Decant the bulk
Cereal boxes, large bags of flour and other dry food can take up so much space when stuffed into cupboards. If you like to buy things in bulk, consider generating less waste by investing in some glass jars. Fill them up in store; they'll not only keep everything fresh and easy to find, but will add a cool design element to the space while being kinder to the planet.
#Open journalism No news is bad news Support The Journal

Your contributions will help us continue to deliver the stories that are important to you

Support us now
6. Think about extending (sort of…)
No planning permission or builders required for this option. See if you can extend your countertop by adding a hinged counter that folds away neatly – or create an eat-in area in a small kitchen with a folding wall-mounted table for two. IKEA has sturdy options from €35. Nifty tabletops that are flush with the wall will free up floor space in heavy traffic areas or create a makeshift eating area for more casual meals or an extra place to prep.
7. No space for a 'work triangle'? Try zoning instead
The classic 'work triangle' concept assumes you have a large space with three separate areas to move between. Not all kitchens offer that freedom of space, but you can still enhance functionality by with some smart zoning. It might sound like a no-brainer, but designate an area for each of the following tasks: prepping, cooking, cleaning up and putting things away. Organise your utensils, pots and pans and so on in the right zone, so that everything is at arm's reach for the task at hand. For example, baking sheets are often kept in the oven (the cooking zone), but it makes a lot more sense to store them near the prep zone.
8. And finally, be ruthless with clutter
Overall, be honest with yourself. Do you really need all that baking equipment when you only make a cake once a year? Why have ten forks when you're a family of three? Store the surplus in the attic, or elsewhere, and only take it out when you have guests over. Doing a full clear out of your utensils and cutlery will ensure nothing in the kitchen is useless. Having the bare minimum in your kitchen, not only frees up some space but lightens the load of washing up, too. A clean, uncluttered kitchen will ensure any layout works well.