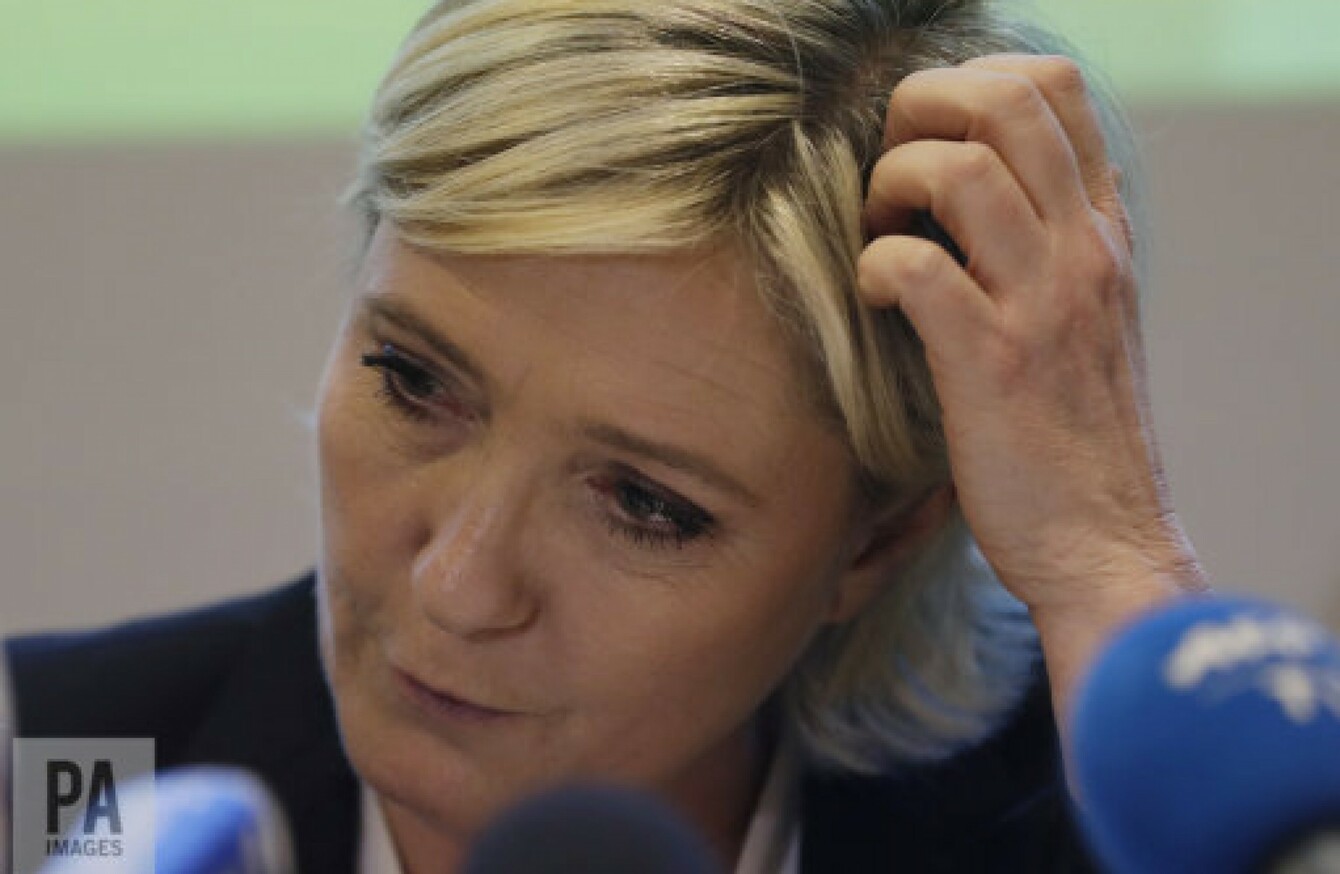 Marine Le Pen
Image: Hussein Malla
Marine Le Pen
Image: Hussein Malla
FRENCH PRESIDENTIAL CANDIDATE Emmanuel Macron won the support of a key centrist today, hailing it as a turning point in his campaign, as an aide to his far-right rival Marine Le Pen was charged in a fake jobs scandal.
With two months to go before France's increasingly unpredictable election, centrist veteran Francois Bayrou announced an alliance with Macron to counter the "major threat" posed by the far-right.
Bayrou had hinted for months at his own presidential run but ended the suspense by saying he would not mount a rival bid, to avoid splitting the votes of moderates to the benefit of Le Pen.
His announcement came as a boost to centrist ex-economy minister Macron, who saw his ratings rise in recent weeks after conservative challenger Francois Fillon was hit by damaging corruption allegations but has slipped behind him again in the latest poll.
Breach of trust probe
Le Pen, meanwhile, suffered a blow today when her personal assistant Catherine Griset was charged with breach of trust in a probe into allegations the candidate's National Front (FN) party defrauded the European Parliament of about €340,000.
The legislature accuses Le Pen, an MEP, of using parliamentary funds to pay Griset as well as bodyguard Thierry Legier while they worked for her party in France rather than at the parliament. Le Pen has furiously denied the allegations.
"I formally contest the allegations," Le Pen said on television today.
She said justice should not be used to interfere in the 23 May presidential election as "this is an important democratic moment" and "fundamental" for France.
"It is surprising that two months before the presidential election, there is this great judicial activity," she told the TF1 channel.
She questioned the "impartiality and independence" of "the administration of justice."
The scandal comes as Fillon battles his own investigation into claims his British-born wife Penelope was paid around 700,000 over 15 years as a parliamentary assistant, despite little evidence that she did any work.
But while Fillon's ratings took a dive after "Penelopegate", opinion polls currently show Le Pen winning the first round of the election in 23 April, although she is forecast to lose in the runoff on 7 May.
Le Pen 'is threat to France' 
Bayrou, who ran three times for president and came third in 2007 with more than 18% of the vote, told a press conference he was backing Macron to fight the "major and immediate threat for our country and Europe" posed by Le Pen.
Macron, a 39-year-old former investment banker, is campaigning as a pro-Europe progressive and says he is "neither of the left nor the right".
He told AFP he had accepted Bayrou's offer to join forces, hailing it as a "turning point" in his campaign and for French political life.
Bayrou, who has a reputation for probity, condemned the corruption scandals that have embroiled both Fillon and Le Pen.
"What is most shocking is the tacit and nearly unanimous acceptance of these abuses," he said.
Once a key force in French politics, Bayrou's support has shrunk in recent years.
Supporters had already defected to the Macron camp before Bayrou's announcement Wednesday.
Bayrou described Macron as a "brilliant" individual and said he hoped that together they could finally bridge France's entrenched left-right divide.
Le Pen surges
Le Pen, who has vowed to call a referendum on France's membership of the European Union if elected, has blasted the allegations of misusing EU money, describing the investigation as a vendetta.
"The French people are well aware of the difference between genuine cases and political intrigues," she told reporters at a campaign event earlier today.
While pollsters believe the 48-year-old trained lawyer will fail to garner the 50% needed for victory in the final run-off, she is closing the gap with both Fillon and Macron in hypothetical second-round match-ups.
A poll in early January by Ifop gave Le Pen 36% to 64% for Fillon in the second round, a 28-point gap.
She narrowed that to 12 points in an Elabe survey published yesterday that showed her losing by 44 to 56%.
Her numbers are similar in a theoretical duel with Macron, at 42 to 58%.
Comments are closed as a person has been charged.