Clegg and Salmond in June of last year (File photo)
Image: Danny Lawson/PA Archive/Press Association Images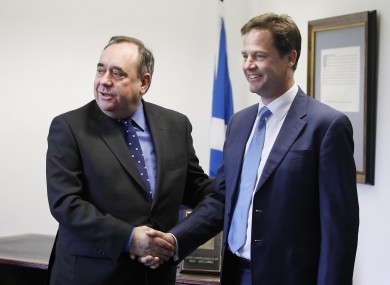 Clegg and Salmond in June of last year (File photo)
Image: Danny Lawson/PA Archive/Press Association Images
SCOTTISH FIRST MINISTER Alex Salmond has accused the UK government of "bullying and hectoring" as the row over Scotland's independence intensified ahead of the British-Irish summit at Dublin Castle today.
Salmond was speaking on RTÉ's Morning Ireland after he heard the UK's Deputy Prime Minister Nick Clegg accuse him of having "no answers" to questions surrounding the issue of Scottish independence.
Scotland maintains it has a mandate for holding the referendum on its own terms and wants to do it in 2014 but the British government wants the independence issue sorted out sooner.
"I think it's time for Alex Salmond to explain to people what on earth he means by independence," Clegg told RTÉ. "He's spent his whole political life  campaigning for it and yet he hasn't got any answers for very, very simple questions.
Would it [an independent Scotland] have it's own independent currency, what would it mean for the defence bases? What would it mean for investment? What would it mean for jobs. What share of the UK's debt would Scotland have to bear?

What would it mean for bailing out banks which have gone belly-up in Scotland which British taxpayers have paid for. All of these questions, curiously enough, he's got no answers for.
Clegg, the leader of the Liberal Democrats, denied that the UK was interfering in a matter that was for Scotland to decide. He said that there was "ambiguity" over the issue of whether Scotland had a mandate and he said Westminster was helping to "give that power to the Scottish administration".
Responding in an interview this morning, Salmond said that "bullying and hectoring the Scottish people from London ain't gonna work".  He told RTÉ: "What we're seeing is the most extraordinary attempt to bully and intimidate Scotland by Westminster politicians."
Salmond, the leader of the Scottish National Party, said that Clegg was "very much a Westminster politician" and accused the UK Chancellor George Osborne seeming "to think he now owns Sterling".
He said it was up to the Scottish people to decide the terms of the referendum and said that a consultation document around the matter would be released to the Scottish people in the next fortnight.
Clegg and Salmond will both meet President Michael D Higgins at Áras an Úachtaráin today before attending the British-Irish Council summit at Dublin Castle.