Liveblog
HELLO THERE ALL, Rónán Duffy taking the blog today for today's Leaders' Questions with Taoiseach Enda Kenny.
It's the last week of Oireachtas business for 2016 so there's a shedload of last-minute Oireachtas business to get through. So far today it's been all about rent.
The opposition will of course have their own issues to bring up.
We'll have them all here.
Fianna Fáil leader Micheál Martin begins by asking about the second level school places, or the lack thereof, for children on the autistic spectrum.
Martin says that parents don't know where their children will be next September.
He says it's being left to a small number of schools to provide education for this group.
Martin adds that he wants legislation to make it compulsory for second-level schools to take children with autism.
Enda Kenny responds by saying that it's up for individual schools to decide whether they provide ASD education.
Micheál Martin says that the Taoiseach is "dangerously disengaged and disconnected".
Kenny says that it's already the case that schools can already be compelled to take a student with autism.
Gerry Adams is bringing up today's rental announcement.
He says Sinn Féin had wanted the government to bring in rent certainty, he describes their decision not to as a 'glaring omission'.
Adams says that the plan 'lacks ambition and will compounds difficulties' for people struggling with rent.
"Citizens needed your help, they have't got it," Adams says.
"This is an issue that is quite complex and not easy to resolve," Kenny says, arguing that their plans give "greater security for tenants and landlords".
Kenny acknowledges that rents have increased to 'an extraordinary degree'.
He says that this is mostly because of the lack of supply of property on the market.
Adams dismisses the Taoiseach's answer as 'Endaspeak'.
"God help him, God help the poor minister," Adams says, referring to Simon Coveney.
Labour leader Brenda Howlin says that the Taoiseach has 'no grasp' on the scale of the rental problem.
He says some people are paying 40% of the income on 'moderate accommodation'.
He's also calling for the introduction of rent controls linked to the Consumer Price Index or some other index.
Interestingly, he thinks Fianna Fáil is as responsible for the new plans as the government. An argument Adams also made.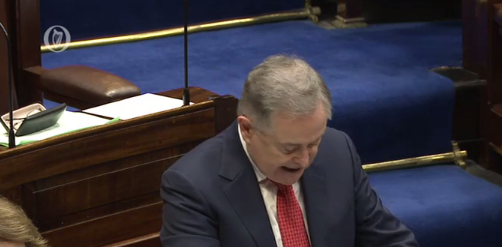 Source: Oireachtas.ie
Kenny says there has been a significant increase in the number of tenancies over the years.
Kenny says this shows that people are: "happy to enter into tenancies that are compatible with their needs."
Howlin says this is a 'lonely, isolated position' for the Taoiseach. Points to homeless charities who are also calling for rent controls.
Howlin says that it's more than just the main cities suffering from rental problems and that the Taoiseach should know this.
He tells Kenny: "You're famous for talking to people over the garden wall."
Source: Oireachtas.ie
Tommy Broughan TD is bringing up the Fllood, Mahon and Moriarty Trubunals.
He says he's been 'brushed off' by Minister Frances Fitzgerald when he sought information about the status of garda investigations into the findings of the tribunals.
Broughan says that we're "well used to the limitations of evidence in the tribunals."
He's asking the Taoiseach whether he's considered that questions from deputies on the tribunals have been 'brushed off'.
He wants the Taoiseach to deliver a report to the Dáil on the subsequent investigations.
Kenny lists government initiatives that he says protects probity in politics, cites Standards in Public Office Commission among others.
He doesn't mentioned garda investigations, however.
Brougham takes the Taoiseach up on this. Asks what resources have been given to gardaí to complete investigations.
Wants an answer on if there'll be a report from gardaí to the Dáil.
Kenny says these legislative initiatives were subject to "very intense debate".
The Taoiseach says he will seek an answer from the Minister for Justice on resources given to the Criminal Assets Bureau to investigate these issues.
He adds he cannot give a date on when deputies will be presented with a report.
That concludes today's Leaders' Questions, thanks for joining us.
Contribute to this story: