Liveblog
Fresh from his call with Donald Trump, Leo Varadkar is back in the Dáil chamber.
Micheál Martin raises the issue of those in the Defence Forces "being on the breadline".
He says Defence Force staff morale has plummeted. He says there are many are facing a hardship, with some turning to loan sharks.
"These are people that get up very early in the morning to serve the nation," says Martin.
Leo Varadkar says he is very proud of the work of the Defence Forces.
Martin says we talk about being proud, but there is no sense of the real crisis in the force.
He raises the issue of whether they will be allowed union representation.
There are many families who are struggling to make ends meet – the question is what is the government doing about it, says Leo Varadkar.
He says there is pay restoration, rent controls, adding that he hopes to reduce taxation in the next budget, "with your help" I hope, says the Taoiseach.
Mary Lou McDonald is up and she wants to talk about bins.
She says it will ensure that people pay more in bin charges.
"This is of course nothing but the same old story," she said.
"We truly have arrived at destination privatisation," McDonald adds.
Read about the latest here: Flat charges on your bins are to be scrapped>
Minister Naughten says the objective is to move towards recycling.
You are opening the gates to allow private operators what they like, says McDonald.
She says her party was not informed about the changes.
Are you going to wash your hands and walk away from this mess, she asks.
Varadkar says there is nothing being rushed in at the eleventh hour.
He said charges were suspended for a period of a couple months, and this new scheme is about increasing recycling and reducing the waste that ends up in landfill.
He says the best way to do that is not having a flat rate fee – encouraging people to segregate their waste and increase their recycling.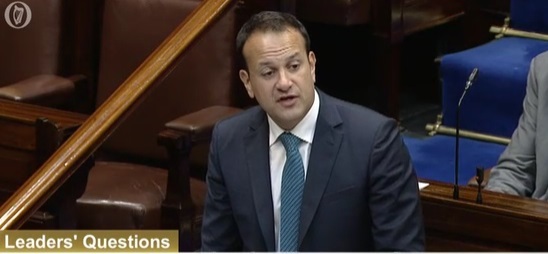 You seem to live in another place where the need to pay for things is not on your radar, she tells the Taoiseach.
McDonald says people are living in fear of prices going up and says she is struck by his lack of empathy.
"I regard it as quite disgraceful," she adds. McDonald asks him to tell the people what the government will do to protect low-income and large families.
Varadkar says there is no need for people to be fearful and he hopes McDonald would not "exploit" that fear.
He says there will be €75 paid to people with long-term illness which forces them to produce additional waste.
He says more money is going to local authorities to crack down on illegal dumping. He says it will also be mandatory for operators to roll-out brown recycling bins.
Issue of disability payments is raised with Taoiseach, who says she hopes there will be additional funding coming this year.
He says Minister Harris is looking at ensuring that those that take on work don't lose the medical card, which should be through this year, he adds.
The Taoiseach says the Cabinet discussed a dedicated entry scheme for department and government agencies, so those with disabilities can enter the workforce.
Michael Healy-Rae is talking about Lyme Disease. He says people who suffer from it are falling through the cracks and says there is a lack of training within the medical profession.
Varadkar says it is right to say that people can get Lyme Disease in Ireland through tick bites in our national parks. He says there is an awareness week now that takes place in May.
He says there is a lot of discrepancy within the diagnosis in the medical industry.
Varadkar assures the deputy that the government are advised by the chief medical officer. "We absolutely acknowledge Lyme Disease," he says.
He says there is controversial diagnoses of chronic Lyme Disease and says the tests in Germany are not widely accredited.
That's it for Leaders' Questions. Join us back here tomorrow.
Contribute to this story: