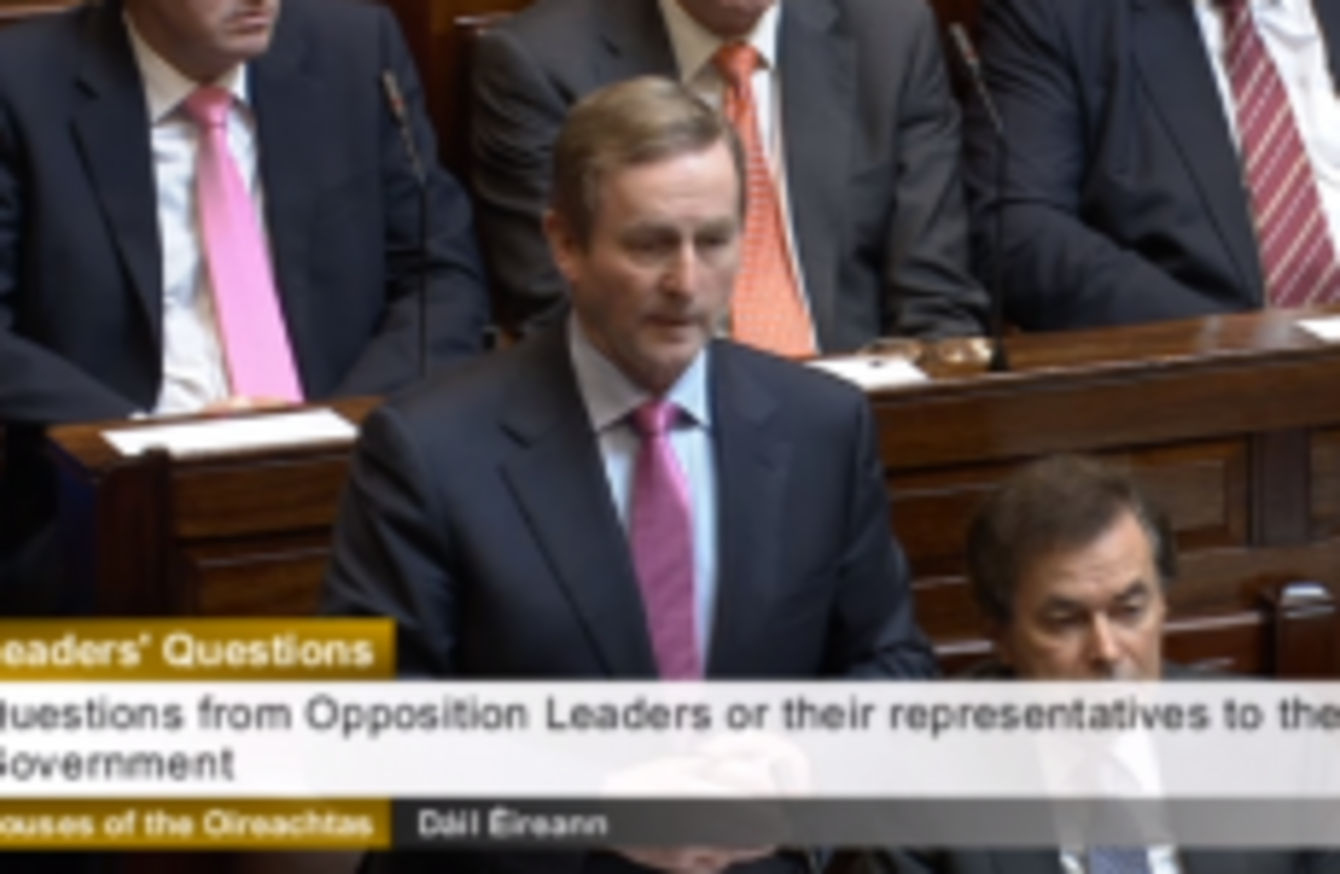 Image: Screengrab via Oireachtas.ie
Image: Screengrab via Oireachtas.ie
TAOISEACH ENDA KENNY has cautiously defended Justice Minister Alan Shatter for his handling of the whistleblower controversy.
In a heated Leaders' Questions in the middle of a day-long debate on the claims by a garda whistleblower, Enda Kenny said that Minister Shatter had speedily dealt with the allegations which had been put to his office.
However he did not address suggestions that the Minister had made a mistake by telling the Dáil that whistleblower Sergeant Maurice Cabe had not cooperated with an internal garda investigation into penalty points.
Opposition leaders had called for the Justice Minister to either withdraw his allegation that whistleblower Maurice McCabe had not cooperated, or else make an apology to him.
"The Minister's speech this morning does not deal with [this] in any comprehensive or adequate way," said Fianna Fáil leader Micheál Martin.
Martin said that the "only person in the entire system who made the accusation [of non co-operation] was Minister Shatter". He said that the Minister had made a "big mistake" by making the statement in the Dáil.
However Taoiseach Enda Kenny said that the minister had tried hard to set out his understanding of the communications to Sergeant McCabe. "Obviously Sergeant McCabe had a very different perspective on that," he said.
He told the Fianna Fáil leader that he was focusing on a 'political point'.
"Minister Shatter is not one to mislead this house, no more than any other Minister," he told the Dáil.
The Taoiseach said that senior barrister Sean Guerin who will carry out a scoping exercise into the allegations by the whistleblower will be engaging directly with Sergeant McCabe.
Sinn Féin leader Gerry Adams said it was the "government handling of these allegations which has caused the erosion of public confidence".
"If you miss that Taoiseach, you miss everything".