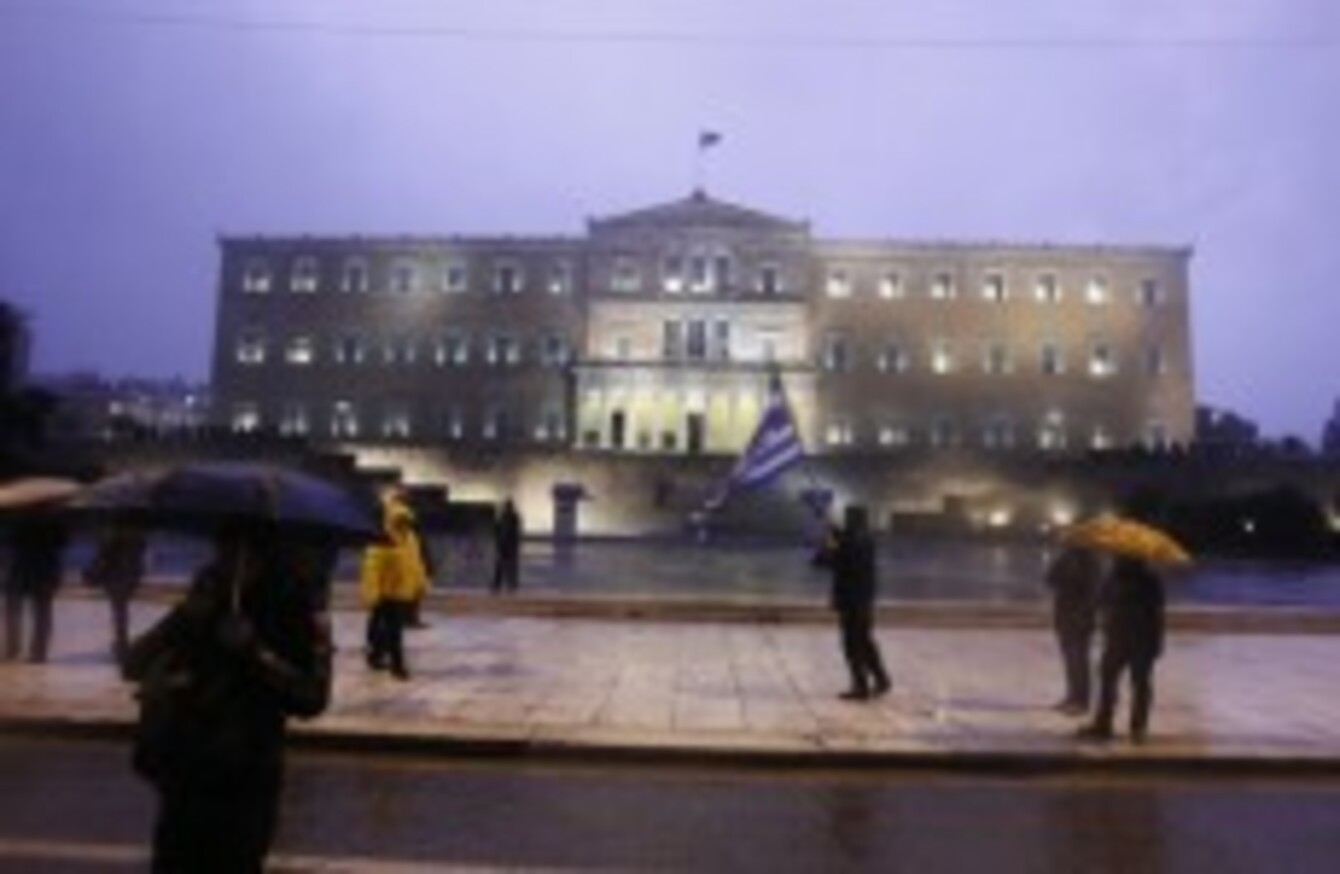 Image: Thanassis Stavrakis/AP/Press Association Images
Image: Thanassis Stavrakis/AP/Press Association Images
PRESSURE BUILDS ON Greek leaders today as they try and secure a €130 billion bailout deal required to avoid bankruptcy.
The three party leaders, with the Prime Minister Lucas Papapdemos, have been in talks since the weekend to agree on a package of austerity measures that have been demanded by the country's creditors.
Facing an election in April, the politicians are trying to walk the tightrope of pleasing Troika officials and avoiding further demonstrations and strikes within Greece.
George Papandreou, Giorgos Karatzaferis and Antonis Samaras have resisted civil service job losses expected by EU officials. However, the Associated Press this morning reports that the coalition has announced 15,000 jobs cuts for 2012.
Unions have now called a 24-hour general strike today in response to the additional austerity measures. Rallies were also organised last night across Athens.
Despite the job cuts announcement, the leaders are yet to agree on further measures to ensure the €130 billion rescue package is received before the end of next March.
Athens is due to make a bond payment of €14.5 billion on 20 March.
According to Reuters, a deal must be approved by the euro zone, European Central Bank and International Monetary Fund before 15 February as it takes time for such payouts to be approved by other governments, such as Finland and Germany.
The bailout is also conditional on a deal being implemented with private creditors to reduce the debt pile owed by Athens.
Meanwhile, German Chancellor Angela Merkel has outlined her dwindling patience with the situation.
"I honestly can't understand how additional days will help," she said at a conference in France. "Time is of the essence. A lot is at stake for the entire euro zone."
Other austerity measures still to be agreed upon include public expenditure reductions in areas of defence, health and social security, as well as a cut in the minimum wage and on holiday bonuses.
-Additional reporting by AP