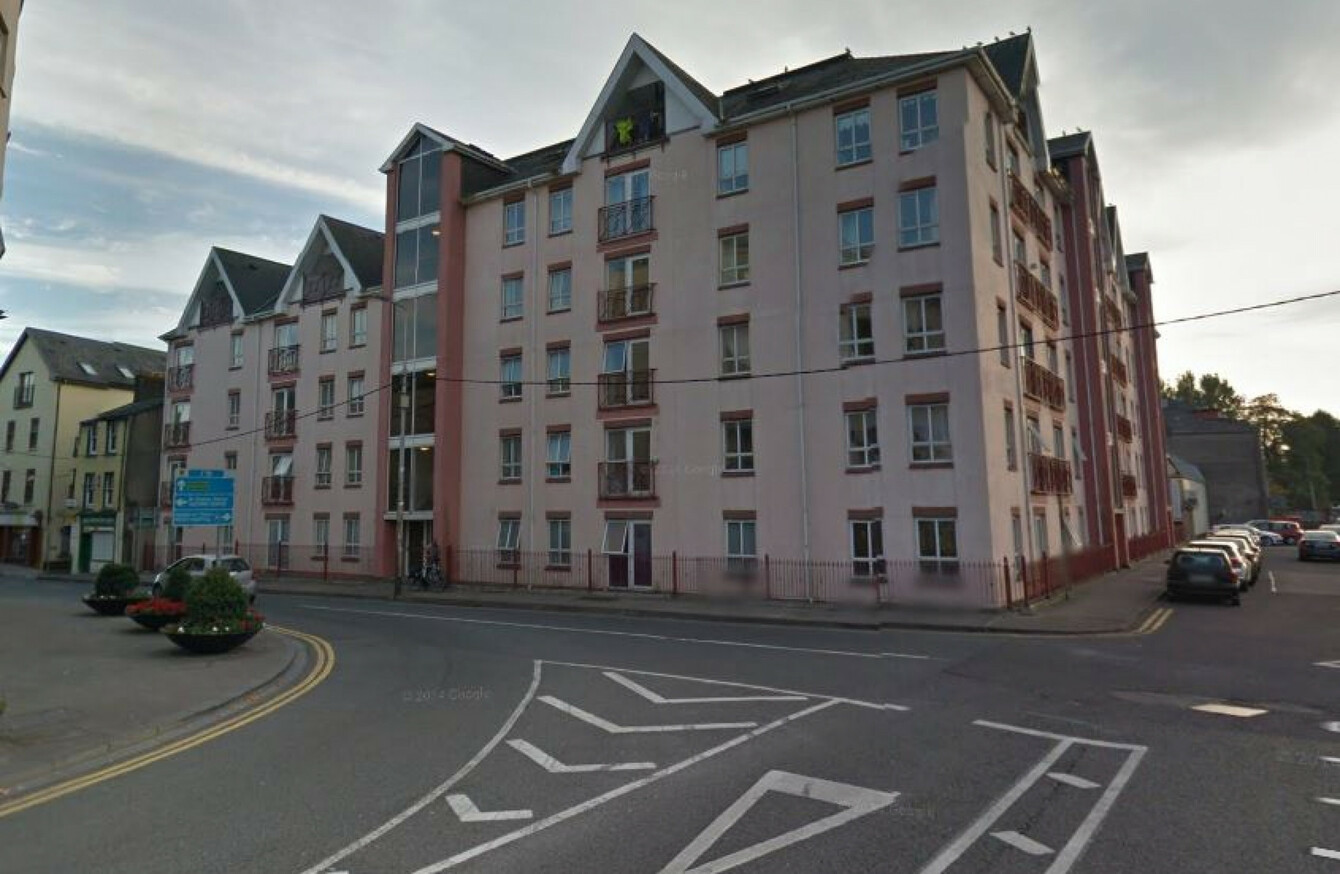 Tenants at the Leeside Apartments are set to be evicted.
Image: Google Maps
Tenants at the Leeside Apartments are set to be evicted.
Image: Google Maps
THE RESIDENTS OF a block of apartments in Cork city centre will hold a demonstration today, as they face a set of mass eviction notices from the new owners of the block.
Some of the residents have received eviction notices for Christmas week.
They have formed the Leeside Anti-Eviction Group to try to stay in their homes, and are urging the government to close what they refer to as a loophole that allows the new landlord to evict them to carry out refurbishment works.
The fund that owns Leeside says that substantial refurbishments are required to the buildings, but residents say that it's just an excuse to get them out, and new tenants in at higher rents.
The government says that guidelines put in place are sufficient to stop abuse of existing laws to evict tenants unnecessarily.
Loopholes
Jon has an eviction date set for Christmas. He blames loopholes in the law for allowing the families to be evicted on the grounds that refurbishment to the properties is required.
He said: "The reality for renters today is that any landlord who wants to up rents and can't because of the really weak rent pressure zone restrictions can find ways around it easily with the number of loopholes that are there.
These loopholes have existed for so long and its not the first time that vulture funds have shown that if there are gaps in legislation that can be exploited, then they will exploit them.
Another resident, and founder of the anti-eviction group, Aimee O'Riordan said: "If fire safety needs to be improved in our building it can and should be done in such a way that evictions can be avoided. The government needs to act, and act quickly."
Local councillor Fiona Ryan said: "We face an unprecedented crisis in housing in Cork City and the mass eviction of the Leeside Apartment Residents represents the sharpest edge of the consequences of a decade of refusals by subsequent governments to build social or public housing.
The facts are that it will  not be possible for these families to source alternative accommodation, in the city centre where their children attend school and where they have put down roots in the community, even if they had the money to afford it which most do not.
The families' plight was raised in the Dáil by Solidarity-PBP TD for Cork North Central Mick Barry, who said that the lack of affordable housing elsewhere in the city meant these families are facing homelessness.
He said: "I believe that people and families who have notices to quit hanging over them should be included in the homelessness figures. In this apartment block, we have young families with children who go to school in the vicinity.
One family I spoke to pays €700 per month in rent. They have gone out to look for alternative accommodation. The prices being asked are from €1,000 up to €1,300. There are queues going out the door at those properties.
Homelessness is a real threat for these families. We are looking at mass evictions. The reason for this is profiteering. It is outrageous. People should organise and fight against what is happening.
In a statement to the media in November, the owners of the block Lugus Capital said that it had acquired the block in October and would be carrying out refurbishment to the tune of €3 million at the site.
Lugus Capital said in a statement today:
"Cork's Leeside Apartments are to undergo a €3 million refurbishment, with works to commence in January 2018.
"Leeside Apartments are currently not in compliance with their fire certificates, so the refurbishment is necessary not only to bring the building up to modern standards but also to maintain the safety of the residents.
"Lugus Capital acquired the building at the start of October 2017, and as part of their acquisition process, they carried out a full structural survey and fire safety inspection.
"Currently, there are 23 residential tenancies at Leeside Apartments. There are 41 student leases for the current college term that end in December 2017.
All residential tenants have been issued notices, with full notice periods corresponding to the length of their tenancy. The landlord is fully complying with the Residential Tenancies Act 2004.
"Cannot simply evict tenants"
In a statement to TheJournal.ie, a spokesperson for the Department of Housing said: "A landlord cannot simply evict tenants – there are statutory obligations in place in this regard."
They said the Residential Tenancies Board had recently published a comprehensive set of guidelines for landlords and tenants, including what constitutes substantial refurbishment or renovation "for the purposes of a section 34 ground for termination of a tenancy".
These guidelines also clarify the situations where a landlord can claim "substantial change" in rented properties for the purposes of exemption from the rent increase restriction of 4% per year that apply in Rent Pressure Zone areas.
The Minister is confident that these new RTB guidelines will provide the requisite clarity for the sector but the Department will keep under review whether there is value in placing them on a statutory footing.