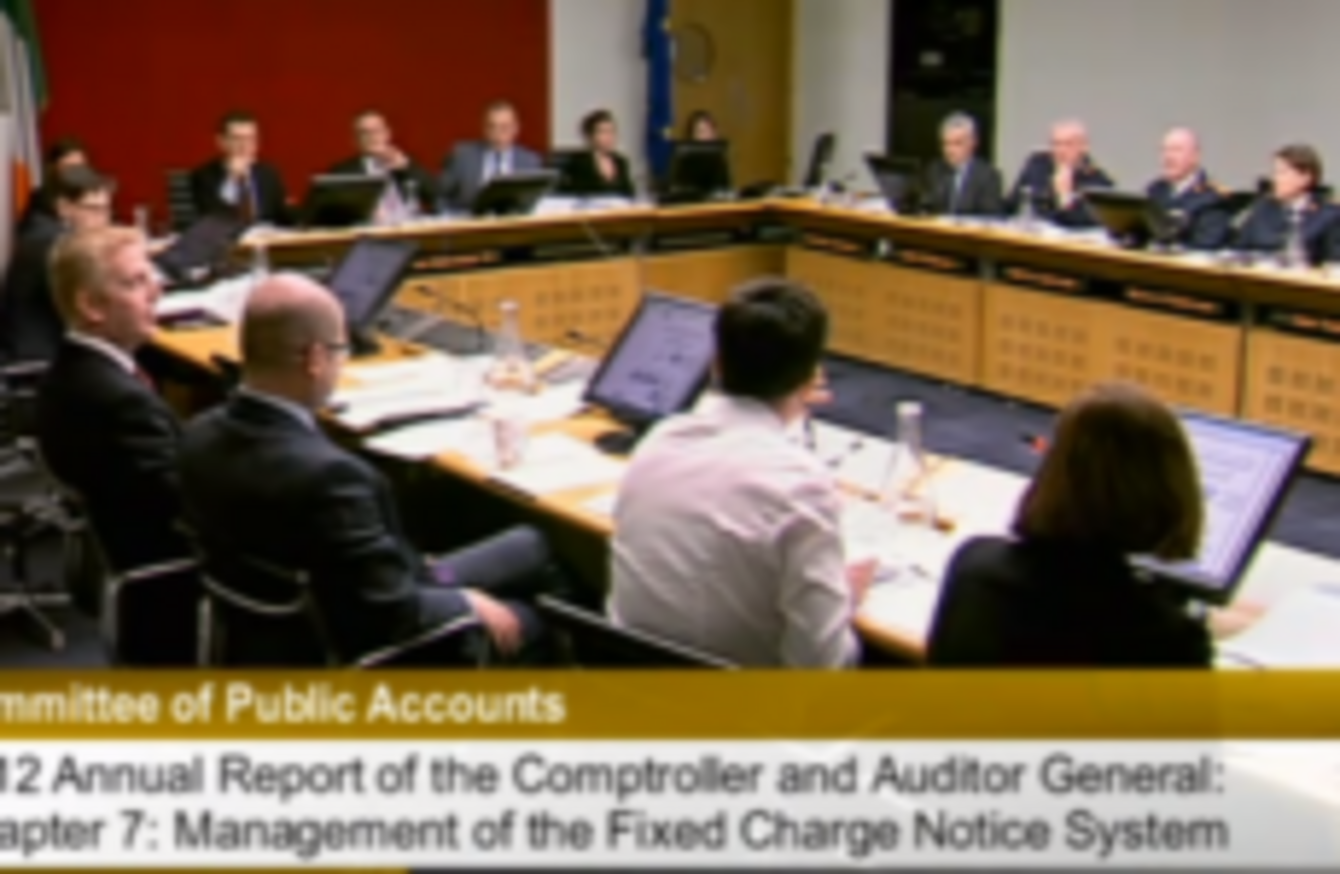 Image: Oireachtas screengrab
Image: Oireachtas screengrab
Updated 11.10pm
THE PUBLIC ACCOUNTS Committee is to consider legal advice tomorrow on continuing its examination of a report into the fixed penalty notice scandal.
The chairman of the committee, John McGuinness TD,  said this evening that the committee's intent in hearing from the Garda whistleblowers on the penalty points issue "was to get a better understanding of the system so that we could bring a report to the Dáil with recommendations on how the weaknesses in the system [...] can be addressed."
He stressed: "We are not investigating the actions of any member of An Garda Siochána which is not within our remit or capacity."
Today, Minister for Justice Alan Shatter said that he intends on asking the Garda Ombudsman to investigate the controversy surrounding the administration of the penalty points system.
McGuinness said that the PAC members will now "have to take cognisance of the Minister's direct intervention into the work of the committee". He said they will have an opportunity to discuss the full implications of this at their scheduled private meeting tomorrow.
"Part of that consideration will entail taking take legal advice on the continuation of the Committee's examination of the C&AG's Report on the management of the fixed charge notice system," noted McGuinness.
In addition to taking evidence from the Garda Commissioner on this issue, the Committee had received documentation from two whistleblowers. These gardaí – serving Garda Maurice McCabe and retired garda John Wilson – alleged inappropriate use of discretion by Gardaí who had the authority to cancel fines.
The committee has already agreed to hear evidence from these two men and was due to meet tomorrow afternoon to discuss how this evidence would be taken.
Puzzled
Meanwhile, Deputy Shane Ross has said that he is "puzzled" by comments Minister Shatter made about the PAC today.
Speaking on Prime Time on RTÉ, Ross said he is "seriously puzzled by what he's saying".
He continued: "I think the committee has got some really good people on it" and it has "been asking some really serious questions".
In a statement released earlier this evening, Shatter said that recent comments by a "minority" of members on the PAC "pose the risk of bringing the work of the Committee into disrepute, undermining its role and its credibility and are particularly disturbing".
Ross said of the committee, "we're not trying to decide how the garda is run" and they are "trying to find out what is happening on the penalty points issue".
He added that it would be "completely wrong to say we are on one side or the other".