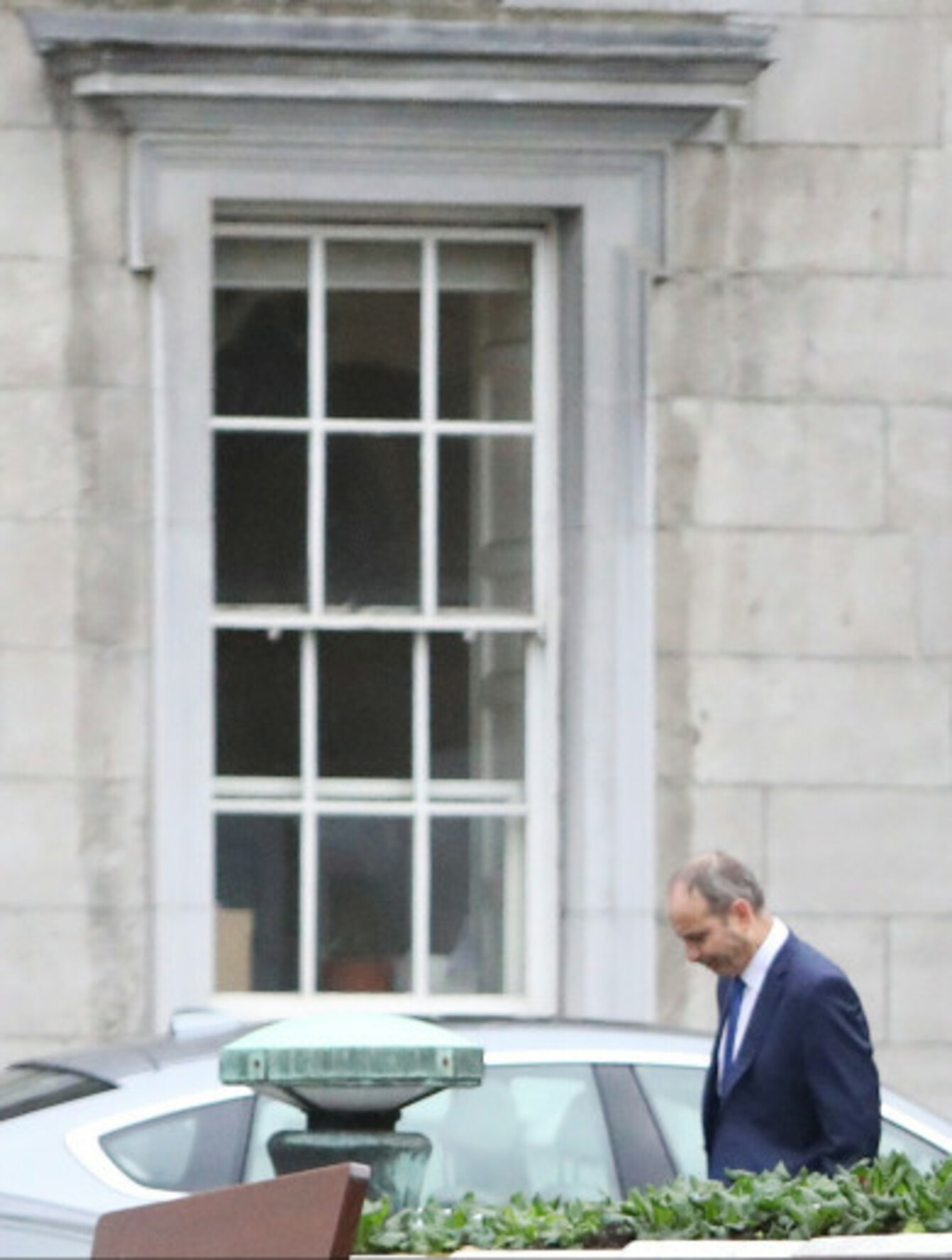 Micheál Martin at Leinster House yesterday.
Image: Leah Farrell
Micheál Martin at Leinster House yesterday.
Image: Leah Farrell
WINTER IS COMING.
That was the catchphrase being bandied about Leinster House yesterday as the cold chill set in both inside and outside the national parliament.
Fridays are usually a sleepy day on Kildare Street. Generally TDs hit the road on Thursday night to take care of their constituencies so by Friday they are out-and-about dealing with local issues like potholes and broken traffic lights.
Instead, many were pacing the halls yesterday, giving their two cents to the wandering reporters who were gathering scraps of information about whether Ireland was really on the brink of a Christmas election.
There was a conveyor belt of press conferences on the plinth: Labour, Sinn Féin, the Independent Alliance and the Greens.
The day kicked off with a surreal moment at the Labour press conference when Brendan Howlin was nearly drowned out by a hen party travelling down Kildare Street on a pedibus singing along to Mambo Number 5.
A welcome distraction no doubt from the 'will they, won't they' speculation rife around the national parliament.
Sinn Féin were next up and they were very clear.
The Tánaiste had to go.
They tabled the first motion of no confidence in Frances Fitzgerald on Thursday. They suggested she resign, or if push came to shove, Varadkar should sack her.
Where were the Independent Alliance in all this? The partners in government remained quiet throughout the week as pressure mounted on Fitzgerald.
But they rallied together today, walking down the Dáil stairs like troops heading into war.
Barreling down the steps, Finian McGrath told this reporter to get her coat. No, it wasn't a signal that anyone was leaving. "It's freezing out," he said. In all the excitement, the back-and-forth and quality tunes from the hen party, the 6 degree chill wasn't noticed.
What did he make of it all? "It's a right old mess," said the Minister of State.
Standing in front of a huddled group of reporters, cameras, and photographers, he then declared: "Finian McGrath – Dublin Bay North" before the Independent Alliance confirmed its confidence in Fitzgerald.
So was the nod to an incoming general election just for a cheap laugh from the surrounding hacks?
Transport Minister Shane Ross urged Leo Varadkar and Micheál Martin to engage in "meaningful negotiations" to avoid it.
He said the Independent Alliance were disappointed in the "cavalier way" the crisis played out, stating that a snap election is not in the interests of anybody – politicians or parties but, most of all, the public.
Playing well the role of scolding father, Ross described Martin and Varadkar as "grown-up men", telling them to just sort it out.
This whole issue escalated Thursday night when Fianna Fáil said they could not vote confidence in Fitzgerald.
Jim O'Callaghan told RTE's Six One News that there was no way the Confidence & Supply agreement could continue if Fitzgerald stayed in place. The broadcast was reportedly being watched live in the Dáil bar, where there were loud outbursts from some Fianna Fáil members when he made the strong statement.
Sinn Féin had previously submitted a motion of no confidence. But the pressure notched up a dial when the Fianna Fáil frontbench gathered in conclave yesterday morning to sign off on submitting their own.
After an hour and a half, there was no white smoke but the message was clear from the Fianna Fáil TDs gathered in the Leinster House coffee dock after the meeting.
"Oh, the motion is going in as we speak. It's on."
Grabbing a warm cup of coffee with his party colleagues post meeting, Eamon O'Cúiv was crunching the numbers. He said he'd been through many an election, and no one could deny his wealth of experience.
The veteran Fianna Fáiler said Leo Varadkar may choose to get the motorcade to bring him to Aras an Uachtarain there and then – which would result in a general election on 16 December. Or, he could dissolve the government next week which would mean an election on 22 December. Not ideal.
(The first option is obviously now been and gone.)
Gathering around a small table to mull over their steaming brews, the Fianna Fáilers appeared content that they were not for moving on their so-called redline issue.
With each mention of the word 'election' the impending doom was evident on most reporter's faces as they realised the hope of getting any holidays was quickly being etched away.
Politicians, surprisingly, were far more optimistic and eager to go.
TDs were spotted removing boxes of Oireachtas envelopes from their offices, while some Fianna Fáil TDs joked (or perhaps not) that they had just ordered election poster plastic cable ties in bulk.
But the message from all the politicians was oft-repeated: The only people who can sort the debacle out is Varadkar and Martin – or, of course, Frances Fitzgerald herself.
News soon leaked out that Leo and Micheál were to meet in the afternoon. An air of hope spread through Leinster House. Perhaps there had been enough grandstanding by the two big fellas. Perhaps they had both done enough for their parties. But the question remained. Who was going to budge?
Seated in a quiet corner of the Dáil cafeteria prior to his meeting with the Taoiseach, Martin was seen in deep discussions with two of his most senior advisors.
At around 4pm he set off for the ministerial corridor. However, after only 27 minutes, it was done.
Martin was seen by this reporter walking down the Dáil chamber stairs. His face and mood unreadable. Is a short meeting good or bad, pondered the journalists.
Only time will tell. More meetings are scheduled for the weekend and despite wild rumours circulating today, the outriders to the Phoenix Park are not on standby, according to the Taoiseach.
A weekend can be a long time in politics.
If we make it to Tuesday, and there is still no movement our advice would be: Be careful if you hear a knock on your door this Christmas, it might not be carol singers.