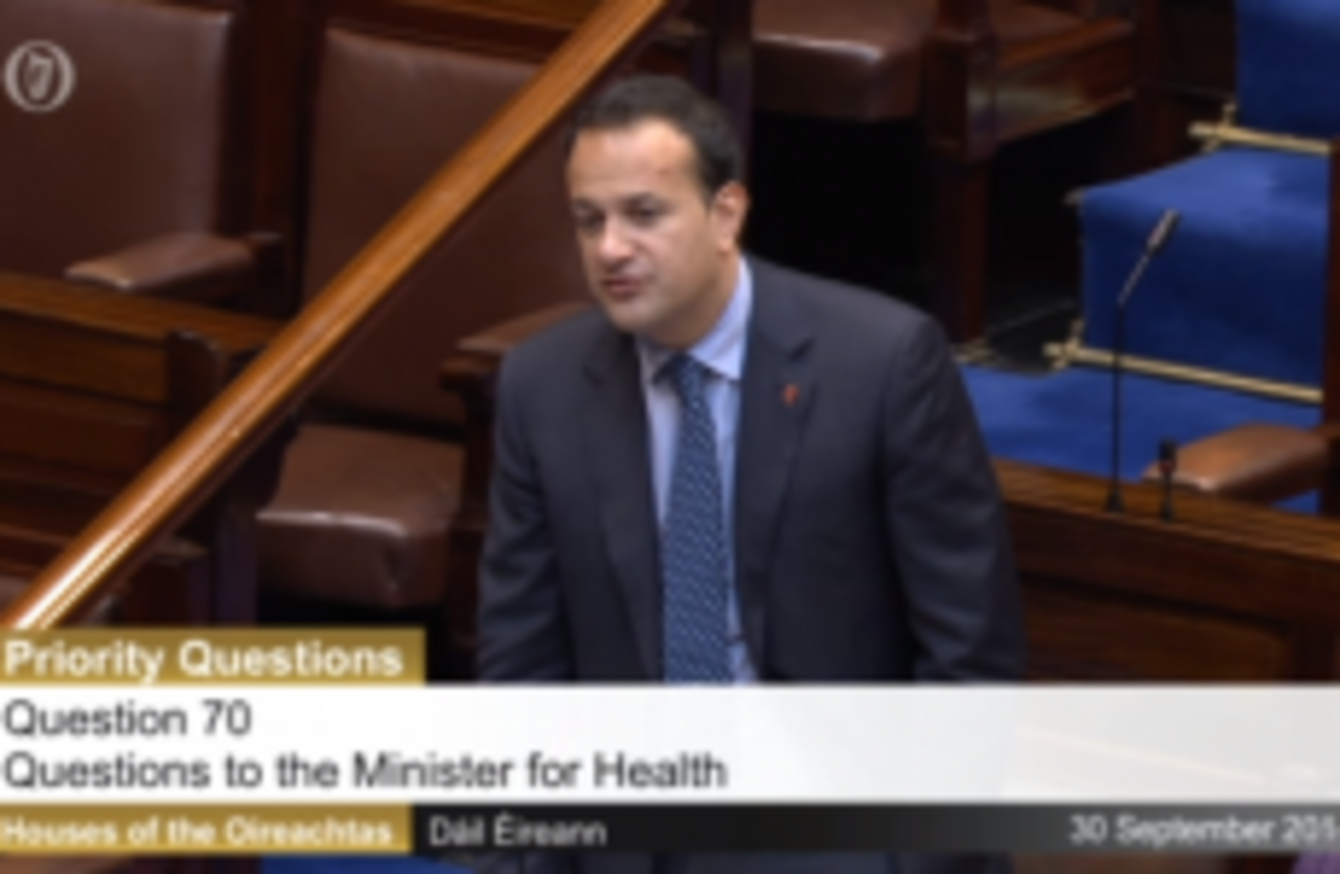 Leo Varadkar
Image: Oireachtas TV
Leo Varadkar
Image: Oireachtas TV
LEO VARADKAR HAS reiterated that the Government has no intention of repealing the 8th amendment in the Constitution.
Speaking in the Dáil this afternoon, the Health Minister said that he would not be expressing his personal opinion on the matter, rather the stance of the Government.
Independent TD Clare Daly asked Varadkar what he thought of Ireland's current abortion legislation "as a doctor and a young man".
His response?
"l'll give my opinion as a doctor and a young man at a later stage. Right now I'm the Minister for Health and the Government position is [that it will not be repealed]."
Daly said that Ireland was "failing to address our abortion reality", noting that recent opinion polls show the general public is largely in favour of extending abortion laws.
Varadkar noted that while many people might like to see terminations made available in the cases of rape or fatal foetal abnormalities, most do not support "abortion on demand".
Daly said that the recent Ms Y case had highlighted the inadequacies of the Protection of Life During Pregnancy Act passed last year.
The minister stated that he would review the report into that particular case once he received it.
"It's quite clear we don't need any further reports," Daly replied.
Varadkar said it "bothers" him that people on both sides of the argument say everything that happened in relation to the Ms Y case "confirmed their pre-existing view of things".
Universal Health Insurance
The minister denied that he had abandoned universal health insurance, but admitted it would not be delivered by 2019, as envisioned in the white paper compiled by his predecessor James Reilly.
We're not parking [UHI] at all.
Fianna Fáil's health spokesperson Billy Kelleher remarked: "If ye were so committed to it you'd think you'd have done a bit more research into it first."
When Kelleher said his party favoured a tax-backed insurance system, Varadkar stated: "You've kind of let the cat out of the bag in terms of your own posse."
He asked Kelleher what tax increases Fianna Fáil would propose to raise the billions such a system would require.
Budget
Varadkar said that "there's never going to be an end point" in terms of reforming health services due to the nature of the field and advances in medicine.
He spoke of the importance of moving services from big hospitals to smaller ones, citing the minor injuries unit in Roscommon – which he had visited on Saturday – as "a good example of small hospital providing a service that those of us who are in Cork or Dublin would love to be able to offer our constituents".
Varadkar said that he can't speculate on the upcoming Budget but added that he won't be asking for extra funding next year – rather for the €14.1 billion allocated for 2014 to remain untouched.
Vardakar noted that the the health budget had been reduced by about €2 billion since 2008, stating that no other department had made such a large contribution "to helping our country balance the books – I think it's important to put it on the record".
He said that while current estimates showed that the HSE would overspend by €500 million in 2014, this figure didn't not include potential additional costs such as medical negligence payouts.
"As with any forecast there is a certain degree of uncertainty."