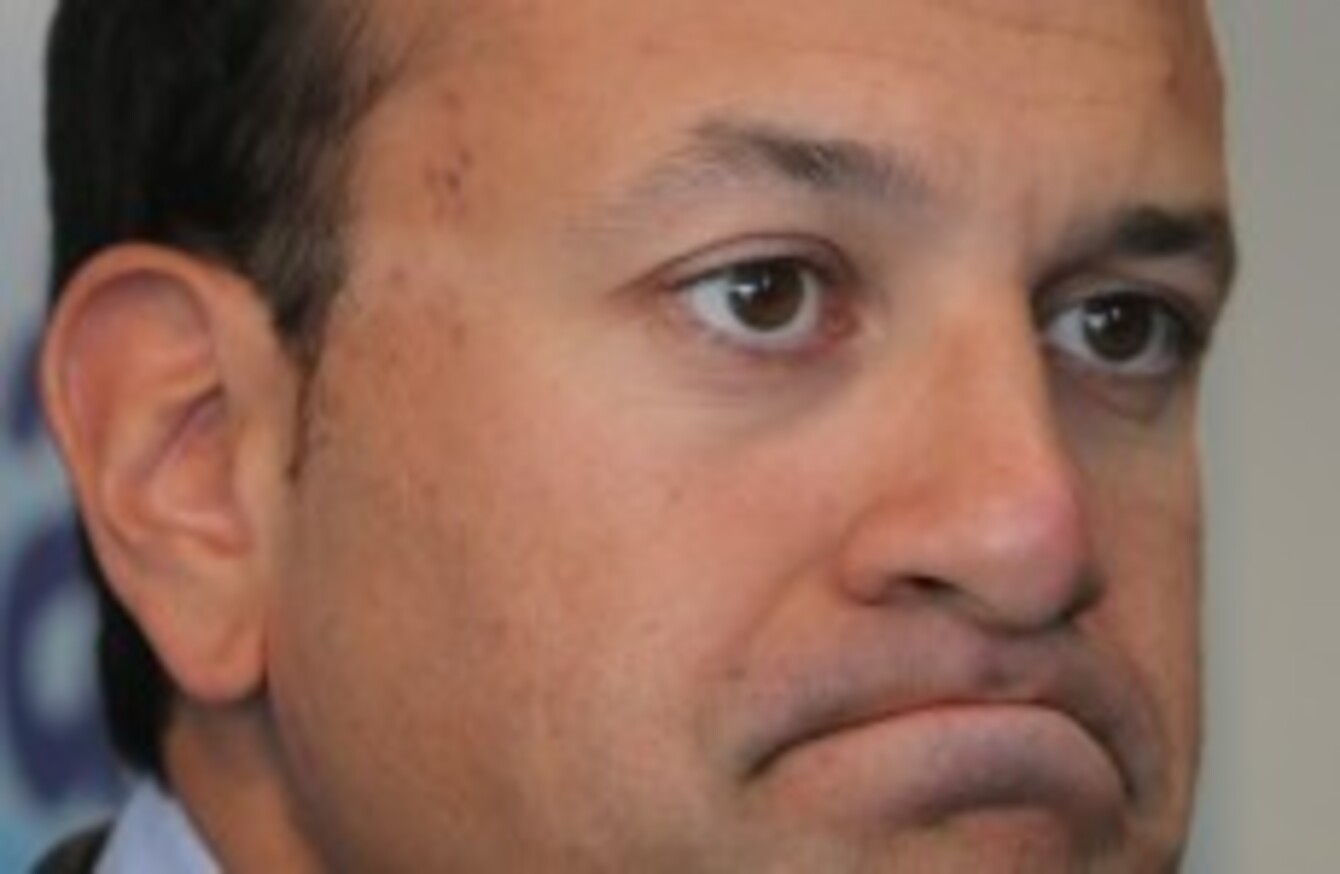 Leo Varadkar
Image: Photocall Ireland
Leo Varadkar
Image: Photocall Ireland
LEO VARADKAR SAYS he does not mind being "slapped down or scolded" having been on the receiving end of a rebuke from Taoiseach Enda Kenny in recent days.
Kenny has made a number of public statements on Varadkar in the wake of the Health Minister's suggestion on Monday that tax changes in the Budget might mean "a fiver a tenner in your payslip every week".
The remarks have earned Varadkar what has been viewed as a 'slapping down' from Kenny in the days leading up to the Fine Gael 'think-in' which is taking place at Fota Island in Cork today and tomorrow.
Speaking at Fota today, Kenny said: "I think the Minister clarified his remarks about figures being mentioned in the Budget. The Cabinet have not made collective decisions about any of the detail in the Budget yet." 
A short time later Varadkar told reporters at the Cork resort: "I don't mind being slapped down or scolded.
I'm a big boy and I am willing to take a degree of criticism from time to time. But at the same time this isn't about me, it's not about my dignity, it's not about my ego.
"It's about frontline staff and it's about patients and it's about our health services which affect all of us and I think everyone in government needs to get behind our health services."
Varadkar said that that the Taoiseach had been "very clear that he doesn't want ministers to be speculating about the details of the Budget and he's totally right about that". 
However he insisted that as Minister for Health he has "a responsibility to defend health services".
"I'm going to continue to do that and as well as that I'm very committed to health sector reform. But that has to happen in a way that is workable and deliverable and I think the Taoiseach understands that very well," Varadkar added.
On Kenny's criticisms of 'Sir Humphreys' in the Department of Health Varadkar said of the briefing document he received on health reforms was "very good".
"It's certainly worth a read for anyone who wants to read it," he added.
Ministers play down row
Also speaking at Fota today, Finance Minister Michael Noonan said he has spoken to Leo Varadkar, describing him as "a good minister and a very good communicator".
He said that the "fiver or tenner" remarks that have caused controversy were "illustrative rather than any prediction of what might be in the Budget". 
Ministers arriving at Fota this afternoon have sought to play down suggestions of a row between Kenny and Varadkar.
Foreign Affairs Minister Charlie Flanagan said he did not have "any evidence of anybody slapping down".
Agriculture Minister Simon Coveney said the matter had been "blown out of proportion" and added: "I don't think there is any serious tension there."