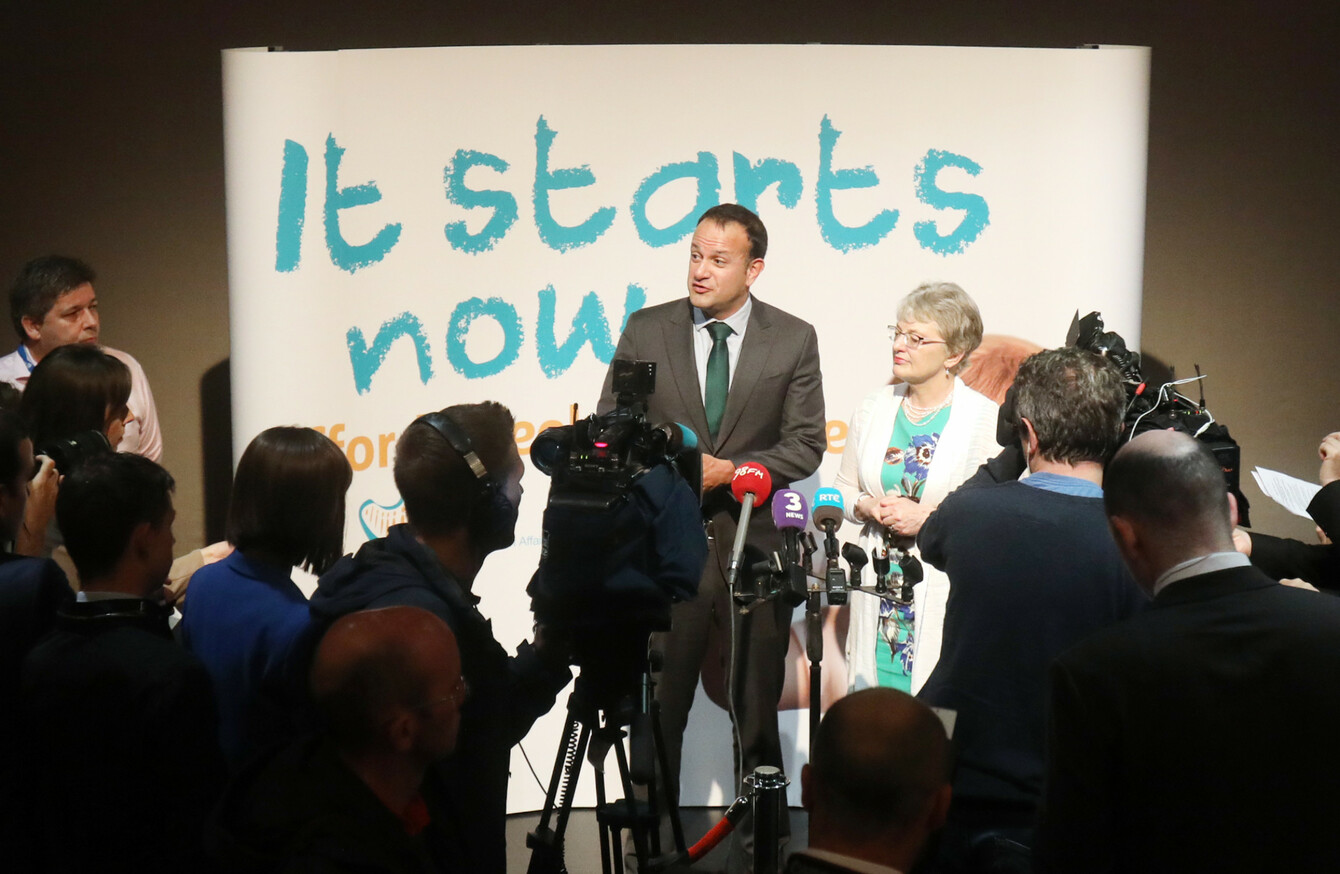 Taoiseach Leo Varadkar speaking to the media this week with Children's Minister Katherine Zappone.
Image: RollingNews.ie
Taoiseach Leo Varadkar speaking to the media this week with Children's Minister Katherine Zappone.
Image: RollingNews.ie
TAOISEACH LEO VARADKAR has said his department is conducting an audit of all public relations and communications services across every government department.
Since taking office, Varadkar has also set about establishing a new strategic communication unit for his government.
Currently, all communications are dealt with through the Government Information Service (GIS), which includes the Government Press Secretary and a number of press officers. Each department also has its own press office which deals with its brief.
However, sources say Varadkar wants to "shake-up" how the government communicates its message.
The Taoiseach, who is known for how he handles the media, has set about setting up what he describes as a "small unit" within his own department. Its focus is on "strategic communications across government", he said.
'Spin machine'
While the Taoiseach argues it will ensure all departments are conveying the same message, those in opposition view it as a new "spin machine" for his own department.
With some in the Government Information Service commanding high salaries, Fianna Fáil's Niall Collins recently queried the cost behind hiring additional staff for the new strategic information unit.
Collins asked the Taoiseach for details of the annual budget of the unit and questioned what the relationship between the existing departmental press office and the new unit will be.
Due to the strategic communications unit not being established as yet, the Taoiseach said a lot of the details are still being worked out.
"The precise mandate and other arrangements for the operation of this new unit, including staffing structure and budget, will be worked out over the coming weeks. It is my intention to staff the unit with civil and public servants. The new unit will be independent of, and supplementary to, the Government Information Service," he explained.
However, the Irish Independent reports that Varadkar has already hired the unit's first well-known businessman to head up the new unit – John Concannon – the man behind the 1916 commemorations, the Wild Atlantic Way, The Gathering and Creative Ireland.
Varadkar said the new unit "will complement, not replace, the existing arrangements in departments and agencies for dealing with press, media and communications. The proposed unit will operate independently of the Government Information Service".
"The GIS will continue its work of dealing with the media on a daily basis and managing major international media events," said the Taoiseach, who said his PR audit, which will be complete in a matter of weeks, will help inform the precise mandate, role and function of the new unit.
"The establishment of the new unit provides an opportunity to present a clear and cohesive message to the public on the work of Government," said Varadkar, who added that it would be established on a permanent basis.