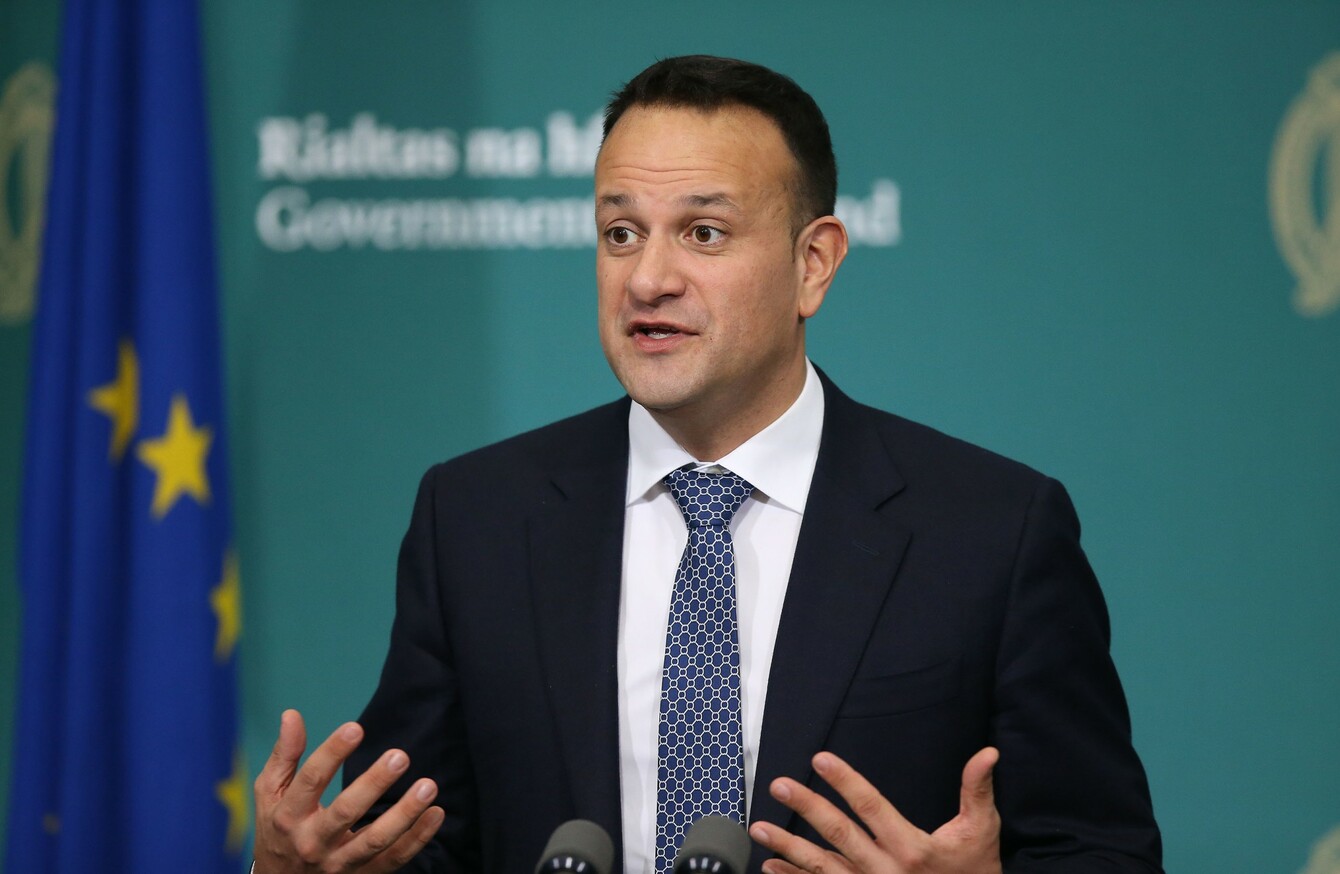 Image: PA Images
Image: PA Images
TAOISEACH LEO VARADKAR has warned that Ireland cannot borrow significant sums of money at cheap rates indefinitely to manage the economic problems that arise as a result of Covid-19.
Speaking in the Dáil this afternoon, Varadkar said that "there is no such thing as free money" and that Ireland should try to run similar deficits to other European countries this year.
"Any money borrowed will have to be repaid, serviced or refinanced," the Taoiseach warned, explaining that the country would run a deficit of €30 billion for 2020.
He said that many parts of the Irish economy might never look the same again after the pandemic, adding that Brexit will further complicate matters.
Meanwhile, Varadkar also said that the government would stand behind its "slow and steady approach" when it comes to leaving lockdown.
He explained that although some countries are opening their economies faster than Ireland, each country's circumstances are different.
Varadkar said we will not know until the first week of June whether the easing of restrictions has had any impact.
"We stand over the slow and steady approach. If things go well, the plan can be accelerated but we simply can't make that call at the moment," he said.
He asked the public to remain vigilant to the coronavirus risks, saying that Ireland would never get used to the loss of life caused by the pandemic.
Varadkar said the Cabinet will decide on June 5 whether Ireland moves to phase two of its road map, on advice of the National Public Health Emergency Team.
Speaking in the Dáil today, Fianna Fáil leader Micheál Martin criticised the fact that hardware stores could reopen this week but homeware stores could not. 
"The division between which shops are allowed to open and those which must remain closed simply makes no sense," Martin said.  
"The distinction between hardware stores and homeware stores, in my view, is foolish… From a competition perspective, there has been a clear unfairness there."
Martin also said the 5km limit on travel outside the home for exercise is "making it harder" to maintain social distancing in areas with a high population density. 
"I don't play golf, but I think if were saying you can play golf on the one hand, but you can't play golf if your golf course is 6km away, that's the kind of stuff we need to refine a bit more." 
Sinn Féin party leader, Mary Lou McDonald, said two glaring issues at the moment are the provision of childcare for returning workers, and the fact that women back from maternity leave are not eligible for the Covid-19 wage subsidy scheme. 
"A childcare strategy that works, that is safe for children and for workers, one that meets the real needs of parents is absolutely essential for the success of our reopening and to ensure that we can advance safely," McDonald said.  
"The phased plan for the reopening of the economy is not aligned with the plan for the reopening of childcare facilities. That will not happen for all workers, it is planned, until July 20. 
"So many workers who return to work before then will be expected to do so without an answer to their childcare needs." 
With reporting from Orla Dwyer and Press Association.